13 Aug 2020
Steamboat, Vail, and Beaver Creek have all been open for over 2.5 months providing safe, healthy, and fun experiences to our guests in our inherently socially distant great outdoors. 

What can I expect on my Colorado vacation during COVID-19?
While we can't predict the future, we can assure guests that Steamboat, Vail and Beaver Creek have remained flexible and creative throughout the pandemic. Hand sanitizer is readily available, social distancing is the norm, and masks or bandana face coverings are mandated in public. We've always celebrated the joys of being outside, so breathing in the fresh mountain air is pretty much business as usual for all of us.

The visitors and locals of Steamboat, Vail, and Beaver Creek are all asked to follow the 5 commitments of containment in order to minimize the spread of COVID-19 in our beautiful valleys.

Restaurants
If you're headed to a favorite restaurant, you'll approach the host stand with a face covering on and after your party is safely seated (6 feet away from other patrons), you are permitted to remove the covering for your meal. 
If you get up to use the restroom, you'll just put your face covering back on until you've returned to your party at your table. Restaurants have taken over the sidewalks and streets making open-air, al fresco dining spots plentiful all around town. You will be asked for your phone number so that local health officials can complete contact tracing protocols, as needed.

Retail stores also require masks and handwashing (or hand sanitizing) upon entry. Specific safety protocols for each business are posted outside the door. Capacity is limited, though waiting time has not been much of an issue. Carry-out is available just about everywhere and your Moving Mountains' vacation home rivals the best backdrop of any restaurant in town!

For a list of our favorite open-air restaurants, click here. 
What's Open?
The majority of our restaurants and retail shops are open in Steamboat, Vail and Beaver Creek. The gondolas are whisking people up to the top of the mountain, the roller coaster and mini-golf course are in full swing, bike shops are supplying rentals to those wanting to see Colorado on two-wheels, stores and art galleries are open for strolling. As long as you follow the safety protocols, you are free to enjoy most of the amenities you've loved in the past.
In fact, you can even enjoy live bluegrass music on the green at the Yampa River Botanic Gardens in Steamboat, a different tempo drive-in concert at Strings in the Mountains, or classical music on the ice rink, in the center of Beaver Creek's mountain village. The Gerald Ford Amphitheatre in Vail still has several socially distant outdoor concerts with significantly reduced capacity coming up in August (full schedule below) and Vail Jazz Nights are the perfect spot for a Friday night picnic. Steamboat has its 39th annual Hot Air Balloon Rodeo on Aug 29-30 and it's 2nd annual Steamboat Food & Wine Festival October 1-4, 2020.

While other events had to be canceled, the ones that could be reimagined with safety protocols in mind will continue to entertain and delight visitors all summer and fall!

Aside from standing six feet apart and mask-wearing, the summer season in Colorado looks much like it always has, with families enjoying our magical mountains, epic views, miles and miles of trails, colorful wildflowers, perfect picnic spots, horseback riding, rafting, fly fishing and so much more. For a full list of our favorite summer activities that are open with safety protocols this summer, click here.

Upcoming Late Summer & Fall Events
Gerald Ford Amphitheatre in Vail (tickets are limited)
Live music with Robert Randolph & Friends
Saturday, August 22, 2020, at 4:30pm and 7:30pm
Live music with The Magic Beans 
Tuesday, August 25th, 2020 at 4:30pm and 7:30pm
COVID-19 policy for these concerts
Live jazz on the grassy lawn area on the Lower Bench of Ford Park near Gerald Ford Amphitheatre. Pack a picnic and enjoy this socially distant outdoor free concert (advance registration is required, though Jazz nights are free).

Steve Kovalcheck Quartet on Friday, August 21 at 6pm
Tony Gulizia, Kathy Morrow and Friends on Friday, August 28 at 6pm
Media Noche Honrado on Friday, September 4 at 6pm
Live Music in Beaver Creek Village
Zusammen means together in German. In Beaver Creek, Zusammen brings together live string music and a roving festive alpine feast in the center of Beaver Creek Village. Come with your own family and/or traveling partners, purchase a la carte food and signature cocktails from renowned chefs at the surrounding local eateries, then settle into socially distanced seating that is spread throughout the village. Enjoy the mountain backdrop, the gorgeous classical music, and decadent fare. Admission is free, food is purchased a la carte.  
Saturday, September 12, Spinphony, 4:30pm - 7:30pm
Saturday, September 19, Spinphony, 4:30pm - 7:30pm
Music on the Green, Steamboat Strings in the Mountains at Yampa Valley Botanic Gardens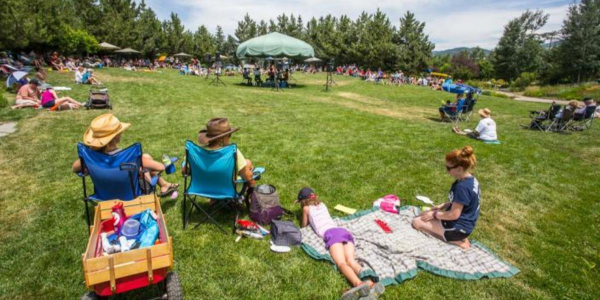 (concert is free, but you need to reserve a socially distant space for your pod of 4 on the Wednesday before the concert or you can stroll the gardens and listen).

Hayley Berg & Mike Martinez, Friday, August 28th at 10 am
Steamboat Hot Air Balloon Rodeo
August 29-30, 2020

Don't forget, the Steamboat Hot Air Balloon Rodeo is still happening in 2020. It's been revamped for social distancing but will be just as colorful and scenic as always. For all of the details and the full schedule for this 39th annual favorite, click here.
Steamboat Food & Wine Festival
October 1-October 4, 2020

If you had to pick the best thing to do in Steamboat this fall, the new Steamboat Food & Wine Festival would be our top choice. From 4-course chef dinners to the Grand Tasting and the Espresso and Prosecco brunch, we're getting hungry just thinking about it. The event has been thoughtfully designed with social distancing, safety, and savoring in mind. For all the details on this celebrated event, click here. À Votre Santé!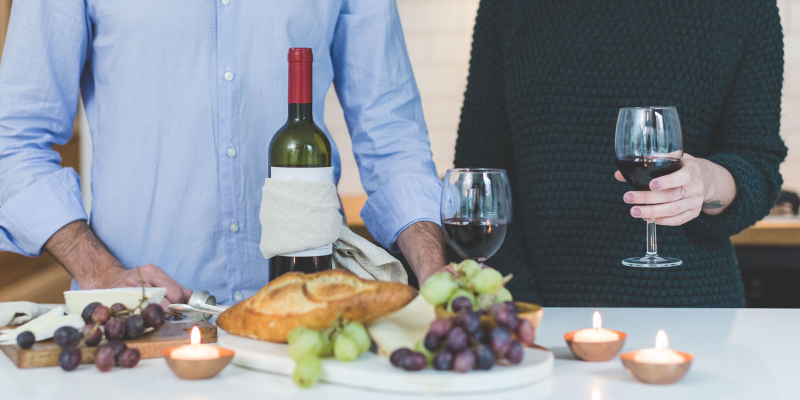 While you might not see the staff smiles behind the face masks, trust that everyone is excited to welcome you to these carefully curated, socially distant events and activities. 
Your extended summer and fall adventures await … If you're ready to see beyond the four walls of your living room, book the perfect extended summer and fall vacation home rental in Steamboat, Vail or Beaver Creek. You can start (and finish!) your search right here. 
What are the 5 Commitments to Containment?
The 5 commitments to Containment are the easy steps that both local and visitors alike are committed to taking while enjoying our Colorado mountains. Please take a moment to familiarize yourself with these commitments, then grab your favorite mask, buff or bandana and relax in the mountains with us.

For more information, you can see our COVID information or contact us directly.