If you're looking for somewhere fun to celebrate summer events and the 4th of July this year - head to the mountains! Mountain towns are known for beautiful summers and western flair with plenty of activities and action-packed July 4th events complete with small-town parades, music, rodeos, and fun.
INDEPENDENCE DAY CELEBRATIONS!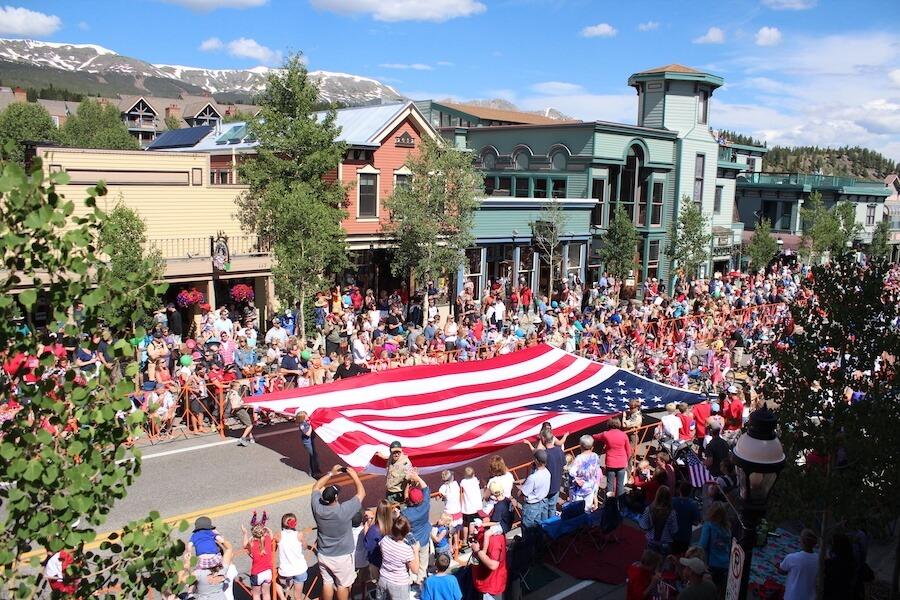 Kicking things off in the summer is Breckenridge's annual Independence Day Celebration. Although fire restrictions ban the setting off of public or private fireworks in Breck, the town makes up for it with plenty of other festivities.
The day starts with a 10K fun run along scenic trails from 7-11 AM. In between the trail 10k, the Independence Day Parade and Firecracker 50 mountain bike race set off at 9:30 AM from Main Street. After the riders hit the trail for their 50-mile race, the revered annual parade marches down Main St. until 11:30 AM. Local speed skiing legend and Colorado Ski and Snowboard Hall of Famer, C.J. Mueller, will give a public reading of the Declaration of Independence following the parade at Blue River Plaza.
Once those mini-events finish up, there is an assortment of fun contests, games, and even a talent show at Cirque de USA from 10 AM to 3 PM. At 6 pm, head to the Riverwalk Center to celebrate Independence Day with the National Repertory Orchestra (NRO) Fourth of July Spectacular! The Fourth of July Spectacular is dedicated to all who have served and are currently in uniform with thanks from a grateful nation.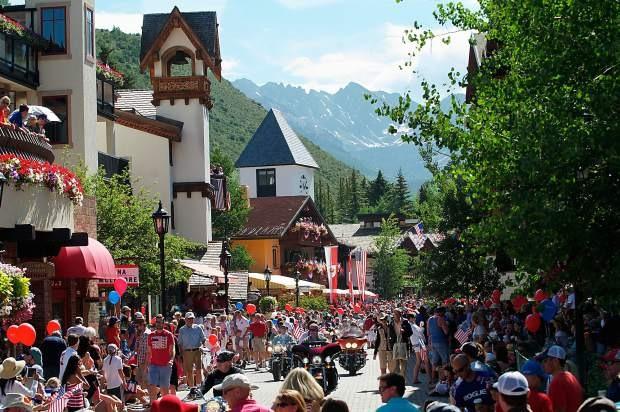 Kick off the
Fourth of July
with all the patriotism, live music, and parade entertainment you could ask for with one of Vail's most popular holiday celebrations. Don your red, white, and blue and head into the village to grab a spot along the parade route. After watching the drumline, flags, and balloons, enjoy the Patriotic Concert featuring rock and Americana music. Instead of fireworks lighting up the skies for the
Fourth of July in Vail
, look to the skies to see a high-tech drone show hovering over the mountains. Drone shows have become very popular with fire danger and precautions. The drone show will be visible from many different view corridors
A fun family event to celebrate the nation's birthday under the stunning blue skies in Colorado. Head up to Beaver Creek for a day and night filled with fun and live music at the base of the resort. In addition to daily lift operations, hiking, biking, and activities such as mini-golf and the bungee trampoline, and plenty of food vendors and restaurants. Live music starts at noon until dark and Beaver Creek has set up a huge stage at the base of the hill, so bring your blankets and stake your claim on a piece of grass for you and your group.
More info on the Fourth of July in Beaver Creek.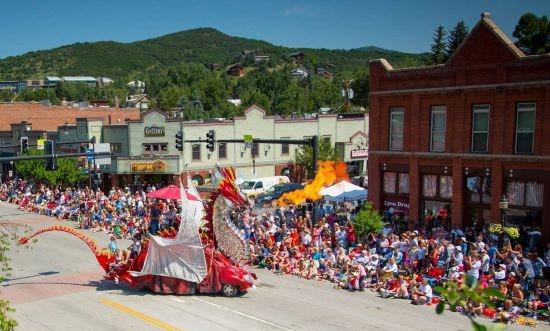 July 2023 marks the 120th Annual Cowboys' Roundup Days in Steamboat Springs! For more than 100 years Steamboat Springs, Colorado has celebrated Independence Day in true Western fashion. This is a special holiday and Steamboat does it right with a hometown parade followed by an old-fashioned community block party.
Events include the Pro Rodeo Series at the Brent Romick Arena, the Jumpin and Jammin Ski Jump training and competitions at Howelsen Hill, the First Friday Artwalk in Downtown Steamboat, and the Saturday Farmers Market. On the big day of July 4th, events include the Lion's Club Pancake Breakfast in Downtown Steamboat, a Nordic Combined 1K run, a 3k roller ski, and at 10 am, the famous Fourth of July Parade, presented by Yampa Valley Bank in Downtown Steamboat on Yampa Street followed by the biggest rodeo yet at 6:30 pm.

Fireworks in Steamboat are saved for the Winter Carnival in February, due to fire restrictions and safety concerns. Each year, the town of Steamboat decides on alternative entertainment such as laser shows and concerts.
Other Summer Events in Our Colorado Mountain Towns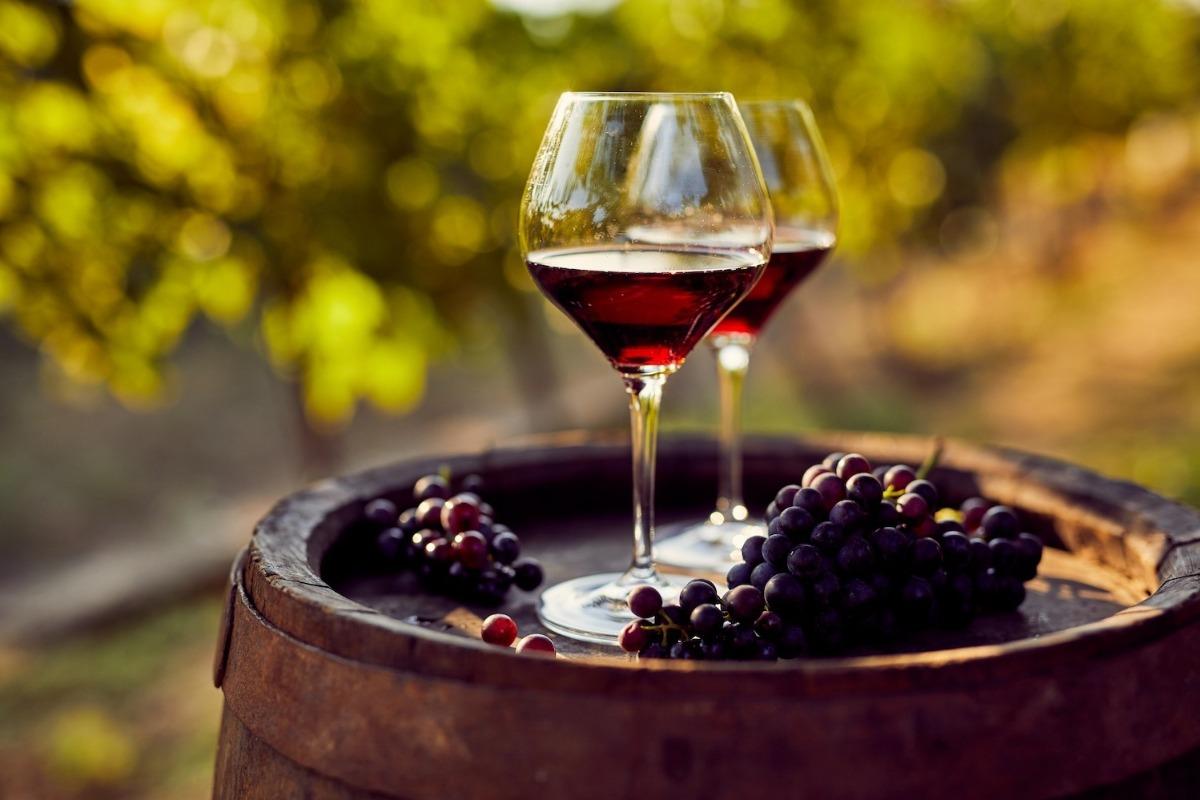 Over the course of 3 days, attendants can enjoy great food, live music, and picture-perfect mountain views while tasting from a selection of 300 fabulous wines.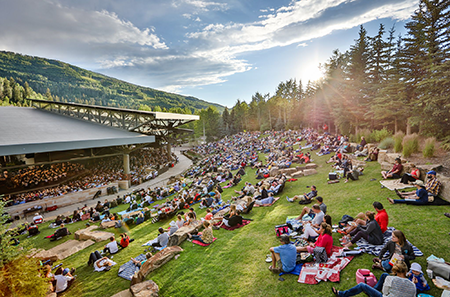 Bravo! Vail
hosts some of the greatest orchestras, musicians, and acclaimed soloists throughout the summer. Come watch these masters perform in a breathtaking mountain setting at the Gerald R. Ford Amphitheater.
STEAMBOAT BALLOON RODEO, JULY 29-20, 2023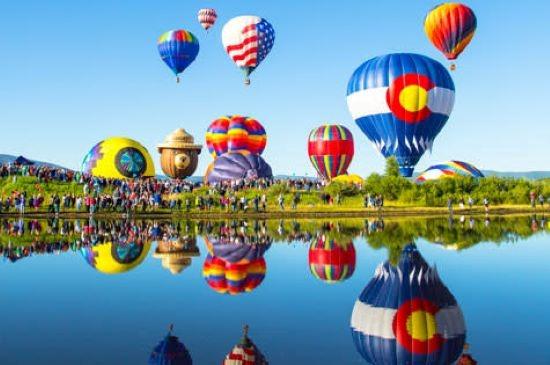 It's back! After a short hiatus, the much-loved balloon rodeo has new owners and is taking place at Bald Eagle Park on Saturday and Sunday, July 29th and 30th, 2023.
The Hot Air Balloon Rodeo is a weekend staple of Steamboat Springs and truly one worth going to during the summertime. This event is perfect for anyone who just wants to chill and watch hot air balloons float over the beautiful town of Steamboat. Guests are guaranteed a good show as well as opportunities for wonderful photography.