Lansdowne Chateau
Breckenridge, Colorado
•
Ski Shuttle: 1-3 Mi to Ski Area
---
---
Ski Shuttle (seasonal)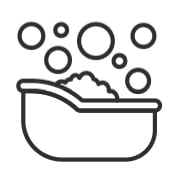 Private Hot Tub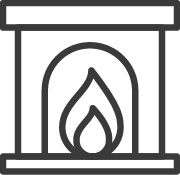 Fireplace - Gas
Ultra Wifi - 200+Mbps
---
A prime downtown location and historic charm combine in this multi-level 3,600 square foot home with a lovely carriage apartment. This modern 6-bedroom home enjoys ski slope views and is in the heart of historic downtown Breckenridge, making walking to shops and restaurants a breeze.

Two living areas have plenty of comfortable seating, a cozy fireplace, and a large flat-screen TV. Enjoy views of the ski area from the front windows. An additional table with seating for 4 is great for playing games or enjoying breakfast.

The chefs in your group will love the beautiful gourmet kitchen with high-end appliances and plenty of counter space and seating for four onlookers at the kitchen island. An elegant dining area is nearby with seating for 8 with a beautiful fireplace, the perfect place to catch up after a day of adventure.

Gaze out into the night sky from the outdoor lounge area in the summer, or bench swing on the front porch. Relax on the outdoor patio with multiple chairs and tables, take advantage of the bbq grill for al fresco dining, then enjoy a soak under the stars in the private hot tub.

A beautiful staircase by the entry leads to the primary suite with a king-size bed, a private deck with unparalleled views of the ski slopes, a work desk, and a beautiful ensuite with double vanity, a large walk-in shower, and a large closet with French door access. Across the hall is a bedroom with a king bed (or two XL twins), a small private balcony, and an ensuite bath.

On the lower level are two additional king suites, and a bunkroom with a twin-over-twin bunk. Each downstairs bedroom has an attached ensuite bathroom. An additional shared bath is in the hallway.

For added privacy, a separate carriage guesthouse is conveniently located behind the main house, above the garage. This one-bedroom, one-bathroom retreat sleeps an additional 4 guests, with a king bed and a plush queen sleeper sofa in the family room and a large flat-screen TV. A fully-equipped kitchen features high-quality stainless steel appliances and everything needed to prepare meals and a dining table for 4. The carriage house also enjoys the use of a small balcony with mountain views, and a stacked washer and dryer.

Other conveniences include a washer and dryer on the main level, along with a powder bathroom and plenty of gear storage. A fully fenced-in front yard is a bonus for kids. Guests may use the 2-car garage with parking for one more car outside. Four-wheel drive is recommended in the winter months.

SHUTTLE
This home enjoys complimentary use of the Moving Mountains shuttle, mid-November through mid-April, using the convenient shuttle app to schedule pickups. The use of the shuttle is on a first-come, first-served basis.

GUEST SERVICES
Moving Mountains has a Guest Services Team, offering full-service vacation planning assistance prior to your trip. You will be assigned a dedicated specialist who will guide you through all the activities and services available. You will also have access to our online Guest Portal where you can find extensive details about your reservation, your residence, and guest services.

IN-HOME AMENITIES
All Moving Mountains properties have WIFI and come fully stocked with paper products (paper towels, toilet paper, tissues), bathroom toiletries (shampoo, conditioner, body wash, hand soap), and detergents (dish, dishwasher, and laundry) as well as clean bed linens and towels. In addition, the kitchens are stocked with aluminum foil, plastic wrap, trash bags, sponges, soap, salt and pepper, coffee, tea, cookware, bakeware, dishes, glasses, utensils, and standard small appliances.

This home does not have air conditioning. Colorado's cool summer nights will keep this home comfortable by opening windows after the sun goes down, and then closing the windows and blinds during the day. Utilizing the overhead fans, if available, keeps airflow moving, and additional floor fans can be found in many bedroom closets. Can't live without it? A/C units may be available for rent for an additional fee.

Lansdowne Chateau Town of Breckenridge Business License No: 0325590002

3,659 sq ft
---
---
November 2023
| Su | Mo | Tu | We | Th | Fr | Sa |
| --- | --- | --- | --- | --- | --- | --- |
| | | | 1 | 2 | 3 | 4 |
| 5 | 6 | 7 | 8 | 9 | 10 | 11 |
| 12 | 13 | 14 | 15 | 16 | 17 | 18 |
| 19 | 20 | 21 | 22 | 23 | 24 | 25 |
| 26 | 27 | 28 | 29 | 30 | | |
December 2023
| Su | Mo | Tu | We | Th | Fr | Sa |
| --- | --- | --- | --- | --- | --- | --- |
| | | | | | 1 | 2 |
| 3 | 4 | 5 | 6 | 7 | 8 | 9 |
| 10 | 11 | 12 | 13 | 14 | 15 | 16 |
| 17 | 18 | 19 | 20 | 21 | 22 | 23 |
| 24 | 25 | 26 | 27 | 28 | 29 | 30 |
| 31 | | | | | | |
January 2024
| Su | Mo | Tu | We | Th | Fr | Sa |
| --- | --- | --- | --- | --- | --- | --- |
| | 1 | 2 | 3 | 4 | 5 | 6 |
| 7 | 8 | 9 | 10 | 11 | 12 | 13 |
| 14 | 15 | 16 | 17 | 18 | 19 | 20 |
| 21 | 22 | 23 | 24 | 25 | 26 | 27 |
| 28 | 29 | 30 | 31 | | | |
February 2024
| Su | Mo | Tu | We | Th | Fr | Sa |
| --- | --- | --- | --- | --- | --- | --- |
| | | | | 1 | 2 | 3 |
| 4 | 5 | 6 | 7 | 8 | 9 | 10 |
| 11 | 12 | 13 | 14 | 15 | 16 | 17 |
| 18 | 19 | 20 | 21 | 22 | 23 | 24 |
| 25 | 26 | 27 | 28 | 29 | | |
March 2024
| Su | Mo | Tu | We | Th | Fr | Sa |
| --- | --- | --- | --- | --- | --- | --- |
| | | | | | 1 | 2 |
| 3 | 4 | 5 | 6 | 7 | 8 | 9 |
| 10 | 11 | 12 | 13 | 14 | 15 | 16 |
| 17 | 18 | 19 | 20 | 21 | 22 | 23 |
| 24 | 25 | 26 | 27 | 28 | 29 | 30 |
| 31 | | | | | | |
April 2024
| Su | Mo | Tu | We | Th | Fr | Sa |
| --- | --- | --- | --- | --- | --- | --- |
| | 1 | 2 | 3 | 4 | 5 | 6 |
| 7 | 8 | 9 | 10 | 11 | 12 | 13 |
| 14 | 15 | 16 | 17 | 18 | 19 | 20 |
| 21 | 22 | 23 | 24 | 25 | 26 | 27 |
| 28 | 29 | 30 | | | | |
May 2024
| Su | Mo | Tu | We | Th | Fr | Sa |
| --- | --- | --- | --- | --- | --- | --- |
| | | | 1 | 2 | 3 | 4 |
| 5 | 6 | 7 | 8 | 9 | 10 | 11 |
| 12 | 13 | 14 | 15 | 16 | 17 | 18 |
| 19 | 20 | 21 | 22 | 23 | 24 | 25 |
| 26 | 27 | 28 | 29 | 30 | 31 | |
June 2024
| Su | Mo | Tu | We | Th | Fr | Sa |
| --- | --- | --- | --- | --- | --- | --- |
| | | | | | | 1 |
| 2 | 3 | 4 | 5 | 6 | 7 | 8 |
| 9 | 10 | 11 | 12 | 13 | 14 | 15 |
| 16 | 17 | 18 | 19 | 20 | 21 | 22 |
| 23 | 24 | 25 | 26 | 27 | 28 | 29 |
| 30 | | | | | | |
July 2024
| Su | Mo | Tu | We | Th | Fr | Sa |
| --- | --- | --- | --- | --- | --- | --- |
| | 1 | 2 | 3 | 4 | 5 | 6 |
| 7 | 8 | 9 | 10 | 11 | 12 | 13 |
| 14 | 15 | 16 | 17 | 18 | 19 | 20 |
| 21 | 22 | 23 | 24 | 25 | 26 | 27 |
| 28 | 29 | 30 | 31 | | | |
August 2024
| Su | Mo | Tu | We | Th | Fr | Sa |
| --- | --- | --- | --- | --- | --- | --- |
| | | | | 1 | 2 | 3 |
| 4 | 5 | 6 | 7 | 8 | 9 | 10 |
| 11 | 12 | 13 | 14 | 15 | 16 | 17 |
| 18 | 19 | 20 | 21 | 22 | 23 | 24 |
| 25 | 26 | 27 | 28 | 29 | 30 | 31 |
September 2024
| Su | Mo | Tu | We | Th | Fr | Sa |
| --- | --- | --- | --- | --- | --- | --- |
| 1 | 2 | 3 | 4 | 5 | 6 | 7 |
| 8 | 9 | 10 | 11 | 12 | 13 | 14 |
| 15 | 16 | 17 | 18 | 19 | 20 | 21 |
| 22 | 23 | 24 | 25 | 26 | 27 | 28 |
| 29 | 30 | | | | | |
October 2024
| Su | Mo | Tu | We | Th | Fr | Sa |
| --- | --- | --- | --- | --- | --- | --- |
| | | 1 | 2 | 3 | 4 | 5 |
| 6 | 7 | 8 | 9 | 10 | 11 | 12 |
| 13 | 14 | 15 | 16 | 17 | 18 | 19 |
| 20 | 21 | 22 | 23 | 24 | 25 | 26 |
| 27 | 28 | 29 | 30 | 31 | | |
---
Bedroom 1, Upper Level
1 King
Bedroom 2, Upper Level
1 Split King /or (2) XL Twins
Bedroom 3, Lower Level
1 King
Bedroom 4, Lower Level
1 Twin over Twin Bunk
Bedroom 5, Lower Level
1 King
Bedroom 6, Carriage House, Upper Level
1 King
1 Queen Sofa Bed
---
SKI ACCESS
Ski Shuttle (seasonal)
DISTANCE TO SLOPES
Ski Shuttle: 1-3 Mi to Ski Area
POOL, SPA & FITNESS
Private Hot Tub
PARKING AND TRANSPORTATION
4WD Vehicle Recommended in Winter

Free Public Bus Service Nearby

Local Area Shuttle - year-round

Parking - Garage/Driveway

Parking - outside - unassigned spaces
VIEW
Ski Slope View
ENTERTAINMENT
Smart TV

Sound System (Sonos, etc.)

Board Games

Family Room
GENERAL
Balcony

Yard

No Air Conditioning

Fireplace - Gas

Patio
WORK FROM HOME
Ultra Wifi - 200+Mbps

Desk with Chair

Workspace
KITCHEN
Stove

Toaster

Blender

Refrigerator

Coffee - Drip

Nespresso

Coffee - Keurig

Coffee - Grinder

Cooktop - Gas

Crockpot

Microwave

Dining Table - 8 seats

Dishes and Utensils

Dishwasher

Grill - BBQ

Oven

Outside Dining Area
ESSENTIALS
Shampoo

Washer

Essentials

Hair Dryers

Dryer

Iron & Board

Linens
SAFETY
Private Entrance

Carbon Monoxide Detector

Fire Extinguisher

Smoke Detector

Medical Emergency Contact provided

First Aid Kit

House Guide / Safety Manual
ACCESSIBILITY
Guest entrance wider than 32 inches

Lever Handles on Doors

Hard Flooring on Main Level

Minimum of 5.5 in under bed

Handheld Shower Head

Shower Bench or Chair

Toilet is 17-19 in. off ground

Kitchen - Wheelchair Access Oven

Kitchen - Wheel-Under Counter or Table

Kitchen - Wheelchair Access Dishwasher

Elevated, Front-Loading Washer/Dryer
---
Moving Mountains exceeded our expectations.
We really enjoyed our stay here! The home had everything we needed, but most importantly, the customer service and hospitality from Moving Mountains exceeded our expectations. They offered to help plan activities and grocery shop and were very responsive and quick to take action when our power went out (likely due to a large winter storm that blew in). The house was in the perfect location - within walking distance of restaurants, parks, and coffee shops (the places we frequented most). We'll stay here again!
---
Have a question? Customer Questions & Answers
Want to know specifics? Ask anything about this specific property that you would like to know...
Example: "Is the balcony screened in?" or "Is there a toaster oven?"
---