24 Jun 2020
After the official first day of summer (June 20) and before the official kickoff to summer (July 4), Vail and Beaver Creek mountain resorts are finally reopening to guests. 
Both resorts have spent this spring balancing a strong commitment to safety and health with an equally strong commitment to offering vacation experiences for a lifetime of family memories. 
The result … a serene, safe, and simplified Vail Valley summer.
With 166 miles of hiking trails, 343 miles of mountain biking trails, and 86 miles of rolling river, enjoying the great outdoors is pretty much a given, and comes with few restrictions.
You will still be able to partake in your fair share of thrilling adventures with the mountain coaster and extensive mountain bike trail system, but you'll also be able to revel in the wildflowers, hike the naturally socially distant trails, take in the gorgeous Gore Range vistas, picnic in the open air and truly let nature take center stage. 
Of course, Mother Nature never really went on lockdown and we've been hosting guests at our Moving Mountains Vail and Beaver Creek summer vacation homes since June 1, so you might be wondering what actually changes come July 1? 
The Vail Gondola One Opens on July 1
Gondola hours: 9:30 am-4 pm
In addition to all of the Colorado goodness that everyone has already been enjoying all month, scenic gondola rides on Vail's Gondola One will commence, which means epic views, miles, and miles of additional trails, perfect picnic spots and the ultimate family playground will be easily accessible. 
Whisk the family up to 10,000 feet to enjoy a stunning bird's eye view of the valley, then spend the day exploring the vast hiking and biking options. The Eagle Bahn gondola will open in mid-July opening additional terrain for family fun. Download the Vail mountain Summer trail map to use as your hiking guide or pick one up at the lift ticket office. Hikes are well marked and range from easy and moderate to difficult. 
Please note that bike haul* will not be available this summer on Vail mountain, but since the bike trails are on public lands, you can bike the almost 343 miles of trails as long as you follow bike park, jumps, and other marked trail closures. Download the Vail mountain biking map here: *Please note bike haul will be available on Beaver Creek Mountain. 
For Vail Valley hikes (that go well beyond the mountain resort area, download the Vail hiking guide or check out a few of our staff and guests' favorite hikes. 
The Forest Flyer™ Mountain Coaster Opens in Mid-July
This adrenaline-seekers favorite is slated to open in mid-July. The raised alpine coaster winds its way 3,400 feet down the mountain, following the natural contours of the landscape through the forest. Be prepared for your adventure ahead of time by reviewing all of the activity requirements. Please note the coaster requires closed-toe footwear. Wear your favorite mask or buff to stifle your screams of joy and, of course, for the additional health and safety of yourself and others. 
Vail Farmer's Market and Art Show 
This nearly two-decade market on Meadow Drive will open on July 5 and run through October 4th, 2020. Tasty treats, fresh produce, and dozens of art vendors will be spaced 6 feet apart (with plenty of hand sanitizer) for a fantastic summer of safe strolling and shopping at the Farmer's Market. 
Vail America Days™
Fourth of July just isn't the Fourth of July without the fireworks and while the traditional Fourth of July parade is not possible in 2020, a short fireworks show will go on. So book your favorite al fresco table or find a spacious spot for picnicking and enjoy the Fourth of July fireworks tradition with your family.
Beaver Creek's Centennial Express Chairlift Opens
Lift hours: 10 am-4:00 pm starting July 1
Beaver Creek Resort is kicking off summer with relaxing and scenic rides on Centennial Express chairlift. You'll be treated to views of the Gore Range beyond, the quaint village below with access to iconic aspen glades, wildflower fields, hiking and biking trails up above. 
Bike Hauls are Available in Beaver Creek
Bike hauls will be available via Centennial Express chairlift, so you won't have to make that uphill climb as you do in Vail. Enjoy the vista as you're ferried to the top, then choose either moderate or adventurous routes all around. To see what's accessible via Centennial Express, download a Beaver Creek summer trail map.
Of course, exploring the mountain on foot is always a favorite. With over 62 miles of all level hiking trails, you can navigate your way through the three connected mountain villages: Beaver Creek Village, Arrowhead and Bachelor Gulch Village. Each has its own unique character, scenery, and plenty of picnic options for a day that fuels both your body and your soul. Routes may change due to elk calving, so just follow the posted signage depending on when you are visiting.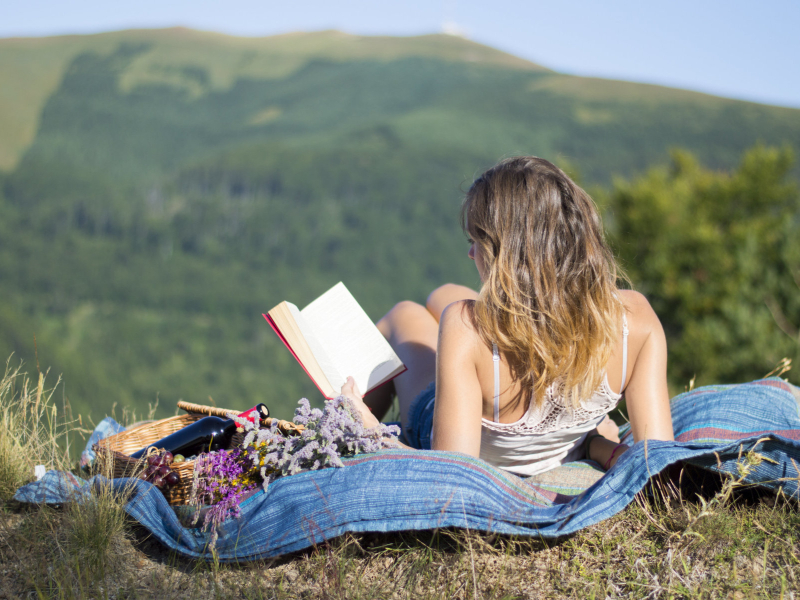 On-mountain Dining and Picnicking in Beaver Creek
Speaking of picnics, Spruce's Saddle on-mountain restaurant will be ready to go with grab 'n go options and pre-packaged snacks. BYOP (bring your own picnic) or just bring a credit card for cashless transactions for to-go food purchases. 
Mother Nature provides plenty of picnic spots on Beaver Creek Mountain, toss a blanket in the backpack and you'll be stretched out under a cloudless sky, enjoying a relaxing meal in the great outdoors in no time. And many delicious village area restaurants are now open with socially distant dining options both indoors and outdoors.
Vacation in the time of COVID might look a little different but, we promise, it feels just as fun. While you might not see the staff smiles behind the face masks, trust that everyone is excited to welcome you back to our mountains. 
Be sure to bring your credit card as all-mountain area activities will be cashless transactions this summer. And masks and buffs are required to protect yourself and others. 
The carefully curated Vail and Beaver Creek summer 2020 amenities are all ones that allow for social distancing for both staff and guests, and both resorts are committed to balancing both safety and fun. 
If you're ready to see beyond the four walls of your living room, book the perfect luxury summer vacation home rental in Vail or Beaver Creek. You can start (and finish!) your search right here.