24 Jun 2020
After the official first day of summer (June 20) and before the official kickoff to summer (July 4), Steamboat Resort is finally reopening to guests.
Steamboat has spent this spring balancing a strong commitment to safety and health with an equally strong commitment to offering vacation experiences for a lifetime of family memories.
The result … a serene, safe, and simplified Steamboat summer.
With one of the most gorgeous Colorado settings, miles of hiking trails, and Burgess Creek meandering its way around the mountain village, enjoying the great outdoors at Steamboat Resort is pretty much a given.
Oh, you'll still be able to partake in your fair share of thrilling adventures with the Outlaw mountain coaster and mountain bike trails, but you'll also be able to revel in the wildflowers, hike the naturally socially distant trails, take in the gorgeous Steamboat valley vistas, picnic in the open air and truly let nature take center stage.
Of course, Mother Nature never really went on lockdown and we've been hosting guests at our Moving Mountains Steamboat summer vacation homes since June 1, so you might be wondering what actually changes come June 26th?
The Steamboat Gondola is Opening!
Friday - Sunday, 10am-5pm
June 26-September 7, 2020
Our brand new gondola will be whisking families to the top of the mountain on weekends starting June 26th giving access to miles of hiking and biking trails, perfect picnic spots, and scenic overlooks.
Please note that biking will be allowed on multi-use Forest Service trails on the mountain, but bike upload, bike patrol, and other bike services will not be available on the Steamboat mountain for 2020.
Steamboat has hundreds of socially distant mountain, road and gravel rides for all levels of bikers, so, despite the closing of bike services on the mountain for just this summer, there's plenty of terrain throughout the valley for two-wheelers. Check out our Moving Mountains biking guide right here for our favorite rides.
Steamboat Mountain Hiking
From easy nature loops to rugged uphill climbs, the gondola opens up access to a few favorite high alpine hikes. Download the hiking trail guide right here:
Outlaw Mountain Coaster will open!
For those wanting a little adrenaline with their serenity, the Outlaw Mountain Coaster will open on June 26th. Fly down the mountain on this raised alpine coaster and see what the longest ride in North America feels like at top speed.
Maverick Mini Golf
The 18-hole Maverick Mini Golf course will open on June 26th. This playful course is fun for the whole family. Play through local landmarks such as the iconic Steamboat barn, Nordic ski jumps, and the Rabbit Ears rock formation. But don't get stuck in the infamous Fish Creek Falls water feature!
Oasis Sundeck will Open for On-Mountain Dining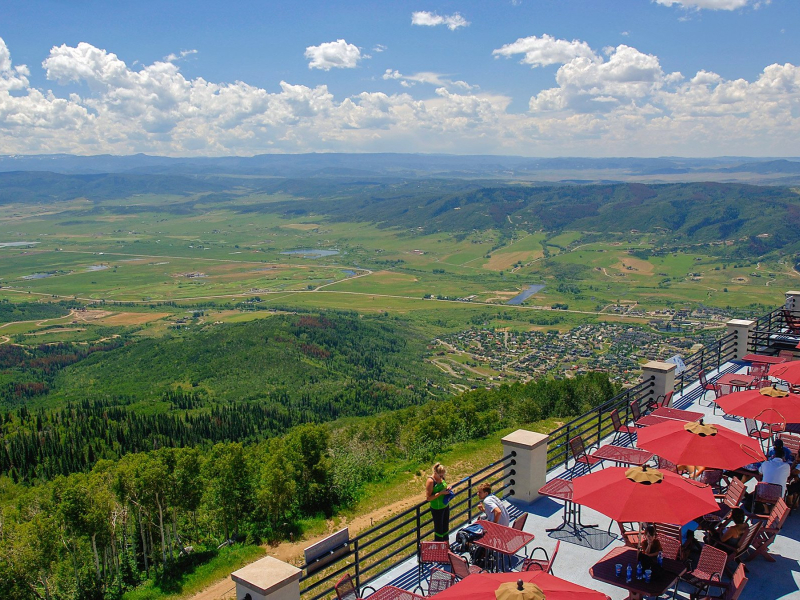 The best views of Steamboat come standard from the Oasis Sundeck restaurant. Relax at 9,000 feet and enjoy tasty offerings from the outdoor grill. Or BYOP (bring your own picnic) and spread out on the grassy area surrounding the restaurant.
Burgess Creek Beach
This family favorite is the perfect spot to unwind. Relax in the Adirondack chairs while little ones splash in the shallow Burgess Creek. Play in the mini waterfalls and follow the creek's flow as it stairsteps its way along the promenade. Due to changes in local liquor laws, for summer 2020, at happy hour, you can even enjoy a to-go cocktail from a local restaurant as you stroll along the Burgess Creek banks.
Vacation in the time of COVID might look a little different but, we promise, it feels just as fun. While you might not see the staff smiles behind the face masks, trust that everyone is excited to welcome you back to our mountains.
In addition to the mountain area opening, Steamboat's downtown scene is already open and thriving. There are plenty of outdoor dining spots, boutiques, and riverside picnic areas to enjoy. The bike path is perfect for cruising along the river and tubing is always a Steamboat summer favorite.
The entire Steamboat community is wholly committed to balancing both safety and fun, so the carefully curated Steamboat summer 2020 amenities and activities are ones that allow for safe social distancing for both staff and guests.
Bring your credit card as cashless transactions are encouraged this summer. And masks and buffs are required in stores and restaurants to protect yourself and others.
If you're ready to see beyond the four walls of your living room, book the perfect luxury summer vacation home rental in Steamboat. You can start (and finish!) your search right here.