We are passionate about your vacation experiences!
At Moving Mountains, you will meet a team of hospitality professionals unlike any other. We offer you a handpicked collection of luxury homes as the perfect place for your mountain vacation, but your lodging reservation is just the beginning of our work to ensure that you have an exceptional and memorable stay. Our team is locally based in each mountain community that we offer lodging, so we are perfectly placed to give you inside knowledge on the best places to go and the best things for you to do. Being local experts, we are ready to respond to any questions or needs that you have during your stay. We can stock your home with groceries prior to arrival and we can set you up with a personal chef or steer you to the best local restaurants. All of this will save you time and help you enjoy your stay to the maximum. Let us move-a-mountain for you!
Our hand-picked collection of homes and residences represents the very best of Steamboat, Vail, Beaver Creek, and Breckenridge. They are ideal for families and groups seeking privacy, five-star amenities, and all the comforts of home: luxurious high thread-count linens, robes, Egyptian cotton towels, and complimentary toiletries to pamper you; flat-panel TVs, surround sound audio, video game systems, board games and puzzles to entertain you.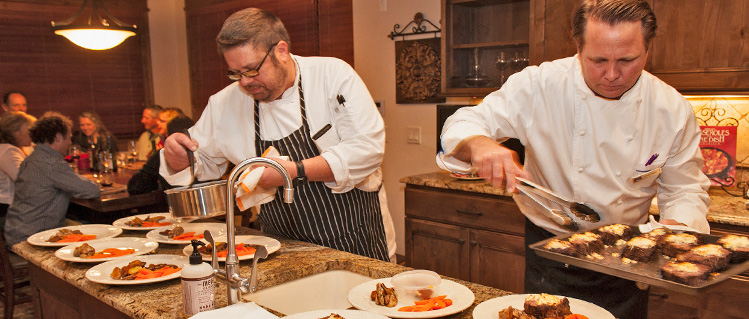 For many Mums and dedicated galley slaves, a mountain vacation means work. Feeding the friends and family that you have assembled takes time and costs money. Our full-service VIP catered package offers you an alternative option to reduce your stress and ease your worries about where the next meal is coming from. Our staff will prepare meals leaving you time to focus on you. You will dine in style and everyone will have a chance to relax.
We are travel professionals who will utilize our connections where possible to smooth your vacation planning. You can benefit from our wholesale contract rates allowing us to save you money on airport shuttles or vehicle rentals. Moving Mountains is a one-stop-shop for your entire vacation. 
By planning your stay before you get here we can guarantee that you will maximize your vacation time. Pre-arranging lift tickets, ski school, equipment rentals, and other planned activities guarantees availability for your group and saves you hours of time on your first day. We can stock your home with groceries, or arrange a private chef to cater some special dinners.  We'll arrange activities and make restaurant reservations. All you have to do is get here and we will have everything else arranged.
Our property management services allow our owners peace of mind with their multi-million dollar properties. Vacation home rental allows you as an owner to choose when you use your home and earn a great return on your investment property when you are not in town. We focus on revenue, not occupancy to minimize wear and tear and to reduce operating costs, and provide the maximum return for our owners.  We offer a comprehensive management program including a customized inspection plan that protects your home against unexpected events and proactively addresses the maintenance issues that can create problems when a home sits empty for several months.
You may also be interested in: