Our Property Management Services
OUR STORY
IT ALL STARTED ON THE BACK OF A YACHT IN THE CARIBBEAN
Robin and Heather Craigen had their dream job chartering a luxurious 72ft. sailing yacht in the British Virgin Islands. When they married and began to dream of raising a family, they knew that yacht charters would not be compatible with family life, so, they switched island-life for the mountains and moved to Steamboat Springs in the heart of the Colorado Rockies. Their goal was to continue offering vacations-of-a-lifetime —translating everything learned from providing 5-Star hospitality on a yacht to solving the challenges of relaxing while having a memorable ski vacation in the mountains.
Beginning with one 6-bedroom chalet they began offering fully catered ski vacation experiences to families visiting Steamboat Springs. Heather prepared gourmet meals and Robin provided private driver services with the special touches that made it easier for guests to relax and have more fun!
Moving Mountains evolved from there. Over the next 20 years, the Craigens took on the management of other high-end homes, formed partnerships with exceptional properties at the base of the ski mountain, and the portfolio of homes and residences grew to over 80.
Today, Moving Mountains occupies a unique position as a specialist in luxury lodging and vacation experiences, offering the finest lodging in the marketplace supported by a special team of talented hospitality professionals who "move mountains" every day for guests.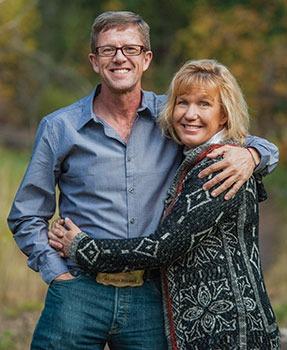 In 2019, Moving Mountains expanded to the Vail Valley, including the legendary ski resorts of Vail and Beaver Creek. In 2021, we added a large portfolio of luxurious homes in Breckenridge. Guests now have the opportunity to enjoy the Moving Mountains experience in multiple destinations, knowing that every last detail is taken care of.
WE INVITE YOU TO JOIN US!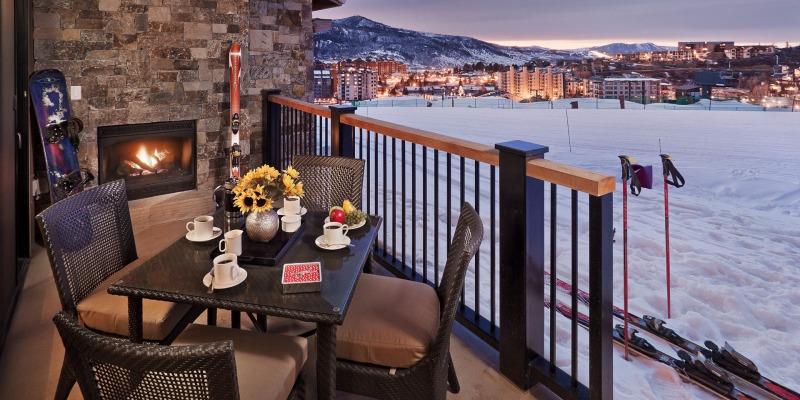 YOUR HOME WILL NEVER BE A "UNIT" TO US
Homes and residences managed by Moving Mountains are never a commodity. We are here to help second homeowners overcome the challenges of owning and protecting their precious mountain property. We are also the experts in matching these luxurious homes, and their five-star amenities, with top-tier rental guests who appreciate and respect the opportunity to stay there.
We recognize that your home is an important asset and we commit to caring for it like it was our own. A well-cared-for home is the essence of the experience our guests are seeking for their dream vacation. Our mission statement: Creating memorable vacations in exceptional mountain homes is not about just booking units! We'll leave that to the other guys.
LUXURY IS OUR SPECIALITY
Moving Mountains offers unique and high-quality vacation experiences to our guests and we only work with the very best vacation rental properties available. We are locally based with experienced and professional staff and we focus on providing a complete solution to the needs of our homeowners. Because we are local, we can do this better than anyone else. These homes are complex, and their needs are specific. We pay attention to the details and attract a rental clientele that matches perfectly with this approach.
As owners, you benefit from our hands-on approach and our meticulous attention to the details. You also benefit from our approach to hospitality which enables you to enjoy more of your time having fun at your second home and spend less time working on a to-do list.
We strive to maintain the highest standards in all areas of our business. We turn away many more homes than we accept into our rental management program because of the expectations of our guests who prefer homes with WOW factor, great amenities, location, design, and flexible bedding configurations.
PRIVATE SKI SHUTTLE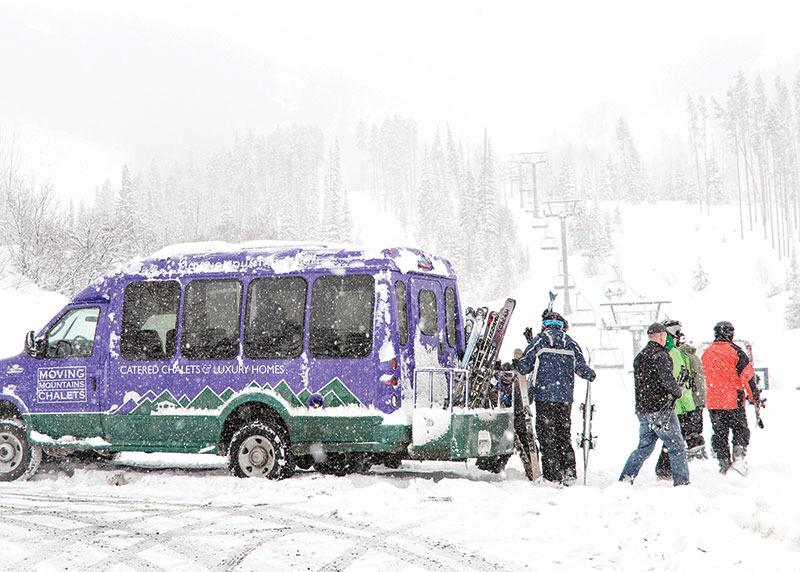 ON-CALL FOR ULTIMATE SERVICE
Our all-wheel-drive "Purple People Movers" are easy to spot and enable us to provide safe and reliable access to the ski trails, shops, and downtown restaurants for owners and guests staying in our homes during ski season. There's no need to designate a driver or worry about the snowy and icy roads. Every shuttle is equipped with seatbelts, snow tires, and a friendly & knowledgeable driver trained in winter driving.
Shuttle service is a game-changer for homes that are not immediately next to a ski trail. Providing a safe and convenient shuttle service eliminates concerns about having to stay in a slopeside location and has allowed us to drive strong rental performance for all our homes where access to ski trails is a challenge.
CLEAN & FRESH
EVERY. STAY.
A private hot tub is considered highly desirable and this wonderful amenity is standard with almost every home we manage. Moving Mountains operates at the highest standard of hygiene safety—we change the water in our hot tubs for every guest stay. This eliminates any liability risk to the owners and provides the ultimate level of cleanliness for you and our guests. An added bonus is that our water and chemical balance protocol has shown dramatically reduced maintenance costs because fresh neutral balance water reduces corrosion and extends the life of many spa components.
5-STAR VACATIONS BEGIN WITH HOUSEKEEPING & INSPECTIONS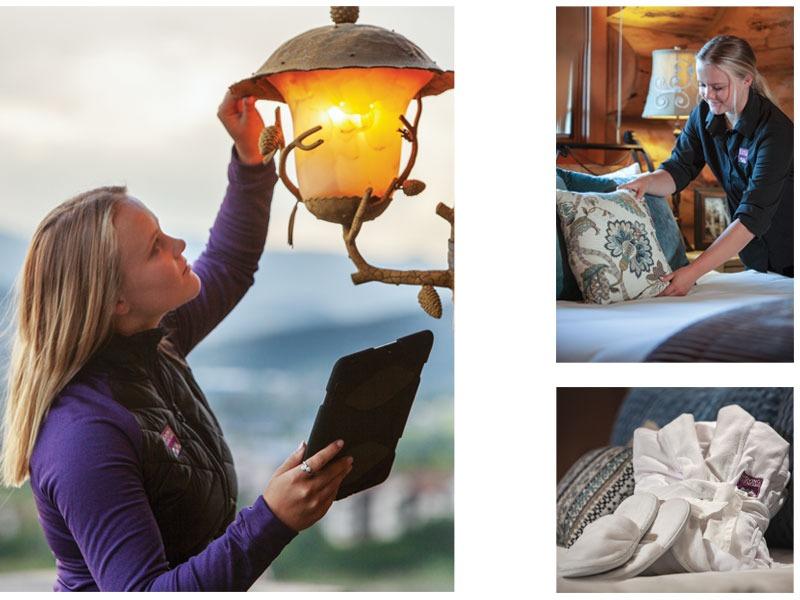 Our housekeeping team is second to none, regularly achieving higher than 95% approval ratings on our guest surveys. Our teams understand that a clean home upon arrival is a non-negotiable standard and they go to extraordinary lengths to deliver this every time. Pre-Arrival inspections ensure that nothing is missed and that our rigorous standards are consistently met.
OUR LUXURY LINENS, TOWELS & ROBES SET THE STANDARD
To ensure a consistent and delightful experience for both owners and guests, Moving Mountains outfits our managed homes with a linen package to rival any luxury hotel. This includes high thread-count sheets, Egyptian cotton towels, plush terry robes, and slippers.
THE ESSENTIALS
CONVENIENCE MAKES ALL THE DIFFERENCE
Moving Mountains provides our own all-natural toiletries in refillable containers to reduce the environmental impact of disposable miniatures. We set up your home with adequate supplies of trash bags, dishwasher tablets, laundry detergent, plastic wrap, foil, paper towels, and toilet paper because we believe that these are the essentials that any vacation rental home should have.
RELAX
LEAVE THE COOKING AND CLEAN-UP TO US
Moving Mountains was originally founded to deliver a full-service catered experience in a ski vacation setting. Today this remains a popular offering, along with personal chef dinners for our guests and owners.
Our impressive roster of talented chefs creates delicious and healthy meals to take the pressure off the cook in the family and allow 100% vacation time for all.
BREATHE EASY
WE TAKE THE TIME TO KNOW OUR GUESTS
Your peace of mind is important to us. We learn a lot about our guests and their idea of a memorable vacation during the reservations process. This helps us select the best home to suit their needs.
Upon arrival, every guest is personally checked in at the home. This allows us to verify who is in your home and we can set the right expectations regarding acceptable behavior, close neighbors, local wildlife, and weather. We outfit every home with a detailed user guide and provide 24/7 on-call maintenance coverage, so we can quickly respond if needed. Finally, to cover the unexpected, every reservation includes $10,000 coverage for accidental damage.
Guests are quickly settled after being shown how everything works and the result is fewer service calls and five-star guest satisfaction and review scores.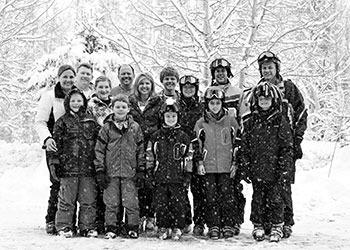 WHAT IS IMPORTANT TO YOU MATTERS TO US
With Moving Mountains, you will never be an anonymous homeowner. When you join our portfolio, you are among the select few. We will get to know you and understand your personal goals so that every aspect of our relationship meets or exceeds your expectations.
Our Owner Portal allows you to make reservations, view statements, see performance data and upcoming stays. Our e-newsletters share ideas and updates so that you are kept in the loop with timely communications.
Proprietary inspection profiles allow us to achieve a very high level of consistency in how our homes are setup throughout the year. We keep detailed staged images of every room to ensure that everything is in its place when you arrive home.
OUR STRATEGY
YOUR GOALS & OUR EXPERIENCE
We understand that revenue management is important and maximizing ROI is central to our sales strategy. However, when you represent the best in the marketplace, it's important not to get pulled into price wars where you only win a client based on rate. Our experience-driven model is counter to the algorithms of our competitors that chase bookings at any price. Our average daily rental rates are 4 - 6 times the market average allowing us to consistently outperform the competition.
Our high revenue/low occupancy model strikes the perfect balance between meaningful revenue earned when you are not using your home and the potential concerns about high wear and tear that could arise if a home is heavily used by the wrong crowd. Experience tells us that rate is one of the best filters in the business and to get the 'right guest' requires appreciating the value of a home and knowing the right rates to offer.
OUR REPUTATION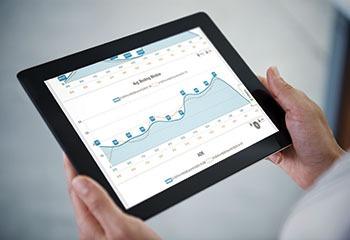 INTEGRITY AND TRUST IS EVERYTHING
As a luxury property management specialist with the highest standards in the marketplace, we are very selective and bring on new properties only if they meet or exceed the brand expectations of a Moving Mountains home. Because of this, the onboarding process for a potential new property involves many questions from both sides to ensure that our relationship can be mutually successful.
Our longstanding reputation for excellence has brought us many new homeowners through referrals from realtors, builders, and community members. When you are ready to learn more, we'll meet at your home to discuss our services and answer all your questions. Your satisfaction and confidence are of paramount importance to us, so we also invite you to contact other homeowners working with us for a personal reference of their experiences.
CARE OF YOUR HOME
HOME CARE PROFESSIONALS
The year-round care and maintenance of your home is our Operations Team's #1 priority. With over 100 items, our Pre-Guest Arrival and Weekly Property Checks ensure complete system reliability. Preventative maintenance is key to protecting your asset. We perform detailed Spring and Fall Property Assessments to stay on top of seasonal maintenance items and to advise you on the long-term care of your property.
When guests or owners are in-house, 24/7 maintenance coverage ensures that we can meet the needs of any emergency day or night. We resolve concerns before they become vacation-ending nightmares. We troubleshoot and diagnose every call to resolve an issue or to accurately determine a quick solution with our approved licensed and insured contractors & service providers to minimize operational repair expenses.
We are experts on advising how to optimize your home for rental. We frequently advise on:
- Flexible bedding configurations to allow for different group types.
- Unique and fun amenities like a pool table or shuffleboard are sometimes the deciding factor.
- Decor changes - keep your home at the top of a competitive marketplace and maintain value.
MARKETING EXPERTISE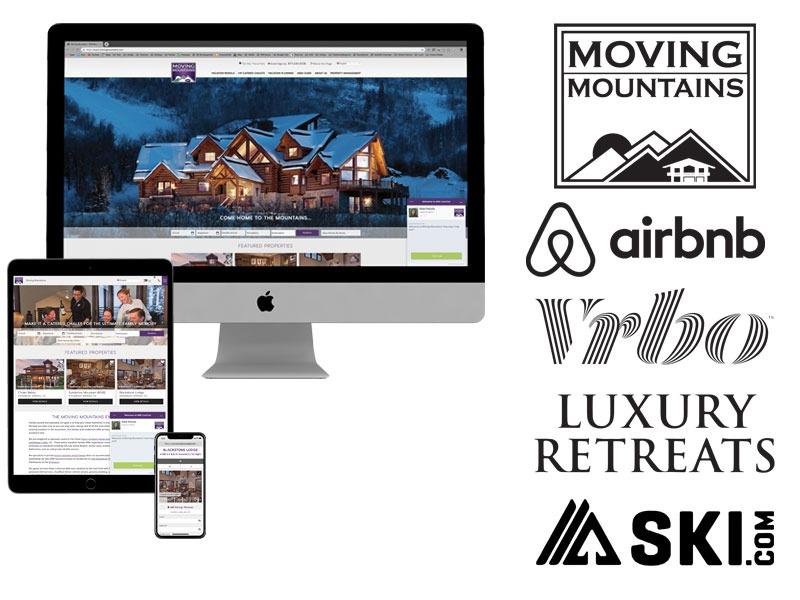 REACHING THE RIGHT CLIENTS
The Moving Mountains in-house marketing team understands that our homes are unique. We're not afraid to chart our own course to represent our homes honestly and accurately for maximum value. The commoditization of vacation rentals being implemented by virtual mega-managers and traditional jack-of-all-trades property managers does not connect with the luxury end of the market where homeowners and guests alike seek better experiences and certainty in a world of risky online relationships.
When you are selling a memorable experience you cannot cut corners, so, we don't. Every home we manage is professionally staged and photographed and the resulting ultra-high-quality HDR imagery showcases the highlights of every room and feature. We use Matterport 3D tours to build a virtual tour that allows a guest to 'walk your home' via their smartphone or laptop and begin the dream of a perfect vacation.
CUTTING EDGE ONLINE MARKETING AND DISTRIBUTION
Our websites are all responsive and mobile-friendly. Professionally crafted listings provide intricate detail. Custom floor plans offer accurate layout guides. We provide live rates and availability so guests can reserve online day or night. Our homes are distributed globally to select luxury partners and listing sites.
Personal relationships are our strength with 80% of our guests making reservations directly with our own team of experts or through our responsive mobile-friendly website using their smartphone. Our marketing goes way beyond listing sites like Airbnb and VRBO. Yes, we use them, but these booking sites drive only a small percentage of our overall reservations because luxury vacation experiences are not typically a quick click-and-buy online purchase.
Moving Mountains has developed a network of luxury lodging partners both domestic and international, giving us a global reach to Europe, Latin America, Australia, and beyond.
When you join the Moving Mountains family as a homeowner you have access to our growing database of over 40,000 luxury travelers who have inquired with us, stayed with us, or told their friends to call us for the best homes available.
COMPELLING CONTENT
OUR ENGAGEMENT STRATEGY
Our SEO and focused content marketing strategy through blogging and social media generates strong organic traffic to our website. Over 95% of travelers spent time with Google researching their vacations so we allocate a significant pay-per-click and retargeting budget to position Moving Mountains at the center of searches for luxury lodging and 5-star vacations.
TELLING OUR STORY
In a world where people are weary of advertising, storytelling is regarded as one of the most effective communication strategies. We are committed to continue working to host journalists and travel writers as they so widely and enthusiastically tell the story through their own experiences of our luxurious homes and what we offer with them. Our proven public relations strategy has yielded articles in Forbes, Conde Naste Traveler, national newspapers, and ski publications, which net over 30 million impressions annually. These stays can generate valuable publicity for your home at no additional cost because Moving Mountains covers all expenses.
DEDICATED AND PASSIONATE PROFESSIONALS
At the core of what we do is a team of passionate, talented, and experienced hospitality professionals. We are locally based so we can personally deliver a WOW vacation. This cannot be done from an out-of-state call center. You will likely come to know many of them by name and you'll have direct access to discuss questions and concerns as they arise. We value our relationship with homeowners and we're responsive to your inquiries and needs. If you're not happy, we're not happy and we'll do what it takes until you are fully satisfied with our partnership.

We represent the interests of our owners to community leaders so that vacation rental regulations strike the right balance between providing accountability to our neighbors, safety for our guests, and freedom for our owners to rent responsibly.
As the saying goes, "it takes a village…" and we feel lucky to have so many great partners in our local communities who support us 24-7, 365 days a year. When things break down, our trusted licensed contractors show up to support our maintenance team to rapidly resolve heating, plumbing, AV, and internet issues.
We love to give back to our community through paid volunteer time, donations, and sponsorships because helping others in our community succeed is also important to us.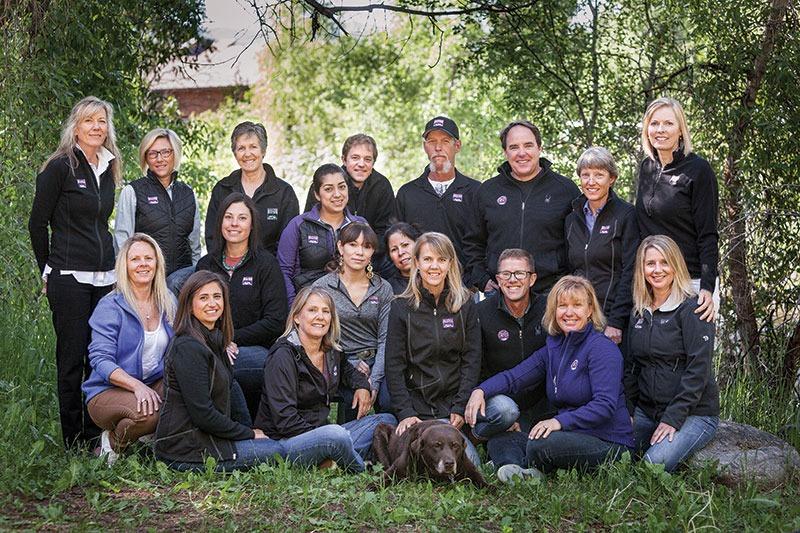 GUEST SERVICES
THE MAGIC IS IN THE DETAILS
At Moving Mountains, the lodging reservation is just the beginning of the journey to a perfect stay. Complex vacations with multiple guests require meticulous attention to every detail.
We have developed our own Guest Services Software to help guests and owners learn about activities and services that are available to take their stay to the next level. Our team can help you plan everything which is then shared in a personal itinerary, so you have every detail at your fingertips.
BEYOND COMPARE
THE MOVING MOUNTAINS ADVANTAGE
We seek excellence in everything we do. As a Moving Mountains home, your luxury property will be well-positioned at the top of the rental marketplace. Our standards, reputation and attention to detail attracts higher caliber guests seeking great vacation experiences who are willing and able to pay premium rates for the very best homes available.
Moving Mountains standards like personal in-home check-ins and property tours ensure that guests are comfortable and familiar with how things work. Preventative maintenance is our mantra in the year-round care of your home, and when needed our in-house maintenance crew is ready to respond 24-7 to any situation, and frequently this leads to even higher guest satisfaction!
When you come and stay in your vacation home, you can relax and enjoy your time here without a to-do list, knowing everything is prepared and working. You'll also receive all the benefits of a Moving Mountains guest from winter ski shuttle to concierge services to private chefs.
With excellence as our standard, our homeowners and guests alike rave about our service and attention to detail. Still, we're careful never to rest on our laurels. We consistently strive to improve in order to deliver industry-leading satisfaction for our owners and guests.
With over 20 years' experience, you can trust that your home and your revenue goals are top of mind with our team. Your success is our success.
Owner Quote:

"When we bought this home there really was an important balance between income we derive from this home and having peace-of-mind in terms of making sure that the home is well taken care of. Moving Mountains has enabled us to achieve this great balance of driving great rental income but without deteriorating our home in the least."