Extended Stays in Breckenridge, Beaver Creek and Steamboat Springs
CALL THE MOUNTAINS HOME WHEN YOU BOOK A LONG STAY
Did you know that our luxury vacation rentals are available for extended stays of longer than 30 nights?
We invite you to truly relax and immerse yourself into the mountain lifestyle of our Colorado towns of Breckenridge, Beaver Creek, and Steamboat Springs. Call the mountains your home when you stay for 30, 60, 90 nights - or the custom length that you prefer!
If you are free to work remotely, why not from the mountains?
Imagine hitting first tracks before the first conference call of the day, apres ski from your private deck and hot tub, and heading out for backcountry adventures with the family on the weekends. Or in the summertime, hit the lakes and state parks with your paddleboard and kayak, get on the river, hike and bike your heart out, or fish to your heart's desire. The opportunities are endless when you make the mountains your home base for a while.
Did we bury the lead? There is also NO SALES TAX when booking a stay for longer than 30 nights, as it's considered a lease. More savings for you!
Pending availability, ALL of Moving Mountains' luxury vacation rental homes are available for extended stays. *available exclusively through
Moving Mountains Real Estate
However, we have the unique opportunity of a home in Steamboat Springs that is dedicated to these longer stays, Azure Chalet. This home offers a great opportunity for monthly leases, ski leases, or just longer stays. Learn more about this home below.
STEAMBOAT SPRINGS VACATION RENTALS AVAILABLE EXCLUSIVELY FOR 30+ NIGHTS: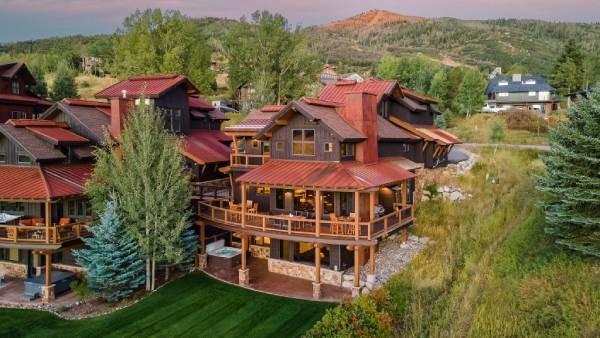 Welcome to the beautiful Azure Chalet, a spacious mountain lodge just 5 minutes from skiing with plenty of space for guests, entertaining, and privacy.

A stunning great room is set up for entertaining with a spacious open floor plan, open to the kitchen and dining areas with loads of natural light. A large stone fireplace is a focal point, great for staying toasty warm in winter on comfortable couches while enjoying movie night on a wall-mounted TV. High ceilings and large windows allow nature inside, with exposed beams and architectural features adding ambiance to the room. Learn more here.

Moving Mountains is happy to provide extended stay opportunities in our Colorado mountain towns of Breckenridge, Beaver Creek and Steamboat Springs. When you stay with us for 30+ consecutive nights, your stay will be exempt from sales tax.

For all inquiries, call Kate: 970-870-9359 x304