20 Nov 2020
Enjoying a ski vacation might seem like a simple enough endeavor. Find flights, search for accommodations, pack suitcases, load up the family, have fun, return home. Easy peasy. 
But after over 20 years in the ski resort business and thousands of hosted guests later, we have seen even veteran vacationers make unnecessary and utterly avoidable ski vacation mistakes, which is no fun for anyone. 
Vacation time is a precious resource and we don't want you to waste one minute of it.
So whether you're a seasoned skier who has logged more vertical than a skyscraper or a first-timer who isn't quite sure what logging vertical even means, read on for these ski travel mistakes to avoid.

Mistake #1
Choosing a ski resort that is too advanced for everyone in your group. 
The consequences of this mistake can put a damper on the fun. Here's the scenario, your neighbors loved Jackson Hole, Aspen or, Alta, their photos on Facebook were incredible, so you assume your brood probably will love it, too.
However, upon arrival, you realize that all 3 of those mountains have very few beginner runs (Aspen has zero beginner/green runs), and you have some novice skiers in your group. 
Or maybe you're looking for ski lessons for the kids and find out that Aspen Mountain doesn't have a children's ski school. The nearest ski school for children is located at Buttermilk, a few miles away, so now you're spending your ski day transporting your kids to another mountain for lessons, one that you aren't too excited to ski.
Perhaps you booked a trip to Breckenridge and didn't realize that Breckenridge's base area is nearly 3000 feet higher in altitude than Steamboat's base area. This means that altitude sickness can be worse for those not used to starting out at such a high elevation. It also means that you should bundle up, as Breckenridge tends to be colder.
Here's what to do instead: 
Choose a destination that has a variety of terrain for all levels.

Our favorites are Vail, Beaver Creek or Steamboat. By choosing one of these ski resorts, advanced skiers can huck themselves off of the nearest double black diamond or bury themselves in powder; beginners and intermediates can enjoy the greens, blues, single black diamonds, and plentiful groomers.
All 3 happen to also have great ski school programs conveniently located at each base areas. Steamboat's ski school is so conveniently located, our One Steamboat Place guests can practically do the drop off in their slippers!
Mistake #2
Not taking advantage of direct flights into ski resort airports.
We know, Denver is a BIG airport and many ski resort vacationers assume they'll just fly in, rent a car and take the scenic drive up into the mountains. Then a blizzard blows in, roads close, traffic backs up and several "white-knuckling" hours later you make it to the destination. No one wants to start a vacation like that.
Here's what to do instead:
Both Steamboat and Vail/Beaver Creek work with the airlines to get coveted routes into resort airports. With direct flights from over 14 major cities into Steamboat Hayden or Eagle/Vail, you'll want to consider this highly convenient travel option.
Mistake #3
Lugging all your own baby equipment
After you've packed up half the nursery, checked oversize baby equipment with the airlines and watched TSA rummage through your suitcase full of tub toys and baby monitors, you wonder if the ski trip is even worth it. Of course, it is! But we have a much better solution.
Here's what to do instead:
Let us know you're traveling with little ones and, in addition to reserving cribs and high chairs, we can also arrange for baby monitors, bouncy seats, bath toys, swings and strollers built for the snow. We'll even install baby gates in our multi-level homes.

We won't claim to be able to take all of the stress out of traveling with little ones, but we can definitely make it easier.
Pro tip: Skip the baggage fees and use ShipSkis to ship your luggage, skis and packages or presents ahead of time. 

Mistake #4
Forget to make transportation arrangements and assume you'll take Uber/Lyft from the airport.
Our ride-share drivers are few and far between. It's actually quite comical to pull up an app and see that there are zero drivers available. Not so funny when you're trying to get from the airport to your luxury ski chalet and have no way of getting there. Car rental places also have limited inventory, so this is not something you can leave to the last minute.
Here's what to do instead:
Have us book your transportation ahead of time. We'll either use our local airport shuttle service or arrange for our VIP shuttles (for Luxury Catered Chalet guests) to pick you up. If you're staying at one of our luxury vacation homes, you won't need a rental car once you've arrived. Our on-call shuttle service is better than Uber/Lyft and you won't have to search for parking or scrape a foot of snow off of the windshield of a rental car.
Mistake #5
Booking a hotel room
This is a rookie mistake for many first-time ski families. You assume that since you usually stay at a hotel on beach vacations, you would naturally just do the same on your ski vacation.
But there's a reason that there are more condominiums and vacation homes in ski destinations than hotel rooms.
Here's what to do instead:
Book a ski vacation home or a condominium (with a washer/dryer).
After a big ski day, families want to snuggle by the fireplace, play board games in the living room and enjoy a nice soak in the hot tub. By staying in a vacation home or condominium, you can also take advantage of the washer/dryer that comes standard in all of our residences. This way you can dry wet ski clothes and be warm and ready for the next day.
Trust us on this one, the last thing you want is the whole family spending each evening of the vacation crammed into a hotel room, eating room service on the bed, desperately trying to thaw out wet ski clothes in the bathroom.
Mistake #6
Not booking through a reputable property management company
This one breaks our hearts a little bit. We've heard maintenance horror stories from guests who previously booked a condo/home directly from an owner who lives a few thousand miles away.
Here's what to do instead:
Book with a reputable property management company with many 5-star reviews on Google, TripAdvisor or Flipkey.

While some of our owners do live far away, they often joke that we know their homes better than they do! We also have 24/7 maintenance personnel.

Our 5-star management service means that we avoid any maintenance mishaps long before guests arrive. If something unexpected does go awry during a vacation, we are on the scene within minutes to solve the problem. This service gives our guests incomparable ski vacation peace of mind. Something you won't get with a "keys in the mailbox" kind of rental.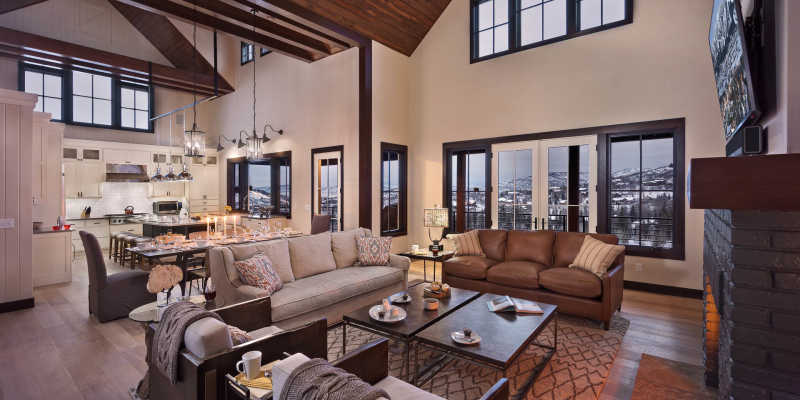 Mistake #7
Thinking you HAVE to stay in a ski-in/ski-out place in order to have the best ski vacation.
We get this one all the time in our reservations department. While it sounds like a must-have, it's actually not even remotely necessary.
Here's what to do instead:
Talk with our guest services department to find the perfect fit for your family. Some of our most luxurious, most popular and most highly-rated vacation homes are not ski-in/ski-out. Many are significantly larger than anything slope side, have better views and are a better value. 
Don't worry, with our on-call ski shuttle, you won't be carrying your gear the short distance home, you'll be picked up and dropped off close to the gondola, then escorted back to your chalet. On busier days, your driver can even drop you off at less frequented lifts to help you avoid the crowds.
Mistake #8
Spending too much money on lift tickets
If you don't order your lift tickets ahead of time, you will pay extra. Often times, you'll also have to stand in long lines for the privilege of paying extra.
Here's what to do instead:
Ask your Moving Mountains guest services specialist to reserve your lift tickets ahead of time. You'll save money and time, especially during peak season!
Mistake #9
Not realizing that booking a private chef is an option.
If you have a large group, reservations for more than 8 people are pretty difficult during busy times, (unless you're willing to dine at 4:30 pm). Trying to find a place, after a long day of skiing and an afternoon of hot tubbing with a hangry group of kids and adults in tow is not the easiest. And while your Moving Mountains chalet comes with a gourmet kitchen, who wants their last run of the day to be to the grocery store? 
Here's what to do instead:
Let us do dinner! From grocery shopping to arranging restaurant reservations, we'll take care of you long before your stomach growls. Our savviest guests know to let us take it one step further and eliminate the world's most stressful question: "what's for dinner?". They do this by having our staff of personal chefs prepare and serve a catered dinner in the comfort of their ski chalet. Sounds extravagant, but the cost is on par with local fine dining restaurants. Having a private chef for at least one night of vacation means that EVERYONE gets to be on vacation. No one has to set the table, do the dishes, or even change out of their bathrobe!
Stick with us and you won't need to make any of these ski vacation mistakes on your next ski trip. We have to warn you, though, once you stay with us, it's very difficult to stay with anyone else.