5 Jan 2022
Who doesn't love spring skiing? While January can be a bit more for powder-hounds, spring skiing in Steamboat is for everyone. Here are the top 5 reasons why we love spring skiing in Steamboat.
1. Longer Days = More Time to Ski
An extra hour of daylight means extra time on the slopes. In March, Steamboat lifts close a half-hour later, and if you think catching first-chair on a powder day is fun, try catching the last chair on a spring day. You can enjoy the view and revel in being one of the last ones before choosing a sunny, soft line down. Ski right up to your favorite happy hour spot, and relish in a great spring day at Streamboat.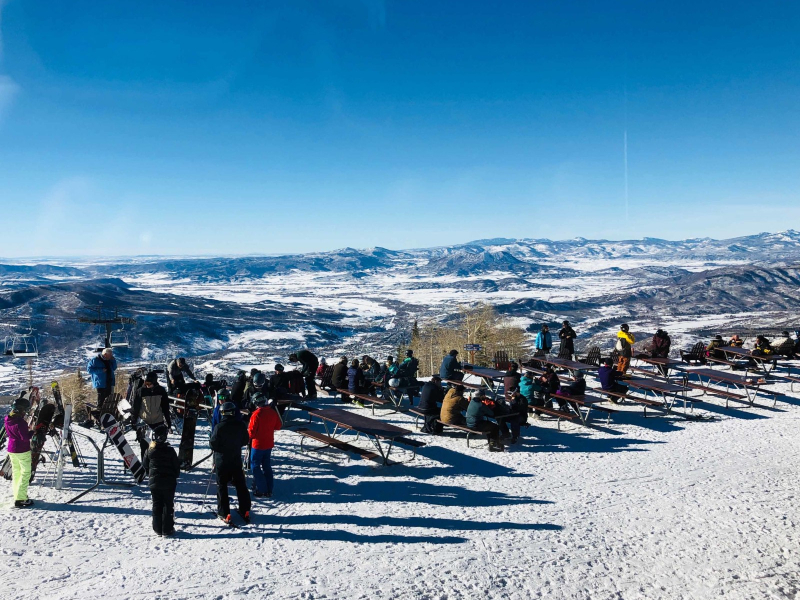 2. Sunny decks
There are so many to choose from. Steamboat's wide open valley allows for much sunnier outdoor seating than many of our competitors. And let's face it, lounging slopeside during your ski day for lunch or apres-ski is one of life's greatest pleasures. Kick back in your ski boots and enjoy outdoor grills at over 9000 feet above sea level. Only vegetarians can resist the draw of the BBQ smells that waft all the way up to the chairlifts! And since you aren't in a bathing suit on a beach vacation, there's no reason NOT to indulge in that burger! Our current favorite outdoor sun-filled spots in Steamboat (and a few new patios on the block) are all listed here.
Of course, some of the sunniest decks with the best views are the ones attached to our homes. For the ultimate spring break, book a full-service Luxury Catered Chalet package so that you can enjoy your favorite margarita in your slippers (without lifting a finger!) and rest your legs for tomorrow's ski adventures.
3. Slush bumps!
One of spring's best-kept secrets is Steamboat's slush bumps, also affectionately known as hero bumps. Let's face it. Moguls in 10-degree weather are pretty solid and bumpy. Moguls in 40-degree weather can be as smooth as frosting! Easy to turn in, not painful too fall on, and we all look like heroes when schussing through them.

4. Nobody is complaining
The kids aren't too cold. No one needs a boot heater, a hand warmer or a 2-hour hot chocolate break. And even beginners love spring skiing. Warmer temperatures, cobalt blue skies, what's not to love? Even if they're feeling a bit humbled on the slopes, they go home with the bragging rights of a goggle tan and memories of a great time. Non-skiers can enjoy snow sports without the blizzard: sun-filled days snowshoeing, cross-country skiing, snowmobiling, or a visit to the hot springs are a few spring favorites.
5. Live music & crazy costumes
Every Saturday in March and April, there's an apres-ski concert at the base of Steamboat Mountain. The Bud Light Rocks the Boat series brings world-class musicians to our little Western outpost. And the best part? Shows end by 5 pm. You can still enjoy an incredible meal out on the town or a Luxury catered dinner at your chalet and you won't fall asleep before the first set even starts. All events are kid-friendly. Hang out in the red Adirondack chairs at the base, around the outdoor firepits on the huge Timber & Torch patio or (if your legs are still up for it) boogie in your ski boots in the front row.


Dates: Concerts Run March 5 - April 10, 2022.
Time: 3:30pm every Saturday
Location: Gondola Square
Lineup: TBD
There are also crazy spring festivals from Mardi Gras and St. Patrick's Day to the Cardboard Classic and everything in between. Most are family-friendly, all are fun.
To get all the details on what we're looking forward to this spring in Steamboat (and crazy costume ideas!) go to our Insider's Guide to Steamboat's Spring Break.
Yes, the snow is still plentiful and mother nature brings plenty of March powder days. But the sun shines brighter, the temperatures warm-up faster and smiles are everywhere with the collective spring fever! So grab your shades, settle into a slingback and get ready for unforgettable spring skiing in Steamboat!
Need a place to call home during your spring skiing adventures!