Avoid Annoying Layovers & Delayed Baggage…
Getting to Colorado's ski resorts gets more convenient each ski season. This year, there's been an increase in direct flights and larger planes flying into Steamboat and Vail and Beaver Creek's regional airports. Travelers can fly non-stop into either ski destination from more than 16 hubs on major airline carriers. If Breckenridge is your destination, fly direct into Denver and book an airport transfer for a scenic drive into the Colorado Rockies!
Flying to Steamboat
Yampa Valley Regional Airport (HDN)

It's approximately 25 miles from Steamboat and 6 key carriers fly nonstop from 15 cities.




Airlines:
Alaska, American, Delta, JetBlue, Southwest, and United
Airports:
Atlanta (ATL), Boston (BOS), Chicago (ORD), Dallas (DAL and DFW), Denver, Ft. Lauderdale (FLL), Houston (IAH), Los Angeles (LAX), Minneapolis (MSP), Nashville (BNA), Newark (EWR), San Diego (SAN), San Francisco (SFO), Seattle (SEA), and Washington DC (IAD)
Click here for more details on this season's nonstop flights.
From the tarmac to your chalet will take just 30-40 minutes. You'll be relaxing in the hot tub or in front of the fireplace before you know it!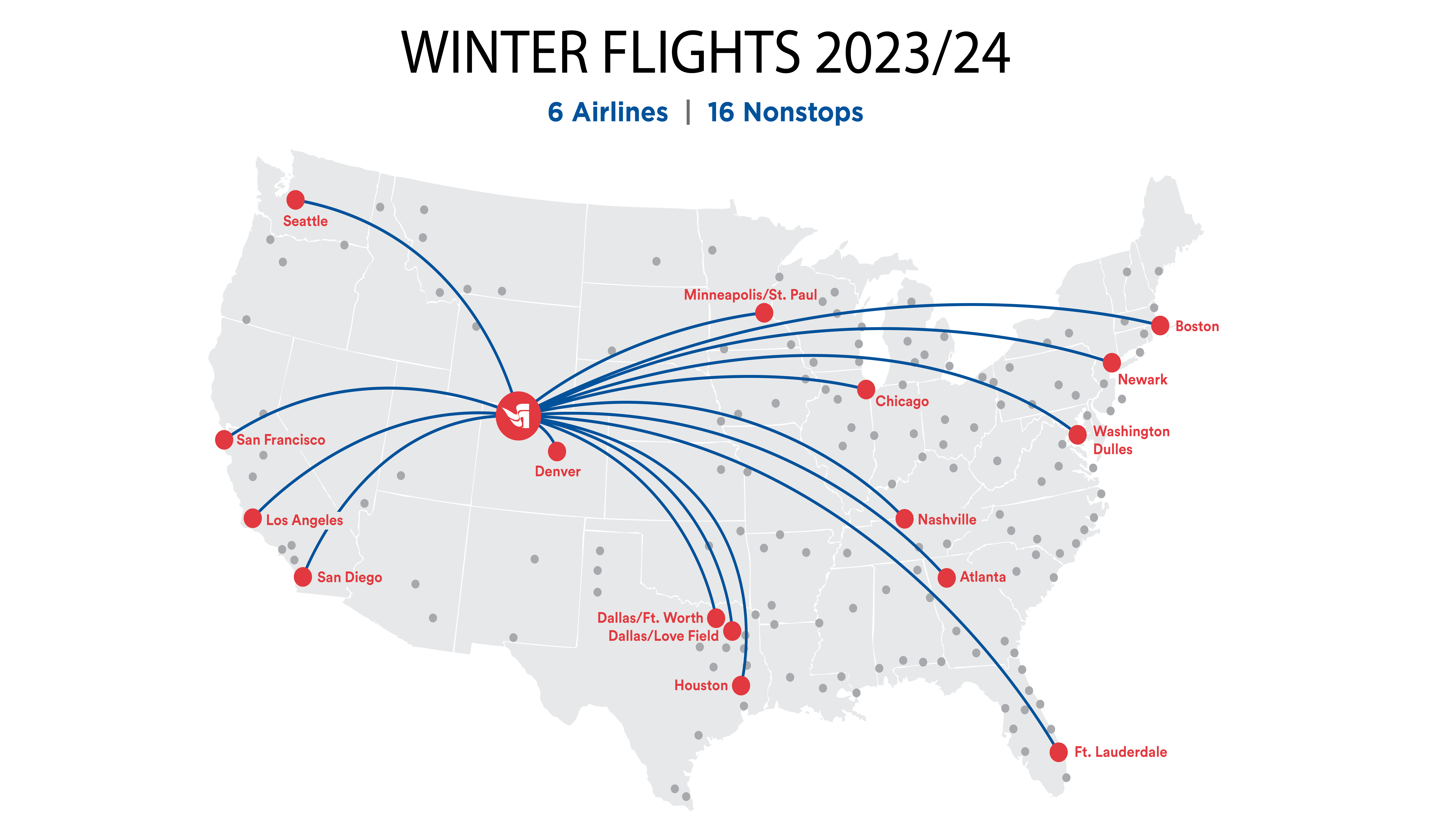 FLYING TO VAIL & BEAVER CREEK
Eagle Valley Regional Airport (EGE)
It's only 35 miles to Vail and 28 miles to Beaver Creek and 3 key carriers offer nonstop service from 12 major cities.

Airlines:
American, Delta, and United
Airports: Atlanta (ATL), Austin (AUS), Chicago (ORD), Dallas/Ft. Worth (DFW), Denver (DEN), Houston (IAH), Los Angeles (LAX), Miami (MIA), New York (JFK and LGA), Newark (EWR), Phoenix (PHX), and San Francisco (SFO)
Many Vail Valley travelers arrive via I-70 from Denver, so those in the know can avoid unexpected road closures and congestion by flying direct. With the Eagle airport being less than 40 miles to the resorts, you can literally step off the plane and into your ski boots shortly after landing.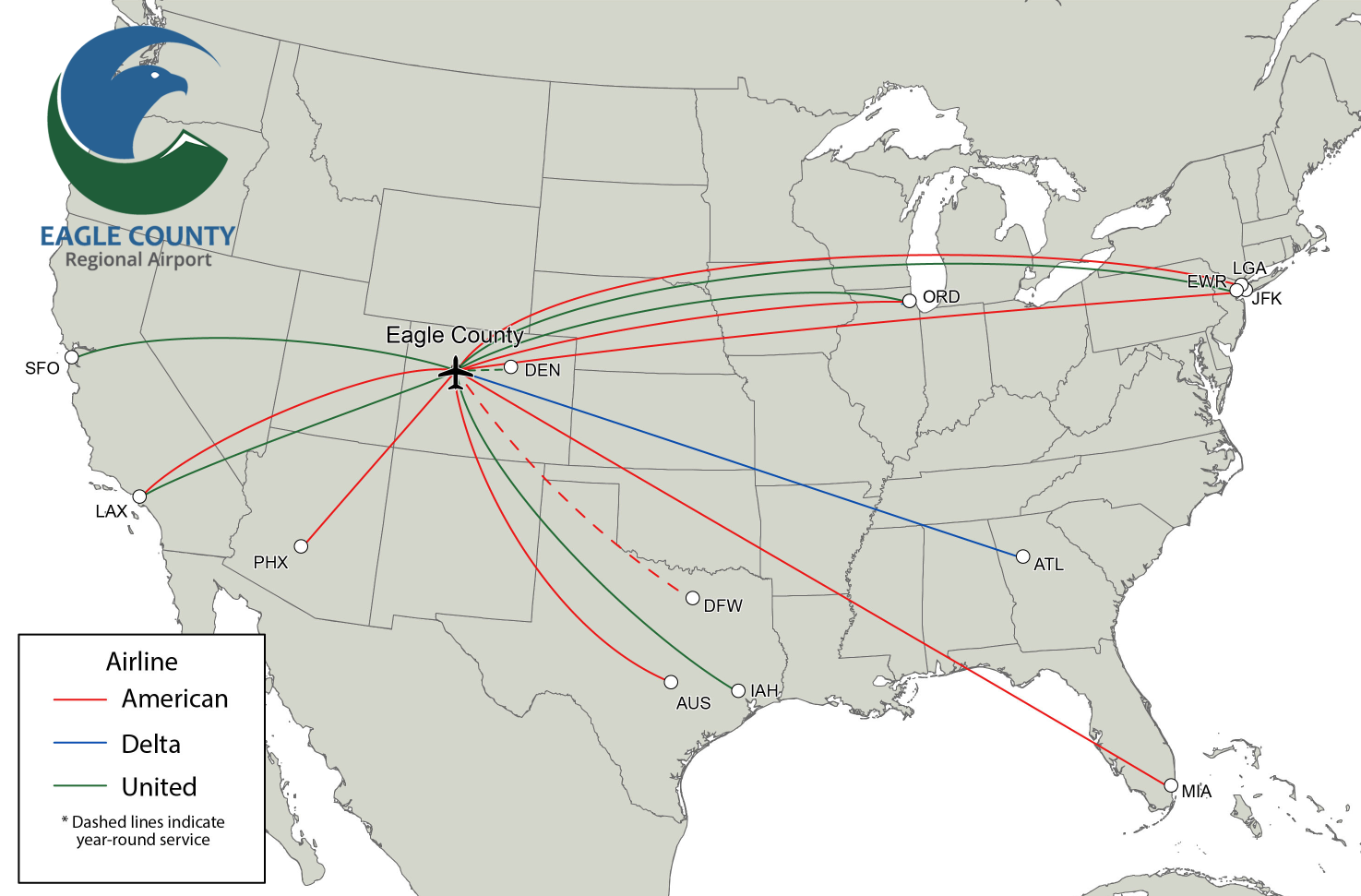 Denver International Airport (DEN) is the most convenient airport to fly into and then it's a 2-hour drive to Breckenridge.
The Eagle County Regional Airport (EGE) located in Eagle, west of Vail is another option. The drive is 1 ½ hours from the airport to Breckenridge.
Between these options, you're bound to find a direct flight that will save you missed connections and delayed, or even worse, lost luggage; especially in the winter!
And it's next to impossible to travel on a ski vacation with just a carryon! Between hats, mittens, goggles, coats, snow boots, skis...the luggage piles up. So ship it ahead of time instead of lugging it through the airport. Ship Skis offers an easy solution.
ARRIVING ON A PRIVATE PLANE...
If you are flying privately, both Steamboat and the Vail Valley have convenient FBO services. Steamboat boasts two FBOs. One is located at the municipal city Bob Adams airport and the other, Atlantic HDN, is located at the Yampa Valley Regional Airport. You'll be treated with Atlantic Aviation's renowned customer service, including heated hangars, luxurious waiting areas and more.
For our Vail/Beaver Creek guests, the Vail Valley Jet Center, located at Eagle County Airport (EGE), is known as one of the top FBOs in the country, often referred to as the "the Ritz Carlton of FBO's".
Whether you fly commercial or private, we want your travel to be "plane" and simple.
Avoid snow-covered roads and weather-related closures and fly direct, have an airport shuttle or private car whisk you to your vacation home, and then let Moving Mountains do the driving with their in-town shuttle service (Breckenridge, Steamboat and Vail only) Contact the Moving Mountains Guest Services team for details on how we can assist with your travel arrangements.
Still looking for a place to stay when you're here?