29 May 2020
We've long argued that the dining ambiance, inside of our Moving Mountain chalets, rivals the best restaurants in the world, 5-star meals paired with 5-star views. But we haven't touted the equally spectacular experience right outside of our chalet doors.
While our guests have always valued being able to hop out of the hot tub and head right over to the dinner table, this amenity has never been more important than it is right now.

Even though most of our favorite restaurants in Steamboat, Vail and Beaver Creek are carefully and cautiously reopening for patrons wishing to dine-in, this summer dining at home is equally, if not more, important.

Rest assured, the best patios, terraces, decks, verandas, and courtyards aren't only at a few choice restaurants, they're also right outside your chalet's living room door. 
Here are a few of our alfresco chalet favorites…

See Me Lodge's perch high above the valley ensures one of the most spectacular panoramic views. From Sleeping Giant to Emerald, you'll see all of Steamboat stretched out before you. If the evening turns a little chilly, sip your after-dinner drink in the Sunset Room gazebo, a glass-enclosed seating area that showcases the evening alpenglow.
From the great room to the great outdoors, Blackstone's inviting porch and expansive views are the perfect spot for your outdoor summer fare. With the rushing sounds of Fish Creek down below to the beautiful sunsets and views of Buffalo Pass and beyond, you'll be happy you stayed in.
The outside decks at Mountain High Chalet offer some of the most spectacular views of Steamboat with a 180-degree view from the Flat Tops to the Steamboat Ski Area. The mountains make a memorable backdrop for a perfect outdoor dinner. And who needs candles when the alpenglow already lights up the mountain?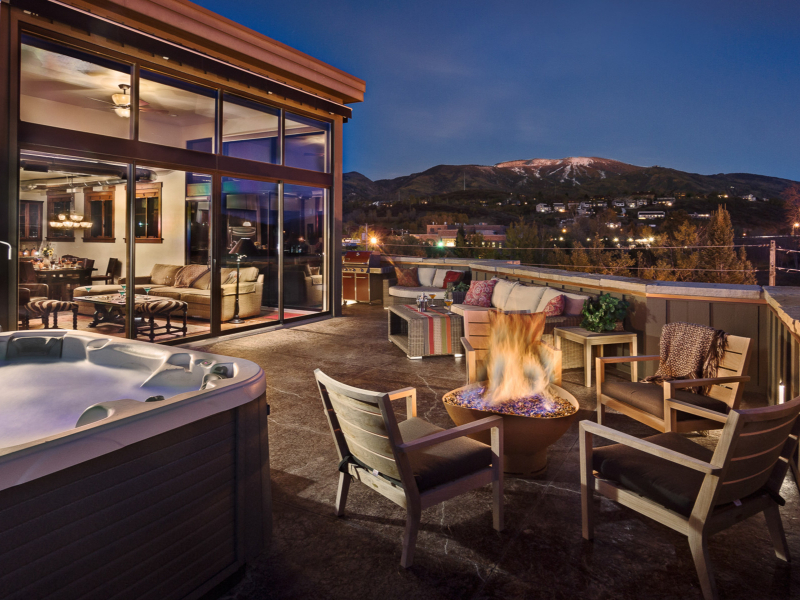 Both of our penthouse decks at the downtown Olympian offer incredible views of famed Howelsen Hill. These expansive outdoor living areas never disappoint. Soak up the sun before dinner, then have your last course around the outdoor firepit or head straight to the hot tub after the sun goes down.
Vail and Beaver Creek's Best Vacation Homes for Outdoor Dining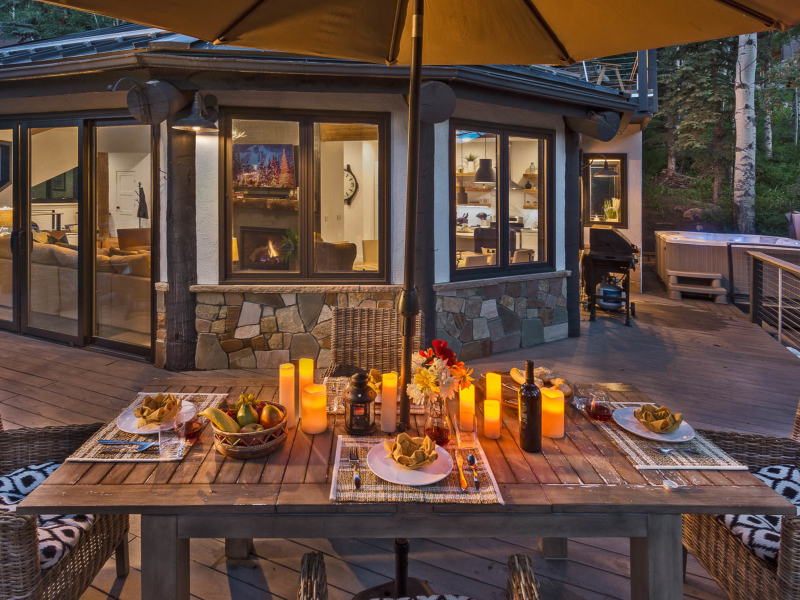 This gorgeous home tucked into the trees of West Vail offers the quintessential outdoor experience. Multiple seating areas, outdoor firepit, Sonos speakers, gas grill, and the hot tub make it a tempting private retreat for any occasion. Start your evening by soaking up the sunset and finish it off by staring up at the stars. 
Chateau Mirador has a porch that's fit for a prince! What else would you expect when staying at a chateau? Fire up the gas grill, settle in for the stunning scenery of Cordillera and give yourself a 5-star Yelp review.  Trust us, you won't be disappointed. 
A short distance from Beaver Creek Village is The exquisite Pioneer Lodge is located on Holden Road, one of Beaver Creek's most prestigious mountain neighborhoods. In warmer weather, you can plan to spend time on the lodge's furnished deck, watching the barbecue or sitting down at the alfresco dining table for 8. 
With all of these outdoor amenities such as Sonos speakers, gas grills, fire pits, outdoor hot tubs, and panoramic views, these outdoor dining areas in Steamboat, Vail, and Beaver Creek easily outshine their restaurant rivals. 
The Best Carryout Cuisine
And if the thought of cooking one.more.meal has you frantically searching for the nearest pizza delivery phone number, rest assured that the gourmet to go and carryout options have only gotten better these past few months.

Our staff can easily arrange for drop off catered dinners with some of our favorite local private chefs, there are delicious upscale grab and go options nearby and most restaurants will continue their robust takeout offerings throughout the summer.
Grab & Go
We love the Drunken Onion in Steamboat and Northside Grab & Go in Vail. For restaurant delivery, Steamboat Delivers represents several popular eateries and A La Car in Vail can bring food right to your door.

Carryout
For even more take-home gourmet options, visit your favorite restaurant's website for carryout and curbside service. Because of limited seating capacity for a summer of social distancing, most will still be offering extensive carryout cuisine and cocktails.

Yes, cocktails! Bottles of wine, craft beers, and signature cocktails are now also available for takeout at most restaurants. So don't miss out on your favorite margarita or Moscow mule because you're dining at home, just grab them to go.

We're happy to share our current carryout cuisine insider favorites such as Joki, Mambo, Salt & Lime, Aurum, or Cafe Diva. More restaurants in Steamboat, Vail, and Beaver Creek keep opening every day, so just ask our guest services team for our latest updates, tips and suggestions. Don't forget to bring your mask. While you don't need to wear it at your table, you will need to wear it when entering any of our delicious restaurants for dining in or taking out.

Whether you're tempting your tastebuds at a favorite eatery or you're settling in for the scenery and safety of a delicious meal at one of our beautiful vacation homes, we wish you Bon Appetit! 
If you're ready to reserve your best Steamboat, Vail, or Beaver Creek summer vacation, start your search here.