---
Robin Craigen : Co-Founder/President/CEO
Many years in the European Ski Travel industry in the 80's, including two years working in chalets in the French Alps, provided the experience to develop a luxury lodging and catered chalet program in Steamboat Springs.
He is a keen snowboarder in the winter, taking advantage of the many powder days that come each year. In summer, he bikes everywhere both on the mountain and around the many roads in the valley.  He founded the Board of Directors and served as President of Routt County Riders, the local cycling club. His passion is endurance bike racing and has completed races that include the Leadville 100 MTB, Joberg2C, Park City Point 2 Point and L'Etape du Tour. As a professional yachtsman for several years, he covered many ocean miles competing in international regattas and offshore races including the Sydney-Hobart, Newport-Bermuda, and the Fastnet Race.
As President / CEO of Moving Mountains he is delighted to lead a strong, energetic and talented team dedicated to providing the best vacation experiences in Colorado.
---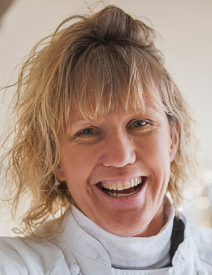 Heather Craigen : Co-Founder / VP / Catering Director
Heather's cooking is legendary in Steamboat where she oversees the menus and food preparation for all of our chalets and catered events. She has appeared several times on Steamboat TV18's cooking show and breakfast TV and was featured on the cover of the Food Section of the Denver Post.
Her cooking career began on a yacht in the Caribbean and she refined her skills at Cordon Bleu, the Culinary Institute of America, and at the International School of Baking in Oregon.  She has authored her own cookbook "Simple Pleasures" which highlights some of her most successful creations, plus many old favorites.
She has skied since her high school years but switched to snowboarding on arrival in Steamboat. Now she alternates between the two disciplines as she attempts to keep up with her kids, Maddie and Chili.
---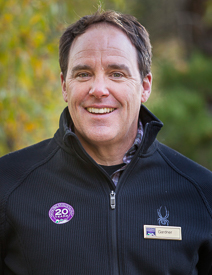 Gardner Flanigan : General Manager
Gardner Flanigan, a long-time resident of Steamboat Springs, brings over 20 years of experience as a marketing and sales management professional to the Moving Mountains team.  Before joining the Moving Mountains team, Flanigan was the Marketing Director at Smartwool, playing a leading role in the strategic development and growth of the global brand. Prior to that he served as the Director of Staffing Services at HIMS Consulting Group where he honed his management skills.
As an ex-ski racing coach, Gardner is still an avid skier (and occasional boarder too) who loves powder days with his wife of 20 years and two ski racing children. His summers include lots of cycling, mountain biking, camping with friends and family and enjoying the beautiful warm days and cool nights of Northwest Colorado.
---
Joan Allsberry  : Business Development & Owner Relations Manager
A California native, Joan and husband, Todd, stopped in Steamboat for "one night" over 20 years ago and never left. Joan's favorite part of her job is working with the reservations and guest services team to help make a family's vacation a spectacular one. Joan graduated from Loyola Marymount University with a Master's Degree in Educational Counseling and from California State University Los Angeles with a Bachelor of Science Degree in Business Administration with an emphasis in Finance.
Joan and Todd have three lovely daughters and one very precious granddaughter! Joan loves family time, running trails, telemark skiing, gardening, vintage cars and the arts.
---
Kate Znamenacek : Officer Manager / Executive Assistant 

Originally from New Hampshire, Kate is a former collegiate ski racer who always loved Colorado and after a family ski trip to Steamboat knew she wanted to move here someday.
Kate attended the University of Colorado, Boulder, ski racing all over the state and majoring in Journalism, with a minor in photography and post grad studies in marketing and graphic design.
Kate taught skiing in both Snowmass and Steamboat for 18 seasons, while working as a graphic designer, writer and wedding photographer. Kate and her husband moved to Steamboat in 2007 with their 3 children, all sports enthusiasts and hockey players. Kate also works with the Steamboat Youth Hockey Association and runs a local women's networking group, WIN Steamboat. In her free time, she enjoys fitness of all kinds- weight training, running, hiking, skate skiing, canoeing, fly fishing and backpacking with her family.
---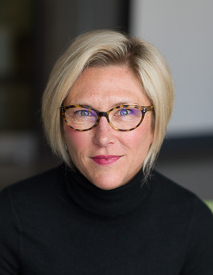 Teresa Wiedel : Guest Services

Teresa is trading safaris for skiing. Over the past several years, she managed client relations, operations, sales and marketing for Rothschild Safaris; and what she loved most was customizing incredible experiences for guests traveling to Africa, India and other global destinations. She followed her passion for luxury adventure travel after 12 years leading corporate communications and marketing for Comcast's International Networks, a group of multi-lingual, multi-cultural cable television channels.
Having her roots in Colorado and growing up enjoying all that the mountains have to offer, from skiing to biking to trail running, Teresa is unpacking her bags and making Steamboat home. She's looking forward to its renowned 'champagne powder' ski days this winter and helping Moving Mountains' guests enjoy them as well!
---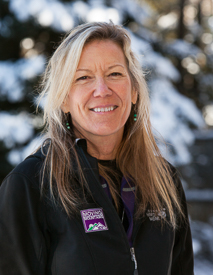 Lisa Subry : Reservations

Lisa grew up in Salinas, California enjoying the agricultural and coastal communities of the Salinas Valley.    After completing her Bachelor's degree in Chico, California, the passion for the outdoors and the mountains, drew Lisa to Colorado to pursue graduate studies at University of Colorado, Denver.   Lisa and her husband moved to Steamboat 24 years ago and have enjoyed being based in an active community where outdoor pursuits are minutes away.    She joined the Moving Mountains team in November 2014 and has found a new passion in sales and guest services.
---
Amy Davis : Sales Manager 

Amy Davis is a long-time resident of Steamboat Springs, moving to the valley in the fall of 2002 from New Jersey.  She brings the Moving Mountains team over 20 years' of experience as a Sales and Marketing Professional.  Before joining Moving Mountains, Amy was a pillar sales team member at the Debbie Aragon State Farm Insurance Agency and prior, served as a Sales & Marketing Manager for SmartWool.  Amy built an impressive career with the SmartWool brand earning promotions from the ground up and playing a leading role in the strategic sales growth.
In her free time, Amy enjoys going to barre class, road biking, camping, and spending time in the Yampa Valley with her husband & son. She loves to entertain and throw a good party.
---
Stephanie Stevenson : Operations Manager 
Stephanie was born and raised in Southern California. Steph moved to Steamboat with her husband and 4 daughters to live the Colorado dream, which she is enthusiastically doing while working at Moving Mountains.
Stephanie is a detailed oriented professional with an eye for perfection. Her goal is to have all of our residences shine while exceeding the expectations of each owner and guest. Stephanie is responsible for organizing, scheduling and overseeing the daily functions of our operations team. When not at work you'll find Steph enjoying both summer and winter outdoor sports with her family and Bernese Mountain Dog Beau.
---
Carol Gilman : Accounting Manager
Carol has lived in Steamboat for 15 years. She joined the Moving Mountains team in December 2015 with over 20 years of experience in accounting, the last 12 in property management. She grew up in Cleveland, Ohio, but was drawn to the Rocky Mountains shortly after college. She spent a year traveling around the world with highlights in East Africa, Nepal, Thailand and New Zealand. Since then she has also explored parts of Europe, South America and much of the US.  Her passion is mountain climbing, having reached the summit of all 55 fourteeners in Colorado. She loves a good powder day on the mountain but will be found more often on her tele skis in the back-country. She also enjoys hiking and scuba diving with her husband of 23 years. 
---
Sean Schimmel : Digital Marketing Manager

Growing up in Colorado Springs, Sean fell in love with skiing and Steamboat at an early age. After college, Sean made Steamboat his home after a short spell in the midwest. As our Digital Marketing Manager, Sean works closely with all branches of the company to ensure that our properties are widely promoted and well represented in a highly competitive market. When he isn't at work, Sean enjoys early morning skiing with bluebird skies, mountain biking on Emerald, and coaching and playing soccer.