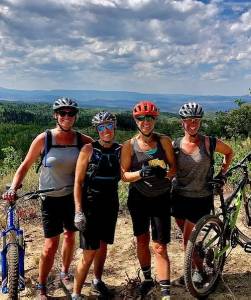 NANCY MCDOWELL
As bookkeeper, Nancy helps maintain the Moving Mountains financial records and keeps accounts current with skilled accuracy.
Born and raised in Portland, Oregon, she graduated from the University of Oregon. She followed her brother to Breckenridge in 1993 to become a "ski bum." The Rocky Mountain's beauty, dynamic community, and endless recreational endeavors captivated Nancy, and she never left.
She met her husband of over 23 years, Terry, and together renovated an 1880's cabin where they've lived for several years. They have two boys, Tucker, 19, who's in college in Denver and Ross, 17, is a junior in high school. Nancy still has Clyde, her turtle from college! Sibling cats Margaux and George, and dogs Grady and Leia are also part of the McDowell family mix.
An amazing place to raise a family, her brother is still in the area and now has a wife and two girls.
Nancy loves the outdoors, and when not in the office, you'll find her skiing, mountain biking, hiking, and enjoying time with family and friends.