21 Sep 2022
First, some interesting history: Vail was incorporated in 1966, four years after the opening of Vail Ski Resort. The ski area was founded by Pete Seibert and local rancher Earl Eaton in 1962, at the base of Vail Pass. The pass was named after Charles Vail, the highway engineer who routed U.S. Highway 6 through the Eagle Valley in 1940, which eventually became Interstate 70. Seibert, a New England native, served in the U.S. Army's 10th Mountain Division during World War II, which trained at Camp Hale, 14 miles south of Vail between Red Cliff and Leadville. 
For us, Vail and Beaver Creek are home. We love living the Colorado mountain lifestyle and we want to share with you our Top 5 Reasons to Visit Vail and Beaver Creek.
Top 5 Reasons to Visit Vail & Beaver Creek
1. The Mountains!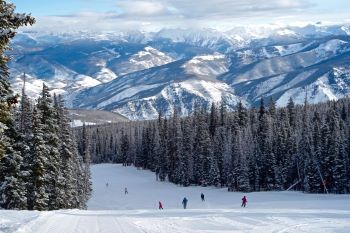 The Rocky Mountains are the Rocky Mountains. They are rugged, grand, and make you feel small on this earth. Experiencing their beauty in Vail and Beaver Creek is a must-do in this lifetime. Winter, summer, spring, or fall, every season brings its own list of stunning natural wonders to grace your visit. Come and see our mountains, whenever you can make it!
2. The Weather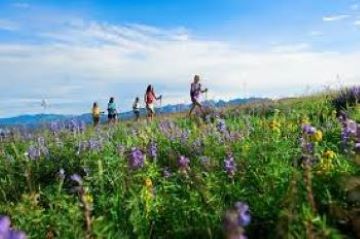 Yes, we love our powdery snowstorms in the winter. But, the best-kept secret about Colorado is that we get over 300 days of sunshine each year! That means that our fluffy snow is often accompanied by blue skies. Bluebird ski days are common around these parts. And, in the summertime, when the rest of the country is roasting, our blue skies are paired with temps no higher than 75 degrees most of the summer. 
3. The Activities
Coloradans LOVE the outdoors. Vail Valley is filled with the most exciting activities to keep you busy, winter or summer. The winter offers skiing, snowboarding, nordic skiing, snowshoeing, tubing, sleigh ride dinners, dogsledding, snowmobiling, fat tire biking, and any other winter fun you can dream of. The summer is filled with hiking, biking, kayaking, paddleboarding, fly fishing, and enjoying sunsets on your private deck.
4. The Downtown and Villages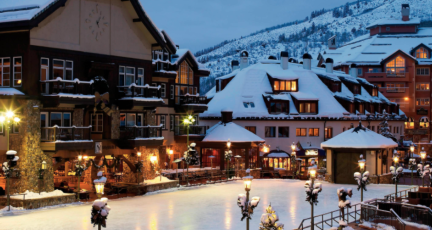 Enjoy the mountain views as you stroll through the downtown districts. Downtown is filled with plentiful dining and shopping options to satisfy your crew. Don't miss out on apres ski or sunset drinks on a patio, or explore all the shopping we have to offer.
Vail Village - Vail Village has a peaceful, small-town ambiance wrapped in classic Bavarian alpine architecture and it boasts world-class restaurants, shopping, cafes, and late-night hot spots.
Lionshead- Pedestrian-friendly Lionshead village is completely closed off to cars and buses, offering a short walk to the Eagle Bahn gondola and so many shops and restaurants. The summer boasts tons of sunny decks with views of the mountain and miles and miles of single track for mountain bike enthusiasts.
East Vail - Golden Peak is east of Vail village and is a favorite area for skiers and riders alike. In summer, it is the perfect place to take a hike, climb or play a round of golf or pickleball.
Beaver Creek - Beaver Creek is a beautiful, world-class resort full of quaint shops, art galleries, bars and restaurants, all conveniently linked by heated walkways and escalators. With four chairlifts and the gondola at the base of this resort, it is easy to access a variety of ski or hiking terrain. Beaver Creek enjoys a European village-to-village experience with Arrowhead so there is a lot to explore both summer and winter. 
5. The Year-Round Events
For a mountain valley, we really pack it in with lots of excitement. With winter events like Vail Snow Days, Taste of Vail, and Birds of Prey. In the summertime, it's all about enjoying the outdoors with live music, farmers' markets, Hot Summer Nights, the Fourth of July Celebration, and the Vail Dance Festival. Celebrate fall and the beautiful colors with Oktoberfest and the Fall Food and Wine Fest.
Looking for the perfect luxury vacation home for your family and friends? Give us a call and we can match you with the right home for you in Vail or Beaver Creek. 
Book Vail Luxury Vacation Rentals