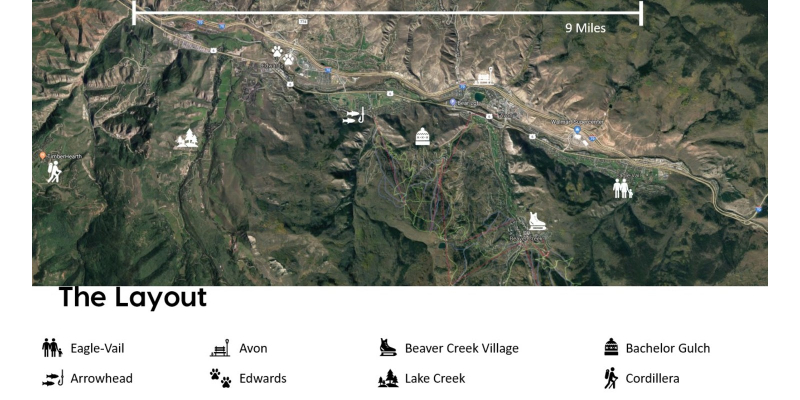 Beaver Creek embodies the tagline "Not Exactly Roughing It" and it continues to ring true for all visitors who come and explore this beautiful mountain. From outdoor escalators in the village getting you to the slopes in your clunky ski boots to attentive personnel and well-groomed runs, Beaver Creek is an upscale experience no matter which neighborhood you choose to stay in. Whether it be slightly East in the family-centered community of Eagle-Vail, or directly slopeside on Beaver Creek Mountain, we're here to break it down and help you decide which locale best suits your needs for a perfect vacation.
Eagle-Vail
Family-friendly is the theme in the community of Eagle-Vail, where guests who rent here can enjoy the pavilion, sports field, community pool, hiking trails, or par-3 golf course. When you are ready to head out and play Eagle-Vail is located just 8 miles from Vail and 2 miles from the entry to Beaver Creek; the only hard decision you'll have to make all trip is which mountain to explore!
Beaver Creek Village
From the entry gate, Beaver Creek makes it easy to leave everyday life behind. That's why people travel here from all over the world, and many make it a tradition. It is a place of intimacy and of splendor. It is a modern resort but comes with that cozy, unhurried feel of an Alpine village making it the perfect spot to call home when you crave that white-gloved level of service, and in every other aspect. It regularly wins awards and accolades for its food, wine, lodging, and safety standards! It is a place where the staff is trained to not just provide what guests want, but to anticipate it.
Bachelor Gulch
Perched on the slopes of Beaver Creek Mountain is where one can find the gated community of Bachelor Gulch. The only entirely on-mountain residential neighborhood in the Vail Valley, Bachelor Gulch provides the best ski-in, ski-out lodging options around. It is easy to lose yourself in luxury when staying at one of these stunning residences, soaking in the grotto at The Ritz, or being mesmerized by the stars in your sleigh ride on the way to dinner; but losing yourself in Bachelor Gulch might just be what the good doctor ordered.
Arrowhead
The gated community of Arrowhead is only minutes from the heated cobblestone streets of Beaver Creek, however, a short ride up the Arrowbahn Hi-Speed Chairlift provides guests access to all of Beaver Creek mountain. Arrowhead also features an exclusive Jack Nicklaus golf course as well as a community pool, hot tub, and world-class fly-fishing waters. Ease of access does not waver when staying in Arrowhead Village and could be the perfect lodging fit for those seeking larger accommodations and more privacy.
Avon
The gate to Beaver Creek Village borders the town of Avon. An addition to a great central location, Avon is an ideal lodging option for those looking to shop, dine, and ski at Beaver Creek without breaking the bank.
Edwards
Once a sleepy stop for travelers along I-70, Edwards has blossomed into perhaps one of the most popular communities in the Vail Valley. I's proximity to Vail, Avon, and Beaver Creek to the east and the Eagle County Regional Airport to the west make it an ideal location for those travelers looking to stay more amongst the local culture. The Riverwalk holds valley-voted favorites for shopping and coffee shops, and the nightly dining scene has turned into a thriving hot-spot!
Lake Creek
Located in a scenic valley just minutes south of Edwards, the residences in Lake Creek are surrounded by White River National Forest, Holy Cross Wilderness, and BLM land. Staying here affords guests direct access to camping, horseback riding, hiking, biking, and 4x4 trails. Lake Creek makes visitors feel miles away from the modern world, yet in just minutes, visitors and locals alike can access world class skiing, golf, fishing, and cultural activities.
Cordillera
Enjoy year-round alpine adventures laced with luxury in the communities of Cordillera. Both the valley and mountain-top neighborhoods are located just west of Beaver Creek and take less than 15 minutes to get to the ski slopes. In these neighborhoods, guests can enjoy secluded fly fishing waters, picturesque hills by horseback, and some of the most prestigious golf courses in all of Colorado.