28 Aug 2020
When Ski Season Kicks Off
November in Steamboat -- it's the time of year when we usher out the ghouls and goblins in order to usher in ski season, it's when the fall storms begin to layer the mountain in fresh snow. November is affectionately known as, SNOWvember, that month where we pack up all the remnants of fall and prepare for fluffy mashed potatoes and even fluffier snow.  Some years, that transition from fall to winter quite literally happens overnight. Other years, it's a bit more gradual. 
Whether we're reporting record snowfall or easing into winter at a normal pace, we're all navigating the "new normal" in 2020, and we want you to know that there's plenty of fun to be had in Steamboat in November. 
And while some aspects of November might look a little different than in years past, our desire to spend time with our loved ones either chatting on the chairlift or relaxing around the Thanksgiving table remains the same.  It could be the perfect option for you too, where gathering together can be done in a safe and private setting with social distancing built into outdoor activities, instead of staying home for your turkey and taking on the shopping malls after dinner.
So, Meet Your Family in the Mountains…
Forget having to pick a hotel, or several condos in a complex! With a great selection of homes and destinations, we can offer you the option of a large private and luxurious location in the Colorado Rockies for your family to stay, where having  a little more breathing room is not a problem. 
There's no shortage of luxury amenities either. Professionally laundered linens and sparkling clean rooms mean a safe hygienic retreat from the outside world. Your own private outdoor hot tub is cleaned for each stay and fully sanitized which means that you don't have to worry about spa'ing with strangers.

Private game rooms with pinball and pool tables mean late nights of fun with your college kids avoids risk. And a garage stocked with sleds, a living room filled with board games, a backyard piled with snow and a mountain waiting to be skied means that everyone can fully disconnect and reconnect. Let's face it, the only way you'll want to "zoom" on this vacation is if you're on skis headed straight down the mountain!
Stay Longer and Rejuvenate While Working!
With consistent wifi and all the comforts of home we are seeing more guests than ever choosing to spend longer in the mountains where you can still connect to work or school but you have the option to stay for a month (or two!). Why not break the mould and make a lifestyle change for an extended stay in the mountains. Special rates apply and you save on taxes too!
Skiing in November
Opening day for Steamboat's ski season is Saturday, November 22, 2020. While we can't guarantee epic opening day conditions on any given year, we certainly have had our share. And with a team of 53 snowmakers on staff at Steamboat Ski Resort, the ski mountain will be ready to welcome early season trailblazers. Powdered donuts and champagne mimosas usually kick off the season - celebrating the champagne powder days to come.  The festive opening day will, of course, be reimagined with safety precautions front and center.

But rest assured, it's always a fun day for families, friends, and the die-hards, those who have been counting down since closing day. 

Weather in November
Just like any change of season, the weather can vary. Temperatures are usually in the 30's and 40's with average snowfall for the month of November at around 25 inches. The weather in the mountains is less predictable than the weather in the flatlands (and our elevation is 6700 feet closer to the sun than you're probably used to), so dressing in layers is always a good idea. You'll be unzipping when the sun comes out and bundling back up when the clouds roll in. As we always joke in Colorado, if you don't like the weather, just wait 15 minutes and it will probably change. 
Things to Do in Steamboat (Besides Skiing)
From hot air ballooning to hot springs, there are plenty of awe-inspiring ways to remember November. Here are a few of our tried and true favorites along with a few new surprises.

It's ranked as one of the top 100 escape rooms in the world (yes, there's a world ranking of over 9000 escape rooms.). It's also one of the best activities for friends and family bonding in Steamboat. The storylines are imaginative, the sets are immersive (and quite creative) and, with the clock ticking, the adrenaline flows nearly as fast as it does on the ski slopes. The puzzles aren't easy, but they are much more fun than frustrating. 
There are 4 different experiences to choose from, you can escape from the Old West in a Colorado jailbreak, you can save Steamboat from a flashover fire, or you can try to wake up from an Edgar Allen Poe inspired dream. New this year is an outdoor game that you play with a group around downtown Steamboat to solve the mysteries and uncover the hidden key to the city.

The Crooked Key is a great way for multi-generations to come together and game. No Fortnight knowledge required - we promise!

Crooked Key has new COVID-19 safety precautions in place, from reduced capacity to private game rooms to a top-notch ventilation system. The most up-to-date precautions are listed on their website. And they even offer an outdoor game you can do on your own in the great outdoors. 
Entertaining your crew off the ski mountain, just got a whole lot easier with Steamboat Snowbowl. This newly renovated and reopened outpost is perfect for all ages, any time of year. It's still a Steamboat staple, but, thankfully, It's not even recognizable from its past life as a traditional bowling alley. 
With 12 regulation AMF lanes, arcade games, and a TV that seems only slightly smaller than a Jumbotron, it's a must-visit for any sports fan. An impressive foodie menu (seriously, it's delicious!), created by former Truffle Pig and Sweet Pea chef, Pete List, means you don't even have to bowl or want to watch the game to get a lucky strike! 
Snowbowl requires reservations per COVID-19 guidelines. They have significantly reduced their capacity to ensure social distancing and require mask-wearing (while bowling) or anytime you aren't taking a bite or a sip of their incredible food and beverages. For the most up-to-date guidelines, visit their website.  
Strawberry Park Hot Springs
Another year-round favorite is the Strawberry Park Hot Springs. 104-degree hot pools, fed by mineral springs, are tucked away amidst aspen trees and river rocks. Kids are welcome to these serene pools during the day, but it's "adults only" in the evenings. Masks are required when you aren't soaking in the pools, six feet social distancing is required and you must have a reservation as capacity is significantly reduced to comply with state safety guidelines.
Hot Air Balloon Ride
Soar above Steamboat in a hot air balloon. This unique 45-minute ride includes breakfast, a champagne ceremony, brag-worthy photo opps and a whole new perspective on what you're already grateful for this Thanksgiving season.
Holidays are right around the corner and because November is still considered the early season, Black Friday deals aren't just on Black Friday. Stock up on skis, parkas, boots, gloves and anything else the snow-loving people on your nice list covet for Christmas. Stores in Steamboat require masks to be worn inside the store and hand sanitizer is readily available upon entry and exit.

Thanksgiving in Steamboat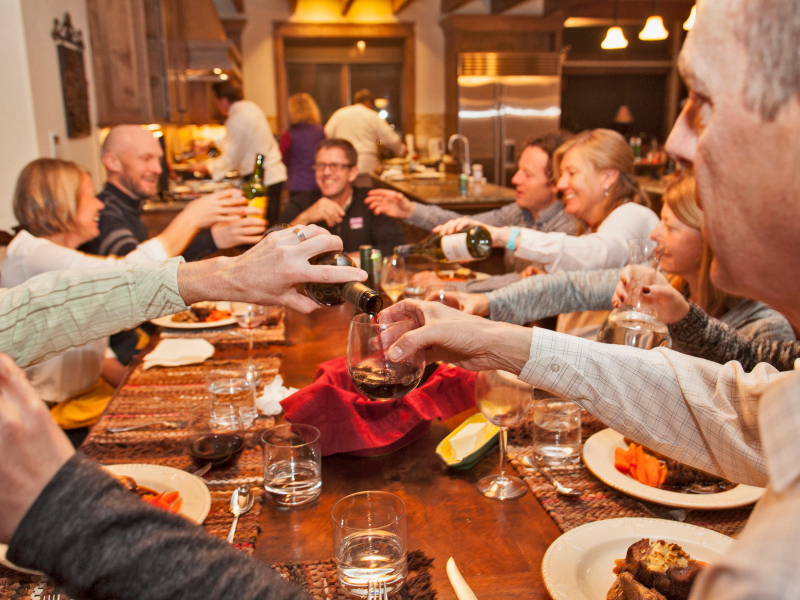 If you need to earn your eats, hit the slopes before your big feast. A few laps and laughs on the ski hill make the turkey taste even better. 
Speaking of turkey, there are a number of ways to gobble up this favorite family holiday in Steamboat.
If whipping up your grandmother's signature pecan pie and sauteeing your famous stuffing is something you look forward to all year, then enjoy all that the fabulous gourmet kitchens in our homes have to offer. We can even stock the cupboards with all of your favorites (no Instacart surprises).

If, however, you realized that with everyone working from home, schooling from home, and socializing from home, you've cooked enough meals these past months to feed a small country, then let us do the heavy lifting this holiday. 
Our Moving Mountains' chefs can deliver signature fully prepared Thanksgiving meals, eliminating any headaches, hassles, or spilled gravy. We give complete and helpful contactless reheating instructions so that you can fully and safely enjoy our bacon and sage turkey, roasted apple and porcini mushroom stuffing, and our sweet butter mashed potatoes.
The most grueling part of the meal will just be having to choose between our homemade bourbon, pumpkin, butterscotch, or apple streusel pie. And the only chore you'll need to do this holiday is the dishes! 
Of course, if you'd prefer to skip the dishes (and not even have to touch a button on the coffee maker), reserve one of our Luxury Catered Chalet packages for the ultimate Thanksgiving. Our private chefs will stuff, dress, roast, and serve while you relax, lounge, chat, sip, and savor! 
This is just a fraction of the 5-star relaxation you'll experience if you spend Thanksgiving with us. Our top-notch guest services team will create an itinerary customized to your family's needs, availability, safety, and local conditions. We make sure every detail is thought of ahead of time. We plan now, so you can play later.
This is just a fraction of the 5-star relaxation you'll experience if you spend Thanksgiving in Steamboat with us. Our top-notch guest services team will create an itinerary customized to your family's needs, availability, safety, and local conditions. We make sure every detail is thought of ahead of time. We plan now, so you can play later. 
No matter what time of year you choose to visit, from roller coaster, rides to sleigh rides, Moving Mountains helps you plan now, so you can play later.


 Pin this post to your vacation planning Pinterest Board