12 Feb 2020
Apres-ski … The Norwegians invented it, the French named it and Colorado embraced it.  Apres-ski literally means "after ski", in French, and it encompasses the social scene that takes place after the ski day is done. 
After a day of fun and adventures on the mountain, apres-ski is the time at the end of the day that you can bring it all back to life, sharing the thrills and spills with family and friends over a relaxing libation or two, allowing your body and mind to begin recovery for your next day. Most skiers look forward to apres-ski as much as they look forward to removing their ski boots at the end of the day. It's both celebration and sweet relief after exerting yourself on the hill. 
Whether you want to warm up next to a cozy fireplace or you're looking for the hottest spot outside, Steamboat, Vail and Beaver Creek all have plenty of apres-ski spots to choose from. Here are our favorites. 
STEAMBOAT: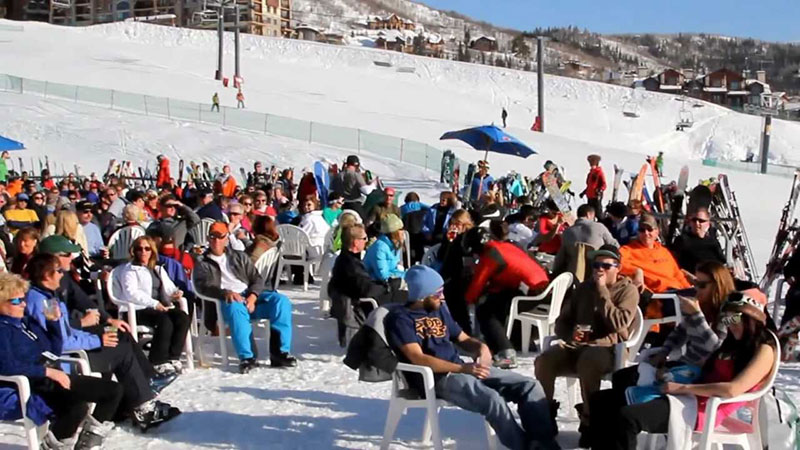 At 3 pm, this ski-in/ski-out snowy standby transforms into Steamboat's best apres-spot. The Slopeside "beach" and the infamous "ice bar" are the centerpiece with a nice selection of craft beers and cocktails. If you skipped lunch, order up a wood-fired pizza while listening to live music in the afternoon sun.

T-Bar is a former ski patrol hut turned ski bum hotspot. You probably won't be taking the youngest family members here, but for a livelier laid back crowd, it's a fan favorite. Just like Slopeside, T-Bar's outdoor square footage expands exponentially in the springtime sun. Appropriately billed as a 5-star dive bar, T-Bar serves up everything from elk shepherd's pie to a pork udon noodle soup. Play some Hammerschlagen while you're waiting for nibbles or your next round. Their drinks are as creative as their clientele, which is to say you definitely won't be bored people watching at T-Bar!
This new outpost is in the former Bear River Bar & Grill located at the base of the mountain. What used to be a tired cafeteria has been transformed into a swanky new apres-ski spot. The comfy couch and outdoor fire pit will have you made in the shade, or you can pull up a sunny seat on the huge outdoor deck.

The deck doubles in size when the restaurant's glass bay garage-style wall opens up on the warmer afternoons. This family-friendly spot's huge portions are perfect for sharing. Timber and Torch is a snowball's throw away from the base area music stage, giving you prime seating for the live bands playing at the Bud Light Rocks the Boat apres-ski concert series.

Truffle Pig is conveniently located on the ground floor of One Steamboat Place. Its prime location, excellent food, outdoor fire pit, and posh patio make it one of our top choices for our Moving Mountains' apres-seekers. Kids can still enjoy doing apres-ski hot laps on the nearby Outlaw mountain roller coaster while parents nosh on parmesan truffle fries or the charcuterie platter.
FLEISCHER SPORTS SKI TUNE BAR
Pull up a seat at Fleischer Sports' new ski tune bar. The ski tune bar is a first of its kind.  Throwback a beer as you watch two-time Olympian and Fleischer Sports owner, Chad Fleischer, tune your skis. Actually, you'll watch his state-of-the-art 9000lb, 19-foot-long CSA tuning machine that's built into the back of the eight-person Tune-Up bar tune your skis while Chad pours you a beer.  Definitely worth stopping by for an apres "brewski".
BEAVER CREEK: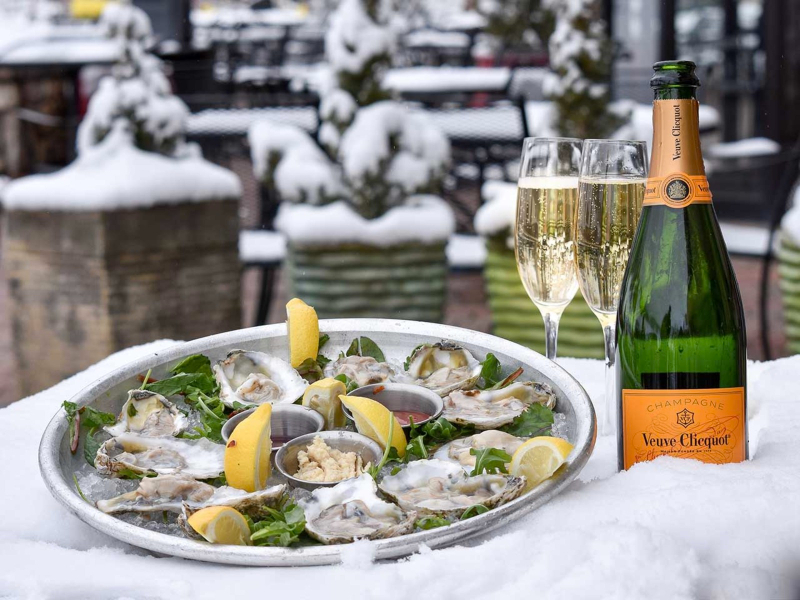 C-Bar, at Beaver Creek Chophouse, touts having the best deck in Beaver Creek. We're certainly not arguing! Its enviable location at the base of chair 6 means its apres-ski views span the slopes and, more importantly, they are perfectly positioned for those platters of homemade chocolate chip cookies Beaver Creek is famous for at 3 pm. 
It's been the unofficial "office" for the Beaver Creek ski patrol for the past 25 years. They're a longtime favorite with their cold beer, warm hearts, and heated patio. Plus their prominent location in the Beaver Creek base area keeps it lively. Wash down their delicious tacos with a huge selection of tequilas, margaritas and Moscow mules.
Looking for a place to wear that Hawaiian shirt (just kidding, of course)? Try the Tiki Bar at Hooked for your next apres adventure. With tableside cooking and simmering seafood on the patio, you'll get the best of both the mountains AND the ocean, all in one fabulous outdoor apres-ski setting
For a spicier apres, try Maya in Avon/Beaver Creek. The Michelin Guide recently said that "Maya's menu reads like a love letter to Mexico" and its margaritas are pretty lovely, too! With over 100 agave-based spirits, you won't run out of apres cocktails to try. 
VAIL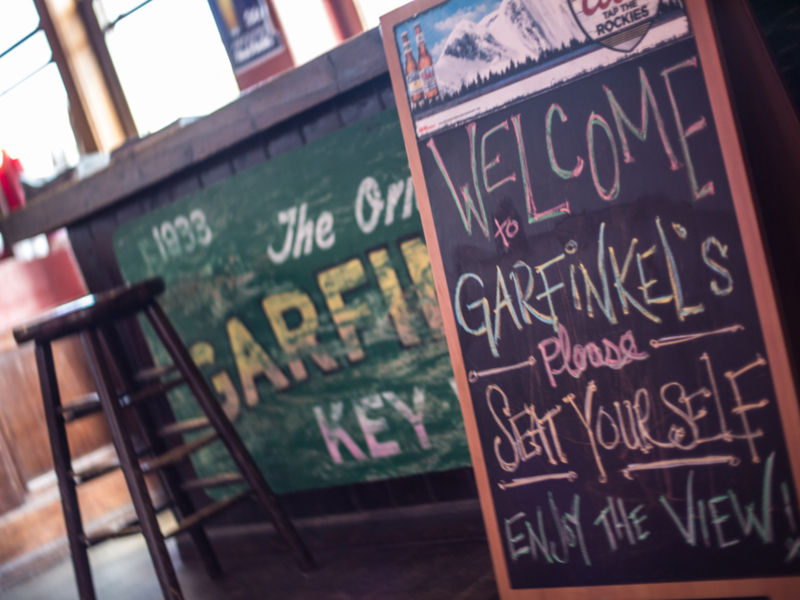 It's the classic old-school apres-ski. The lively Lionshead deck is a longtime favorite for locals and visitors alike since 1992. Try a Moose Juice, a mojito or a Colorado craft beer. It's THE apres-spot for buffalo wings, as well.

On the outside Lionshead deck, stunning slopeside views and live music from the owner and longtime musician, Phil Long, entertain apres-skiers. On the inside, tableside musicians get ready to delight kids of all ages. Munch on the Vail Chophouse's upscale apres-ski menu of Bourbon vanilla-glazed bacon, kobe flatiron or try surf favorites like the ceviche or oysters.

In Vail Village, Los Amigos is always a favorite. Sip on a margarita or throw back a cold beer as you relax and enjoy the gorgeous mountain setting surrounding you. You're basically in the winter paradise version of a Corona commercial.

It's the Austrian-inspired apres hot-spot for those in the know, including presidents, actors, astronauts, actors, athletes and local legends (Pepi's owners Pepi and Sheika are pretty legendary, themselves!). Check out Pepi's Wall of Fame to see what kind of good company you're in. You can rectify that goggle tan while sipping a libation on Pepi's deck, aka the sunniest spot in Vail Village.  
In Vail, the Red Lion has been entertaining the apres-ski crowd with live music and shot skis for decades. You're never too old for a shot ski (even though your spouse might disagree). Live music starts daily at 4 pm and continues well into the wee hours. If you're still in your ski boots at midnight, somebody needs to buy you a shot (or call you a cab). 
Bad day on the slopes? Remedy is the remedy? There's no such thing as a bad day on the slopes, so choose Remedy to celebrate everything you love about skiing. The Remedy Bar in Vail Village is an upscale nightlife and apres favorite. With a world-famous hot chocolate consisting of melted swiss chocolate, marshmallows and chantilly creme, even the kids will be impressed. Its upscale setting might be just what the doctor ordered!
AND FINALLY - AT YOUR LUXURY CHALET!
Now that you have the perfect apres-ski spot picked out, it's time to make sure you've got the best hot tub ready and waiting for apres apres-ski! Our private homes and chalets not only have luxurious private hot tubs, but they also have the most beautiful sunshine-filled decks and gorgeous mountain views.

With our luxury full-service catering package, Moscow mules and margaritas can be expertly prepared by your private chef and staff - no crowds required for your own private apres-ski celebration. Ready to plan that perfect mountain getaway? Stop scrolling and start packing by chatting with our guest services agents, here.