14 Jan 2021
Traditional aprés ski, with a cocktail in hand, tasty canapes, and alpenglow lighting up on the mountain isn't exactly broken.  But experiencing "aprés" soaking in natural hot springs really kicks it up a notch, and that's where Steamboat Springs leaves other ski resorts in the dust.
Strawberry Park Hot Springs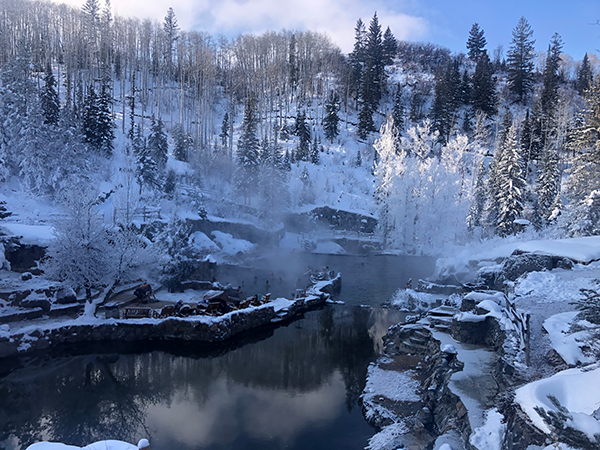 The legendary Strawberry Park Hot Springs features one of the most spectacular mineral springs in the world. These hot springs are a huge part of the magic spell that Steamboat places on its visitors. A natural hot spring, feeding a multitude of mineral pools at different temperature levels (102+ degrees) including a large dipping pool. Strawberry is in a completely natural setting, built out in unique stone masonry, surrounded by trees, and the mountains encase you. It is too good to be true. With snow falling or the sun shining, timing doesn't matter. It's always the right time for Strawberry. 
(Covid update: Limiting number of guests. Reservations are now required. Make them a few weeks out. If they are all booked up, keep checking back as the re-open reservations often when people cancel. You can also book the Hot Springs Shuttle to guarantee a spot as they have a designated number of spots. ) 
Tips: Bring a robe, towel, water, and slip-on shoes. $20 cash-only entry fee. 4WD is required in the winter. 
Old Town Hot Springs, downtown Steamboat Springs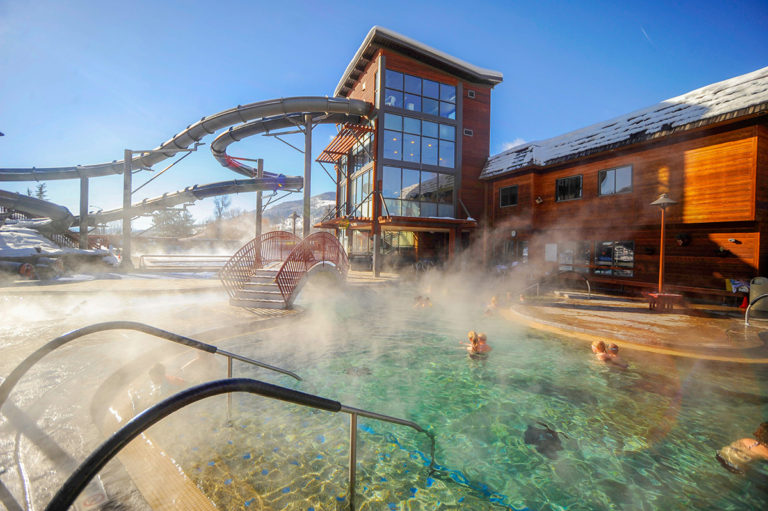 If you are not planning ahead, do not have 4WD, have a large  family, or just need the easiest way to get a great soak, OTHS is where it's at. 
OTHS offers eight natural mineral water hot pools, an aquatic rock climbing wall, two water slides, fitness center, lap lanes and drop-in childcare. The hot pools offer temperatures ranging from 98 to 103 degrees including one large pool at a moderate temperature, which is great for kids. Others, including The Heart Spring are too hot for the young'uns and actually prohibit their entry. 
It feels like a hot springs resort - but it's our town community center! How lucky are we? If you  go early in the AM, it's quite peaceful. 
OTHS is easy to access, as it is located on the east side of downtown Steamboat Springs on the bus route and easily accessed using our private on-call shuttle service.
(Covid update: Restricting numbers of guests, but reservations are not required. Locker rooms are open. No towel rentals. Water slide is closed.) 
Tips: Limited parking in their two lots, street parking available next to the Post Office. CC or Cash. Bring a robe, towel, water, and slip-on shoes. 
And don't forget, every day you can enjoy the "clean and fresh" hot tubs at each of our private luxury homes.