21 Jul 2022
Roll over, open your eyes, slip into your ski gear, and head right out the door to skiing! No shuttle, no fuss. Sound like a dream? But, it could be reality!  
If you want the ultimate level of convenience, then staying at a ski-in/ski-out or short-walk-to-the-slopes location may be just what you need for your next ski vacation. There are many great benefits to help you make the best decision for you and your family for this year's Colorado ski vacation, so read on... 
Why ski-in/ski-out lodging?
1. First on the Hill
Why not make it easy to be one of the first on the hill in the morning. When the run is just out your door, you don't have any excuses. Staying right on the mountain means that you get to maximize your fun time, time savings at its best.
2. Flexibility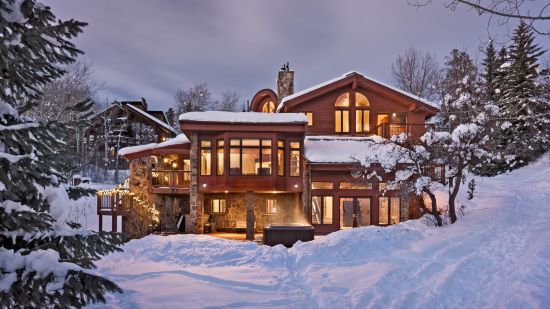 Are you traveling with a group that's not always on the same schedule? Ski-in/ski-out lodging is a great option for everyone to come and go at their own pace. Ski on different schedules!
It's also a great option with kids in tow when you may need to run back for snacks, naps, or forgotten gloves! Not to mention the wonderful option of popping back 'home' for a quick break midday. Flexibility is golden when it comes to ski-in/ski-out lodging.
3. Amenities at Your Fingertips
Staying at ski-in/ski-out lodging often means you are close the base of the mountain. This is where things are happening! You'll have great options for apres ski, restaurants, equipment tuning, spas, and so much more, right out your door. 
4. Avoid the Roads
When you're staying at the mountain, there's no reason to brave the snowy conditions that you're praying for! There's no commute besides walking out the door. 
(Although as a Moving Mountains guest, you have access to our complimentary shuttle that will take you from your home to the mountain!)
Learn about the ski-in/ski-out and slopeside options offered by Moving Mountains!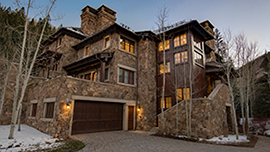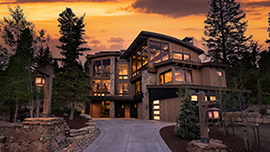 If you prefer a more private location, we have lots of beautiful ski homes available that are close to the base of the mountain in exclusive mountain neighborhoods. Many of these homes have more space to spread out while still being very convenient - and offering stellar views! Our team can help match you with the perfect accommodations for you and your group.
Many of our homes offer exceptional ski-in/ski-out locations! At Moving Mountains, we offer a range of luxury vacation properties available with easy access to ski trails. Learn more about our ski-in/ski-out options in Steamboat Springs, Beaver Creek, and Breckenridge.