27 Nov 2022
Thank you SNOWvember! 

The mountains had plenty to be thankful for this November with record snowfall leading to early openings and plenty of terrain available at Breckenridge, Vail, Beaver Creek, and Steamboat. Single-digit temps in late November allowed snowmakers to add to the snow base, providing early-season guests with some beautiful bluebird ski days during the Thanksgiving weekend. With snow in the forecast and a typically snowy December ahead, conditions for Christmas and New Year's weeks are looking good! Get your ski and snowboard gear ready! 
 
BRECKENRIDGE
With plenty of snowfall in SNOWvember, Breckenridge had an epic opening on November 9th, two days earlier than planned, with a sizeable amount of terrain available early season.  With 21 trails and 22 lifts available, Breckenridge is officially open for business on its 61st season with a 21-inch snow base and a season total of over 63 inches. 
VAIL & BEAVER CREEK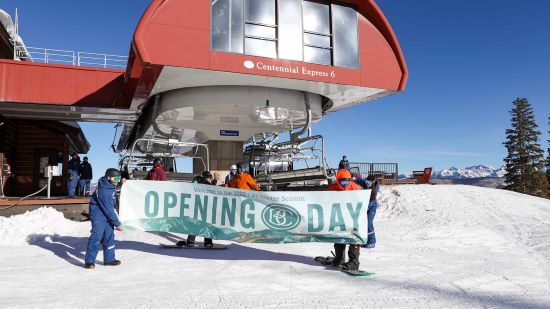 With over 50 inches of snowfall in SNOWvember, Vail and Beaver Creek are open with a sizeable amount of terrain available early season. 
At Vail, 65 trails and 13 lifts are available, making the popular resort open top to bottom with a 21-inch snow base and a season total of over 62 inches. Beaver Creek welcomed early season skiers even earlier this year, moving their opening day up to November 21st with now 9 lifts and 12 trails open with an 18-inch snow base and a season total of 53 inches.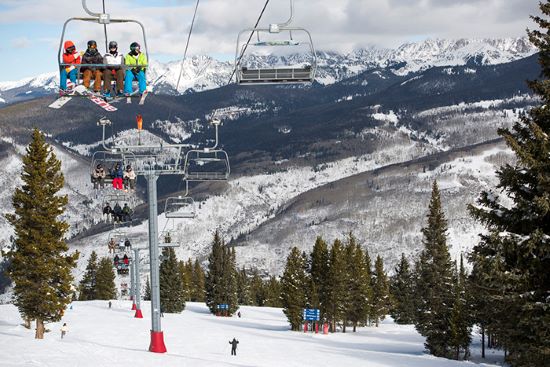 Vail skiing
STEAMBOAT SPRINGS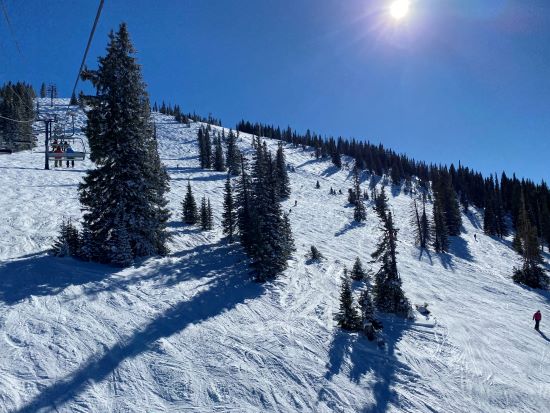 Steamboat's Storm Peak was open on Thanksgiving weekend, making history with a top to bottom opening. 
With plenty of snowfall in SNOWvember, Steamboat is experiencing its best opening since 2014, with a record amount of terrain available early season.  With 29 trails and 6 lifts open, including Storm Peak, Steamboat is officially open top to bottom with a 23-inch snow base and a season total of over 67 inches. 
OPENING DAY excitement November 23rd included the grand opening celebration of the new Skeeter's Ice Rink & the Mountain Stage, with live performances and music kicking off the fun in the newly renovated Steamboat Square base area and apres ski plaza. 
Steamboat's new base area was buzzing with excitement on Black Friday, while locals and visitors enjoyed all the open terrain and blue skies.
SKEETERS ICE RINK
In the center of the excitement of the new base area is the new 133 x 58-foot ice rink, surrounded by open rails for easy access and viewing. Skaters on the rink will enjoy views of the ski mountain and can enjoy all entertainment on the new stage. The rink plans to be open from 10am to 8pm daily. Bring you own skates and skate for free, or rentals will be available. 
WILD BLUE GONDOLA OPENING
Another exciting part of the Steamboat transformation is the new Wild Blue Gondola, which will be the longest gondola in North America and the fastest 10-person gondola in the country. The lower leg opens this winter, primarily transporting ski school guests to the new ski school headquarters, now called the Greenhorn Ranch in the previous Bashor Basin area. A newly created mid-station adjacent to Bashor bowl will be the exit station for the lower leg with the final destination for the future upper leg at the top of Sunshine Peak, due to open the 2023-24 season.  Once fully open, Wild Blue will have 171 cabins, transporting an additional 3,200 passengers per hour onto the mountain, with an amazingly fast bottom-to-top trip at just under 13 minutes.
GREENHORN RANCH
Greenhorn Ranch is the new ski school learning area in the former Bashor Basin area that has been re-graded  to create the ultimate Terrain Based Learning® experience.  This much needed beginner area will include four carpet lifts and one brand new high-speed quad known as the Greenhorn Ranch Express. Two of the carpet lifts will be relocated from the previous base area and one will be a new, covered, double barrel lift to access two different types of terrain.
Guests learning at Greenhorn Ranch will enjoy varied beginner terrain that will naturally help them advance through the beginner levels before they graduate to the chairlift. 
THE RANGE FOOD &  DRINK HALL
Foodies and apres ski lovers will enjoy The Range Food & Drink Hall that will have the feel of an indoor/outdoor lunch and après lounge. Adjacent to Skeeter's Ice Rink, The Range includes a bar on each of the two levels, along with a wide selection of food options from tacos to ramen bowls, pizza and sandwiches. The Range will utilize a QR-code ordering system, allowing guests to find a seat and order from their table, then pick up their order once they receive a text that its ready. The Range will also features two different bars, one inside and one outside, where guests can sip and sit around a fire pit and watch the skaters or skiers on the mountain. The Range will offer coffee and hot chocolate in the mornings but is primarily for lunch and apres ski traffic. 
Skiers and riders walk through the new Steamboat Square on the day after Thanksgiving. 
Looking for the perfect luxury vacation home for your family and friends? Give us a call and we can match you with the right home for you in Steamboat Springs, Breckenridge, Vail or Beaver Creek.