2 Aug 2022
If you really want to see alot of fall splendor from the comfort of your vehicle, Breckenridge has no shortage of incredibly scenic drives. These popular routes are so stunningly gorgeous, every passenger will be glued to the window (even the teenagers) So grab the binoculars, a camera and your favorite passengers and hit the road!
Boreas Pass
Elevation 11,496 feet
20 miles, 1 hour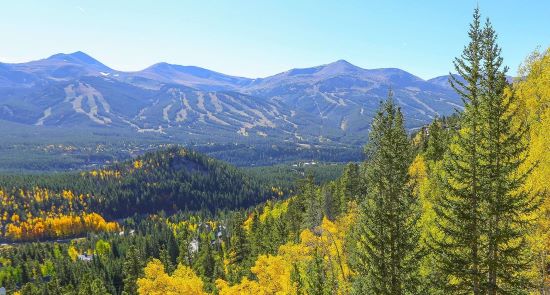 A must-see in Breckenridge is Boreas Pass. Boreas Pass is one of Breck's top scenic drives and one of the best places to see fall colors. An easy route with stunning views, Boreas Pass used to be the only way in and out of Breckenridge, in the railroad days. At the south end of Breckenridge, turn east onto Boreas Pass Road. After four miles, the road turns to dirt at the Boreas Pass Trailhead. The views of Ten Mile Range and Breckenridge Ski Resort can be seen to the west.
Farther along to the south, you will see Goose Pasture Tarn, Quandary peak, and Hoosier Pass. Both Red Peak and Red Mountain are the next beautiful sights, as the road continues to the east, through an aspen tunnel and a meadow. At this meadow, Bald Mountain fills the skyline and you will rise in elevation with each mile passed until you reach the Continental Divide, a great place to get out and stretch. Want more? Continue the loop into Como, or go back the same way. From Breckenridge to the summit and back is 20 miles, allow at least an hour. Boreas Pass is known for its golden aspens in September and is a popular route for leaf peepers.
Boreas Pass to Alma and Fairplay
Elevation 11,496 feet
72 miles, 2 hours
Instead of returning to Breckenridge via the same route, another option is to make a loop. Continue east on Boreas Pass Road, taking in the vistas toward the eastern plains. It is very different from the west side with low mountains and open park-like valleys. Immediately the elevation drops as you wind your way to the valley bottom to the small town of Como.
Several historic railroad buildings are found in Como, it's worth a stop to check out some local history. Turn right or west on U.S. Highway 285 to travel to Fairplay over Red Mountain Pass. The mountains in the distance are beautiful along this stretch of highway with views for miles. In Fairplay, turn right onto Colorado Highway 9. Learn more Colorado history at the well known South Park City Museum located at the north end of town. The enormous Mosquito Range occupies the western view as you drive another six miles north to the quaint town of Alma, one of the highest elevation towns in the country. Hoosier Pass looms up ahead. Climb up and over the Continental Divide again here, and make your descent back into Breckenridge. The total loop is about 72 miles and takes over two hours to drive, not including stops.
Hoosier Pass
Elevation: 11,542 feet
From Breckenridge: 30 minutes, 16 miles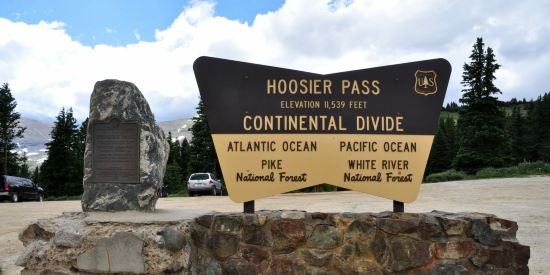 Sitting at 11,542 feet elevation this drive offers a great opportunity to experience changing leaves and a windy mountain road with incredible views. This high mountain pass sits on the Continental Divide that winds from Breckenridge to Fairplay. Take Highway 9 from Breckenridge through Blue River and onto Hoosier Pass. Be sure to stop and get a photo at the Continental Divide sign! Continue on to Alma/Fairplay, or return the way you came back to Breckenridge and see all the splendor again!
Swan Mountain Road
Elevation: 9,017 feet
10-19 miles

10 miles
9 extra miles - loop around the Dam Road for a longer adventure
This paved road connects Keystone to Breckenridge as an alternate route to 1-70 and the Dam road. Swan Mountain follows Lake Dillon and is surrounded by forest and aspens. Pull off in the parking lot at the top, and walk to the Sapphire Point to take in a beautiful bird's eye view of Frisco and Breckenridge.
The Dam road though short, comes alive with aspens in the fall. This road follows Lake Dillon from Frisco to Dillon. Pull over at any spot to view the lake while taking in the colors of the fall. Access this road from either Frisco or Dillon.
Top of the Rockies National Scenic Byway
Elevation: 11,319 feet
Breckenridge to Leadville- 2 hours, 40 miles
Breck-Leadville-Minturn-Breck -114 miles, 2.5 hours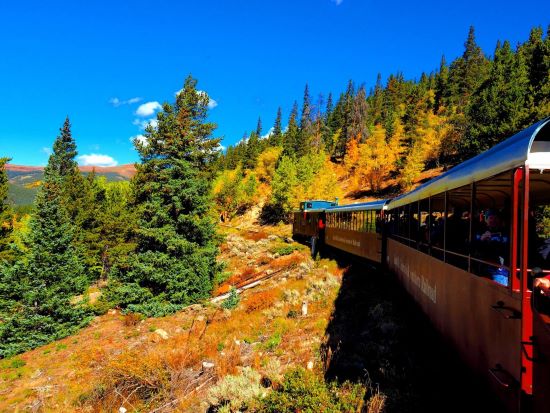 In Summit County, the Top of the Rockies National Scenic Byway starts at Copper Mountain and travels over Fremont Pass to Leadville, where travelers can take one route to Granite or, to loop back to Summit, follow the extension to Tennessee Pass through Camp Hale, Red Cliff and Minturn and back to Interstate 70 east.
A gorgeous drive, travelers will be rewarded with lots of golden aspens on the route and a lot of wide-open spaces with expansive views of 14ers and fall colors. Be sure to continue past Leadville to see Mt Elbert, Colorado's tallest peak. 
General directions from Frisco: Take I-70 west from Frisco toward Copper Mountain. Take Colorado Highway 91 south to Leadville. At Leadville, there is an extension that continues south, or take U.S. Highway 24 west all the way to Minturn.
Our year-round beautiful views are simply accentuated by the fall foliage. If you 

haven't

 visited Colorado in the fall, what are you waiting for

?