22 Jun 2022
Famous for its world-class skiing, Breckenridge is a picturesque destination for year-round travelers. This historic mining village is situated at the foot of the breathtaking Rocky Mountains. Whether you're chasing powder, gorgeous hikes through beautiful landscapes, or just a place to retreat, Breckenridge has it all.
For us, Breckenridge is home. We love living the Colorado mountain lifestyle and we want to share with you our Top 5 Reasons to Visit Breckenridge: 
1. The Mountains!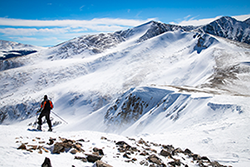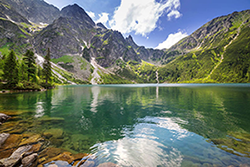 The Rocky Mountains are the Rocky Mountains. They are rugged, grand, and make you feel small on this earth. Experiencing their beauty in Breckenridge is a must-do in this lifetime. Winter, summer, spring, or fall, every season brings its own list of stunning natural wonders to grace your visit. Come and see our mountains, whenever you can make it!
2. The Weather
Yes, we love our powdery snowstorms in the winter. But, the best-kept secret about Colorado is that we get over 300 days of sunshine each year! That means that our fluffy snow is often accompanied by blue skies. Bluebird ski days are common around these parts. And, in the summertime, when the rest of the country is roasting, our blue skies are paired with temps no higher than 75 degrees most of the summer. 
3. The Activities
Coloradans LOVE the outdoors. Breckenridge is filled with the most exciting activities to keep you busy, winter or summer. The winter offers skiing, snowboarding, nordic skiing, snowshoeing, tubing, sleigh ride dinners, dogsledding, snowmobiling, fat tire biking, and any other winter fun you can dream of. The summer is filled with hiking, biking, kayaking, paddleboarding, fly fishing, and enjoying sunsets on your private deck.
4. The Cute Downtown
Enjoy the mountain views as you stroll through the quaint downtown with historic 19th-century buildings. Downtown is filled with plentiful dining and shopping options to satisfy your crew. Don't miss out on apres ski or sunset drinks on a patio, Main Street Breckenridge is calling your name. 
5. The Year-Round Events
For a cute little mountain town, we really pack it in with lots of excitement. With winter events like Ullr Fest honoring the goddess of snow, the International Snow Sculpture Championships, and the annual Race of the Santas, we like to stay busy! In the summertime, it's all about enjoying the outdoors with live music, food and wine festivals, and farmers markets.
Looking for the perfect luxury vacation home for your family and friends? Give us a call and we can match you with the right home for you in Breckenridge.