When warm weather finally arrives in the mountain town of Breckenridge, there is nothing better to do than enjoy dining outdoors! Start the day with a morning hike before heading to town to chow down and enjoy the view. With plenty of options for dining al fresco and tasting local cuisine, these Breckenridge restaurants feature the best of outdoor dining. Book a Breckenridge vacation rental to enjoy the outdoor activities that await in the Rocky Mountains!
Check out our guide to the best spots for outdoor dining in Breckenridge!
1. Kenosha
Kenosha is a laid-back spot for good eats and stunning views of Breckenridge's peaks. With a spacious back deck and a menu of burgers, steaks, BBQ, and more, the whole family is sure to enjoy an afternoon spent dining al fresco at Kenosha! Enjoy local brews and rotating taps, a selection of wines, as well as craft cocktails and margaritas. This is a main-street staple that can't be missed.
2. Quandary Grille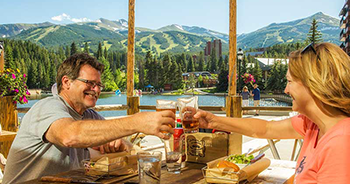 Quandary Grille features one of the best views in town with a deck that looks at Peaks 9 & 10 as well as Maggie Pond! Grab a sandwich for lunch or a plate of tacos as well as a draft beer, a craft cocktail, a whiskey, and more. This is the perfect place to rest for lunch after a morning exploring Main Street Breckenridge.
3. Relish
Featuring a patio that overlooks Riverwalk Center, Relish is a local favorite for Colorado inspire dishes crafted with seasonal ingredients. Enjoy watching the children play in the river as you enjoy the cool mountain air. Order a wine or beer and enjoy this delightful al fresco dining experience!
4. The Blue Stag Saloon
The Blue Stag Saloon is another main street staple in Breckenridge! With outdoor seating and classic cuisine like burgers, wood fired pizzas, and more, this outdoor dining experience is sure to delight. The bar features draft beers, whiskeys, cocktails, and a wine list. Bring the family to his charming Breckenridge restaurant and get ready to enjoy al fresco dining in the mountains!
5. Hearthstone Restaurant
Housed in a romantic, Victorian style home, the Hearthstone Restaurant is an ideal spot outdoor dining in Breckenridge. The menu features plenty of luxe dishes like lobster ravioli, scallops, elk, lamb, and more. Pair your dish with a delicious wine and don't forget to order crème brûlée or sorbet for dessert!
Book Your Breckenridge Vacation Rental Today
Find the mountain escape of your dreams in one of our Breckenridge vacation rentals. We are proud to offer a wide selection of vacation homes that are sure to fit your style and budget! Start planning your vacation in the mountains today!