When you've got cowboys on every corner, a ranching heritage and no shortage of gently rolling hills and horses, your town becomes a bit of a sleigh ride mecca! It's quintessential Steamboat.
With several to choose from, we've narrowed this list down to the 3 best Steamboat sleigh rides.
Saddleback Ranch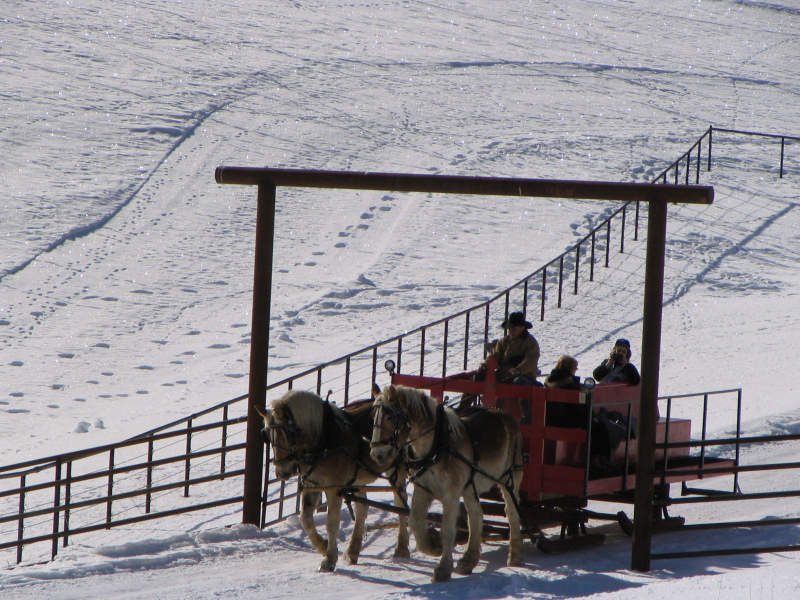 Hands down, this is our favorite. Nothing beats a horse-drawn sleigh ride at this 4th generation family owned and operated working cattle ranch. Saddleback Ranch's driver will pick you up at your Moving Mountains chalet and ferry you over to their 8000-acre ranch. Under starry skies, you'll glide over snowy blankets and while you stay warm under woolen blankets.
Dinner is served at the Double Dollar Lodge where you'll start the evening with a cozy fire, hot chocolate, and cider; eat a ranch-style meal of steak or salmon with skillet slides of ranch rolls and baked beans; and finish the evening off with a double chocolate brownie, and a cowboy roping lesson. Full bar, beer and wine, vegetarian options and kids' menu are available. With the extended Iacovetto family leading the herd and hosting the evening, this is a true family Steamboat sleigh ride adventure.
AND WHY NOT GO TUBING TOO?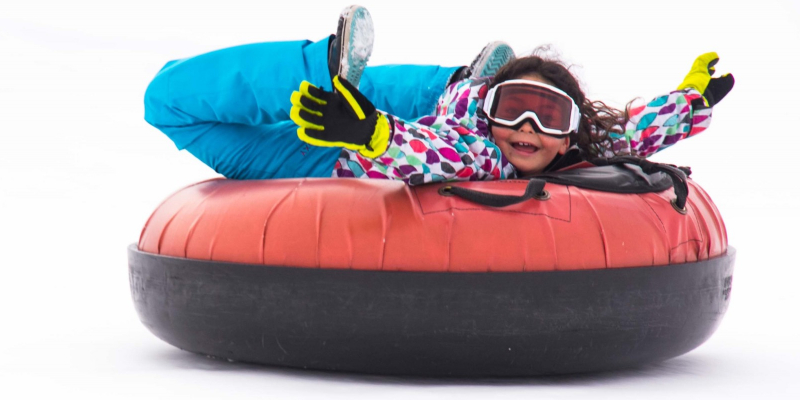 Make yours a double with a pre-sleigh ride slide down the Yee-Haw Tubing Hill. Our guests with children and/or adrenaline addictions love to book this option. Saddleback Ranch has its own tubing operation with 3 wild ride tubing runs. You'll get an hour and a half of tubing, then climb aboard the sleigh for the relaxing dinner at Double Dollar Lodge. This option sells out, so be sure to let us know if you are interested in doing both.
Saddleback Ranch Sleigh Ride Menu - Cowboy Cuisine
Dinner Menu: Choice of New York Strip Steak, Baked Garlic Salmon, Grilled Teriyaki Chicken, Grilled Marinated Pork Tenderloin or Vegetable Lasagna. Served with: Cowboy Baked Beans, Ranch Style Potato, Romaine Salad topped with Homemade Garlic Vinaigrette Dressing and a warm Ranch Roll. Dessert will be Double Chocolate Brownies and Homemade Fruit Crisp.
Kids menu: Hamburger or hot dog or may choose from the adult menu.
Pricing
Adult: $95
Child (6-12): $70
Child (1-5): $35
Child (1 and Under): free (no menu available)
Special pricing for New Year's Eve, Valentine's and other special events.
Driver picks you up at 5:15 pm and delivers you back home at 9:30 pm. For the tubing hill add-on, pick up is at gondola transit center at 3:30 pm, then driver delivers you back to your doorstep at 9:30 pm.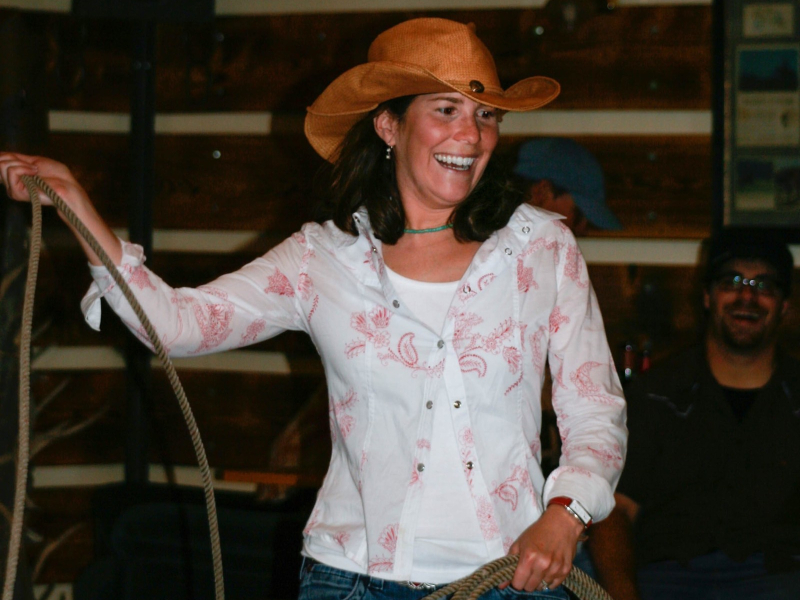 Ragnar's
Our adult guests with adventurous palates enjoy Ragnar's sleigh-ride dinner. You'll take the gondola up to a snowcat-drawn sleigh, then make your way over to the Norwegian-inspired fine dining restaurant, Ragnar's. You'll dine on elk loin, duck breast or a number of other upscale options. Dinner finishes with chocolate fondue and live acoustic music. This one is not recommended for little ones as no children's menu is available, but for a unique evening on the ski mountain under the stars, this is a beautiful way to end a ski day. Full bar, beer, and wine are available.
Ragnar's Menu - 5-course Norwegian-inspired dinner
Adults: $89
Special pricing for New Year's Eve, Valentine's and other special events. Your dinner reservation will be your gondola boarding time. Late arrivals can't be accommodated.
Smorgasbord Platter
SUPPE
House Made Suppe Dagens (Soup of the day)
RAGNAR'S MIDDAGEN SALATEN
Chef's Salad
BØNNFALLE UTVALG (ENTRÉE SELECTION)
Add Alaskan King Crab Legs 1/2 lb. - $30
Laks
Seared Salmon Filet, Cured Egg, Fingerlings, Fennel Cream, Grilled Cucumber, Carrot, Dill
Elg
Seared Elk Loin, Root Vegetable Puree, Mushrooms, Pickled Onion, Demi-Glace, Lingonberry
Lam
Braised Lamb Shank, Citrus Honey Glazed Brussels Sprouts, Fingerlings, Pickled Mustard Seed, Mint Gremolata
Anka
Duck Breast, Confit Thigh, Porcini Mushroom Gnocchi, Carrot, Peas, Demi-Glace
Storfekjott
Coffee Marinated Petite Filet, Rosti Potato, Asparagus, Smoked Tomato Coulis, Bearnaise, Chive Oil
Gronsaker
Rosti Potato, Soft Egg, Pea Purée, Roasted Vegetables, Beet Vinaigrette
SØT BEHANDLER (SWEET TREATS)
Ragnar's Chocolate Fondue
Haymaker
Haymaker is the most convenient option for those who don't want to venture too far off the beaten path but still want the full horse-drawn sleigh scenic experience. Haymaker's Nordic Center hosts draft-horse drawn sleigh ride dinners on Friday and Saturday, Sunday evenings throughout the winter. It's just a 5-minute drive from your chalet to the scenic spot. After a short ride over the expansive trails, you'll head into the Haymaker clubhouse for a delicious dinner. A kids menu is available. Full bar, beer, and wine are available.
Two seatings are offered. Shuttles are available from Steamboat Grand Hotel or our Moving Mountains private shuttles will escort you.
Adults: $89
Children: $39
Kids 5 and under: $15
Special pricing for New Year's Eve, Valentine's and other special events.
A private 2-person sleigh is available (but limited)
Haymaker Menu - Western American Fare
3-course dinner with appetizers and dessert changing nightly. Entree selection below:
Lamb T-bone
Grilled Colorado Lamb Smeared with Roasted Garlic and Rosemary, Aged Madeira Jus, Mint Chutney
All Natural Chicken
Slow Roasted 1/2 Red Bird Chicken, Black Cherry Demi-Glace, Thyme infused EVO
Ruby Red Trout
Sautéed Whole Fresh Rocky Mountain Trout, Red Chili Pesto Butter
Colorado Ribeye
Grilled 1855 Beef, Portobello Mushrooms, Charred Onion, Port Wine Sauce
Roasted Root Vegetables
Spiced Maple Glazed, Local Beets, Kale & Quinoa Salad, Aged Sherry Vinaigrette
What to Wear on a Dinner Sleigh Ride
For all sleigh rides, we recommend dressing warmly and in layers. Typically, if it's snowing outside, it's a bit warmer than if it's crystal clear out. Don't forget hats, gloves and warm boots.
We recommend wearing snow pants over your clothes or a base layer under your clothes. You'll be toasty once you arrive at dinner, but the sleigh rides can be brisk. Warm blankets are provided, but nothing beats being bundled up, as well. Each sleigh ride is about 25-minutes long.
Definitely dress little ones as you would for a day on the slopes. Everyone will have a better time if you're dressed accordingly. Please note that if you are booking the Yee Haw tubing hill before your sleigh ride, you'll also need to wear a helmet, goggles and will definitely want to be dressed for a typical ski day.
Remember, there's more than one way to dash through the snow on your Steamboat vacation. We look forward to sharing more recommendations and tips with you on Steamboat's best sleigh rides if you are our guest.
Become one of our guests now!