Get Directions
Incredible Colorado bluebird sunny days, hilarious and fun events, along with a boatload of Champagne Powder® snow mean that spring will shine a whole lot brighter in Steamboat-Ski Town, U.S.A.®.
The Steamboat Ski Area celebrates the close of the 2018/19 winter season with a multi-week festival including a boatload of Springalicious® festivities, fun events such as the Cardboard Classic, and several FREE music concerts.
For all the concert information see concert page
The Cardboard Classic: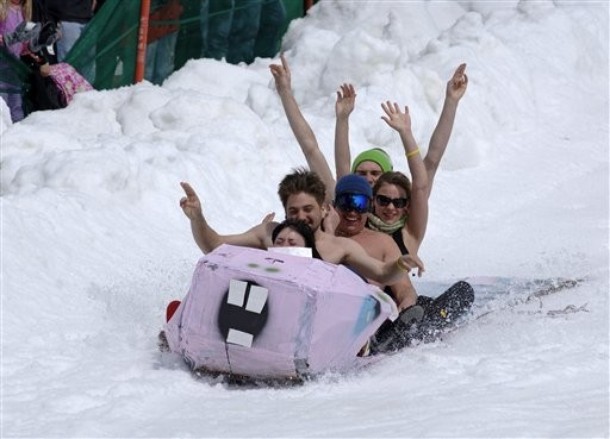 The Cardboard Classic, Steamboat's traditional rite of spring returns to the Steamboat Ski Area for the 38th year. This wild and hilarious race features homemade cardboard crafts, constructed only from cardboard, glue, string, water based paint, duct tape, masking tape, balloons and other decorations, racing down Stampede to a hysterical finish. The uniqueness and creativity of the race make it an event looked forward to each year.
 Schedule: 
• 9:00 - 10:00am: Registration & Check In (Participants must check in at the Coca-Cola Tent in Gondola Square or their spot will be released.)
• 10:00 - 11:00am: Cardboard D'Elegance/Judging
• 11:00am: 17 & under race begins followed by 18+ race
• Award Ceremony will follow the end of race
Splashdown Pond Skim:
 The Splashdown Pond Skimming Championships hits Steamboat once again on Closing Day - Sunday, April 15th! Wrapping up another epic season at Steamboat, this event has antics like you wouldn't believe.
 Discounted lift tickets: 
Contact us for all the details about great deals on lift tickets and incredible residences.