29 Feb 2020

We say We Do (and we do!)
Love is in the air this February with plenty of post-Valentine proposals and summer nuptial event planning. Our guest services agents are always happy to play cupid in matching our luxury vacation homes with destination wedding guests in Steamboat, Vail and Beaver Creek. 
This February, not only did we have the opportunity to host the wedding guests, but we also had the pleasure of hosting the wedding.

Now, this is a rare occurrence. Weddings in resort towns tend to be large and the wear and tear on our luxury homes is not something we're willing to sacrifice. However, when a wedding party of 31 people wanted to stay under one roof and tie the knot under that same roof, we are thrilled to move mountains and make exceptions for the celebration. So, when Jessica and Mike Majerowicz asked to reserve our Falconhead Lodge for their intimate winter wedding in Steamboat, we said: "We Do!".

The bride and groom were married under the covered outdoor atrium with snowflakes falling all around them as their beautiful backdrop. After the ceremony, the Moving Mountains' catering team rose to the occasion and served a superb dinner to celebrate the happy couple. Catering manager Jenna Crockett ensured that the bride's requested "favorite" of grilled cheese and tomato soup got a serious 5-star upgrade. 

Hors d'Oeuvres included our signature trout tarte, truffle mushroom tart, pork belly with bacon jam, chicken tinga tamales, and an antipasto platter. The buffet-style dinner included caesar salad, mashed potatoes, charred root vegetables, roasted bourbon steak, and the "ultimate" grilled cheese with gouda, goat, smoked cheddar and bacon on brioche accompanied by tomato bisque. 

The icing on the cake was, of course, the wedding cake and sponge cake cupcakes from The Steamboat Baker.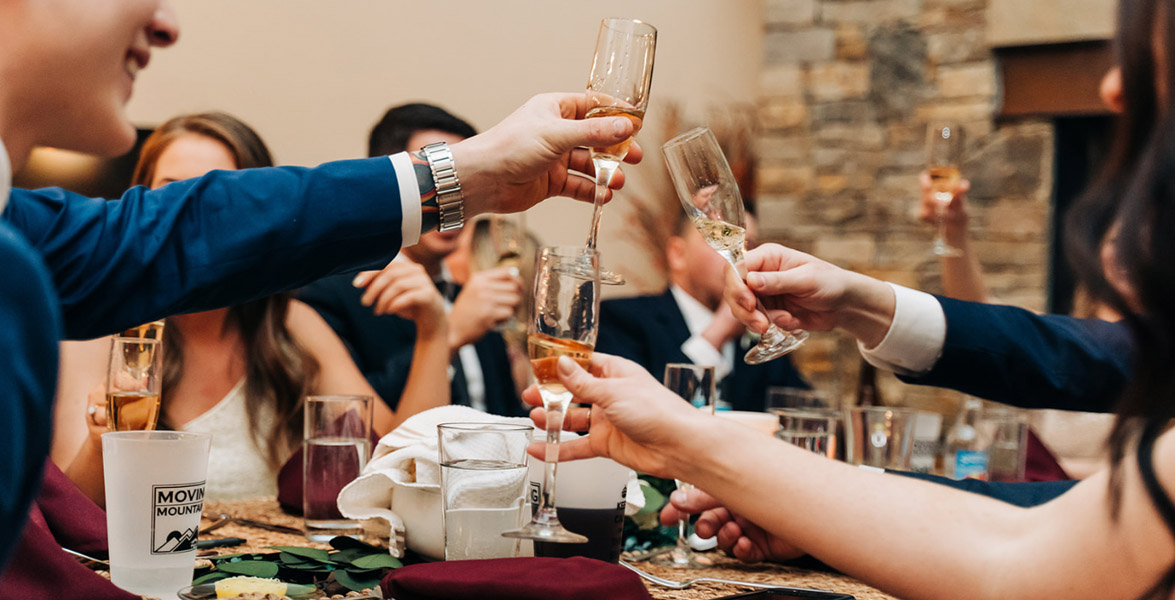 Toasts were said, glasses clinked, photos were snapped and the first dance commenced. The bride and groom had everyone grinning when they brought out the custom-made vintage shot skis as the wedding favors.

It was a beautiful event, to say the least, made even more extraordinary by the intimacy and coziness of the celebration.

At over 14,000 square feet with multiple kitchens, master bedrooms, guest bedrooms, game rooms, an open staircase, four-story windows, plenty of outdoor space and living areas, Falconhead Lodge was the perfect spot for this momentous occasion. There was ample room to roam, plenty of privacy and many opportunities for everyone to just be together. Staying in the same house, enjoying the magic of the mountains and making memories together is our favorite way to celebrate with those we love most!

Whether you're planning a wedding this year or celebrating a milestone birthday, anniversary or organizing a corporate retreat, we'd love to move mountains for your group. With several of these luxury homes located on the same street, we can accommodate group get-togethers of all kinds and sizes. Our staff is exceptional at managing the details.

Rest assured, it will all go off without a hitch (well unless you're the one getting hitched…)

If you'd like to speak with us about the perfect luxury catered chalet for an upcoming occasion in Steamboat, Vail or Beaver Creek, we'd be happy to move mountains for you, too!