14 Mar 2023
Hold onto your ski hats! The ski season may be winding down in Steamboat, Breckenridge, Vail, and Beaver Creek, but the fun is just getting started. These mountain towns are pulling out all the stops with end-of-season events that are sure to have you grinning from ear to ear. Think music festivals, pond skimming, concerts, and a whole lot more. Don't miss out on the spring snow, high-altitude laps, and plenty of Vitamin D. Get your sunscreen ready and let's dive into the excitement!
Here are just a few of the awesome activities you won't want to miss during the last weeks of the ski season.
Spring Fever Festival, Breckenridge
The Spring Fever Festival is a month-long event that celebrates the end of the ski season. The festival includes live music, beer tastings, and other fun events. Some of the highlights of the festival include the Breck Plunge, where participants ski or ride down a slope and skim across a pond, and the Chili Cook-Off, where local chefs compete to make the best chili.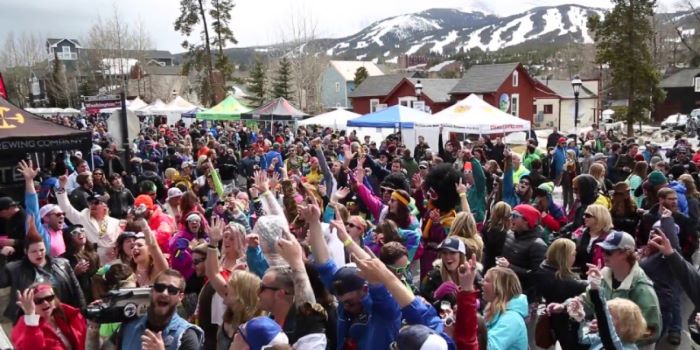 Imperial Challenge, Breckenridge, April 8, 2023
The Imperial Challenge is a multi-sport race that includes a 6.2-mile run, a 10-mile bike ride, and a climb up the Imperial Express Chairlift. The race starts at the Breckenridge Recreation Center and ends at the top of Peak 8. It's a challenging event that attracts athletes from all over the country.
Bud Light Rocks the Boat Free Concert Series, Steamboat Springs
Get your groove on with free outdoor concerts at all 4 resorts. Here's the Steamboat lineup:
March 25 – Cris Jacobs Band
April 1 – Joslyn & The Sweet Compression
April 2 – MarchFourth
April 8 – The Main Squeeze
April 9 – The Wailers
The Cardboard Classic, Steamboat Springs
The Cardboard Classic, Steamboat's traditional rite of spring returns to the Steamboat Ski Area for the 41st year. This wild and hilarious race features homemade cardboard crafts, constructed only from cardboard, glue, string, water-based paint, duct tape, masking tape, balloons, and other decorations, racing down Stampede to a hysterical finish. The uniqueness and creativity of the race make it an event looked forward to each year.
Spring Back to Vail

Spring Back to Vail is an annual event that marks the end of the ski season in Vail. This festival features live music, food and drink specials, and fun activities for all ages. The event kicks off with a free concert in Vail Village and includes events like a World Pond Skimming Championship, a pub crawl, and more.
Springfest, Beaver Creek

Springfest is a month-long celebration of spring in Beaver Creek. The event includes live music, food and drink specials, and fun activities for all ages. Events include snowshoe tours, wine and chocolate tastings, and more. One of the highlights of Springfest is the annual Easter Egg Hunt, where kids can search for hidden eggs throughout the village.
Splashdown Pond Skims - All Locations! 
Steamboat Springs
The Splashdown Pond Skimming Championships hits Steamboat once again on April 9th! Wrapping up another epic season at Steamboat, this event has antics like you wouldn't believe and is so worth watching.
Vail

Vail has their own hilarious pond skim during the Springback festivities. 
Breckenridge
A favorite to watch, Breck joins the pond skimming fun during their end-of-season activity lineup.
And there you have it - the lowdown on all the epic end-of-season fun waiting for you in Colorado's mountain resort towns! From slushy slopes to sunny skies, and concerts to pond skimming, there's something for everyone as we say goodbye to another incredible ski season. So pack up your gear, grab your family, and get ready to make some unforgettable memories in the mountains. Who knows - you might just discover your new favorite springtime tradition! So go forth, ski, revel, and soak up the sun - and we'll see you on the mountain!
Find your Spring digs by browsing all of our incredible homes in Steamboat, Breckenridge, Vail, and Beaver Creek!