8 Sep 2021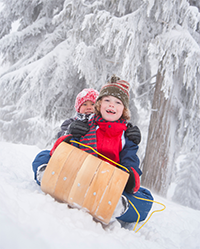 What's better than grabbing some sleds and the family and hitting a sledding hill? Sledding is pure enjoyment in the beautiful snowy mountains of Colorado. The exhilaration on the kid's faces and the hilarity when the adults pummel down the hill are sure to bring you memories and stories for years to come.  
Here are some of our favorite (and free!) sledding hills in Breckenridge:
Carter Park
Where: From Main Street in Breckenridge, go east on Lincoln Street for 4 blocks, then turn right on High Street and follow it 3 for blocks. High Street dead-ends at Carter Park, with plenty of parking available. 
Check out one of the only family-friendly sledding hills in Breckenridge. This is a walk-up, ride down hill that is tons of fun for the whole family. The hill is a former ski slope, so get ready for a thrill! Bring your own sled - and some hot cocoa! 
Runway Sledding Hill
Where: 1730 Airport Road, accessed at the intersection of Airport Road and Fraction Road. Park in the free Airport Road lot.  

New last winter is the Runway Sledding Hill! This is another walk-up, ride down sledding hill located right near the airport. This hill is easily accessible with a free parking lot and is along the Breckenridge Free Ride bus loop. Enjoy the ride!
Ready for an amazing winter getaway in Colorado? We have the perfect home for you and your group.