Why We Love Beaver Creek
Welcome to Beaver Creek, with over 1,832 skiable acres, terrain to satisfy beginners, mogul fanatics, and powder hunters, one of the world's best ski schools, a thoughtfully-designed pedestrian village with all the touches, and everything you could need in one contained area.
Beaver Creek is well-known for offering a high-touch, luxury guest experience as well as being extremely family-friendly. Learn about our top reasons why we love Beaver Creek here at Moving Mountains.

'Ivy League of Ski Schools'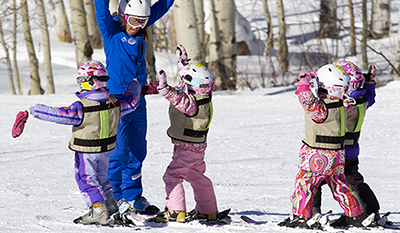 Known as the 'Ivy League of Ski Schools', Beaver Creek's ski school uses video analysis, has a dedicated learn-to-ski zone, and a 'learning gondola.' This ski school is not just for the newbies, they also serve up powder lessons, coaching through the steeps, learning to navigate wide, flat groomers, and tips for racers. If someone in your group is learning how to ski or snowboard, or wants to sharpen their skills, Beaver Creek is the best place to do it.
There is plenty of beginner- and intermediate-friendly terrain throughout the resort, so those still learning can enjoy their new skills. It's easy to access Haymeadow Park, an area with several magic carpets by taking the gondola! This is a unique feature that allows beginners to take their first turns without having to face the chair lift!
The kids can also enjoy the Adventure Zones throughout the mountain where they can take turns through teepees, zoom across bridges, and scoot through tunnels. Be on the lookout for the smiley faces.
Perfect Village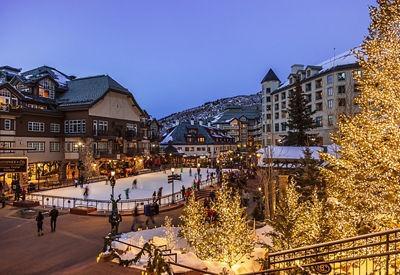 The well-thought-out, beautifully crafted alpine village sits at the bottom of the slopes in Beaver Creek. With heated sidewalks and escalators throughout, no detail is left unnoticed.
The village is filled with off-mountain fun with plenty of shops, restaurants, and spas, and, of course, an outdoor ice rink. One of our favorite things to do is check out the Beaver Creek Wonder - an artistic playground with oversized sculptures lit up in rainbow hues at night, ice bikes, and a giant snow globe. The village is easy to navigate with the family and filled with all of your needs.
But, our #1 favorite time is Cookie Time! At 3 p.m. each afternoon, guests are offered a freshly baked chocolate chip cookie at the base of the mountain. Don't miss it!
Varied Terrain For Everyone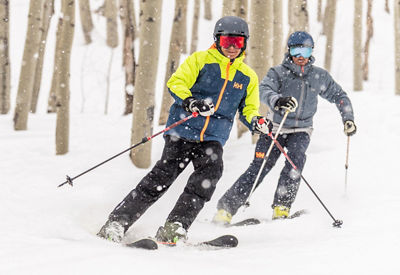 Even though Beaver Creek has a top-notch ski school and is great for beginners, this does not mean that die-hards should sit it out. Beaver Creek has some of the best black and double black bump skiing in North America. It also has great backcountry-style terrain that is served by lifts. With more deep, dry powder than its sister mountain, Vail, and fewer powder hounds around, there is often the opportunity to find untouched powder days later. Beaver Creek is well-known for having the best grooming and snowmaking around with beautiful corduroy on the cruising runs. First-timers, casual cruisers, mogul runners, and powder hounds can unite at Beaver Creek.