The Ledges South
Steamboat Springs, CO
•
Ski Shuttle: .2-1 Mi to Ski Area
---
---
Ski Shuttle (seasonal)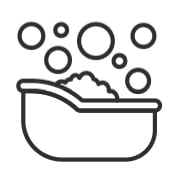 Private Hot Tub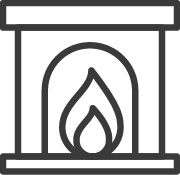 Fireplace - Gas
Standard Wifi Internet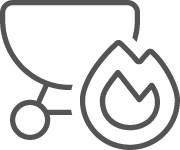 Grill - BBQ
---
This luxurious mountain home is perched among aspen and pine trees in one of Steamboat's most exclusive mountain neighborhoods on Ski Trail Lane overlooking the valley below. A private hot tub with views of the sun setting over the pristine Yampa Valley is an added bonus to your vacation.

The Ledges South offers a quiet location with superior finishes that will delight any group. The breathtaking views of the Yampa Valley and easy access to ski trails make this a very desirable vacation home in every regard. The open design invites everyone to completely relax and enjoy this spacious and stunning residence. The wrap-around deck and terraces are also great for après-ski while soaking up the breathtaking sunsets.

The center of your home-away-from-home is the enormous great room with vaulted ceilings and huge windows that bring the views that surround you into this space. The comfortable furniture oriented around the large stone fireplace creates a perfect setting to relive an exhilarating day on the slopes of the Steamboat ski area.

Next to the great room is a professionally equipped gourmet kitchen fit for any chef. With seating for three at the bar, it is also a perfect location to sit and chat while you watch your personal chef prepare a delicious catered dinner. The kitchen features granite counters, custom cabinetry, multiple sinks, a large pantry, and stainless steel appliances. Imagine all the delicious smells wafting from the kitchen to the great room and over to the dining table.

The dining table with seating for eight people is a great setting for family meals. Surrounded by large windows with expansive views out towards the valley you can enjoy the inspirational location and culinary delights in a place that invites you to linger and celebrate your time together.

On the main level is a beautiful primary suite that boasts a double-sided fireplace leading to an attached ensuite with a soaking tub, walk-in closets, separate dual sinks, and a steam shower for relaxing after the day. Upstairs there is a large king suite and an ensuite bathroom with a tub/shower combination. On the same floor is a queen suite with an ensuite bathroom. On the lower level, there is a bedroom with a twin-over-double bunk bed and a queen-over-queen bunk. This bedroom shares a bathroom with the lower living area.

In the family room on the lower level, you can break out the board games or enjoy a movie together. This room is perfect for entertaining with a bar that seats four. If you need a quiet workspace there is a loft with a desk and seating on the upper level. The loft also has a "Golden Tee" arcade game for some friendly competition.

This home has a swamp cooling system to help keep the home cool in the summertime.

SHUTTLE
This home enjoys complimentary use of the Moving Mountains shuttle, mid-November through mid-April, using the convenient shuttle app to schedule pickups.

GUEST SERVICES
Moving Mountains has a Guest Services Team, offering full-service vacation planning assistance prior to your trip. You will be assigned a dedicated specialist who will guide you through all the activities and services available. You will also have access to our online Guest Portal where you can find extensive details about your reservation, your residence and guest services.

IN HOME AMENITIES
All Moving Mountains properties have WIFI and come fully stocked with paper products (paper towels, toilet paper, tissues), bathroom toiletries (shampoo, conditioner, body wash, hand soap), and detergents (dish, dishwasher, and laundry) as well as clean bed linens and towels. In addition, the kitchens are stocked with aluminum foil, plastic wrap, trash bags, sponges, soap, salt and pepper, coffee, tea, Nespresso, cookware, bakeware, dishes, glasses, utensils, and standard small appliances.

Your Safe Home Guarantee: All Moving Mountains homes and residences are cleaned to the highest standards following the VRMA Safe Home guidelines and using cleaning products recommended by the CDC.

CONSTRUCTION UPDATE: Colorado's mountain towns are busy with construction each summer. This home may find disruption from time to time. Give us a call to discuss current activity as it ebbs and flows.

5,071 sq. ft.

VHR - 09-08
STR20230605
---
---
September 2023
| Su | Mo | Tu | We | Th | Fr | Sa |
| --- | --- | --- | --- | --- | --- | --- |
| | | | | | 1 | 2 |
| 3 | 4 | 5 | 6 | 7 | 8 | 9 |
| 10 | 11 | 12 | 13 | 14 | 15 | 16 |
| 17 | 18 | 19 | 20 | 21 | 22 | 23 |
| 24 | 25 | 26 | 27 | 28 | 29 | 30 |
October 2023
| Su | Mo | Tu | We | Th | Fr | Sa |
| --- | --- | --- | --- | --- | --- | --- |
| 1 | 2 | 3 | 4 | 5 | 6 | 7 |
| 8 | 9 | 10 | 11 | 12 | 13 | 14 |
| 15 | 16 | 17 | 18 | 19 | 20 | 21 |
| 22 | 23 | 24 | 25 | 26 | 27 | 28 |
| 29 | 30 | 31 | | | | |
November 2023
| Su | Mo | Tu | We | Th | Fr | Sa |
| --- | --- | --- | --- | --- | --- | --- |
| | | | 1 | 2 | 3 | 4 |
| 5 | 6 | 7 | 8 | 9 | 10 | 11 |
| 12 | 13 | 14 | 15 | 16 | 17 | 18 |
| 19 | 20 | 21 | 22 | 23 | 24 | 25 |
| 26 | 27 | 28 | 29 | 30 | | |
December 2023
| Su | Mo | Tu | We | Th | Fr | Sa |
| --- | --- | --- | --- | --- | --- | --- |
| | | | | | 1 | 2 |
| 3 | 4 | 5 | 6 | 7 | 8 | 9 |
| 10 | 11 | 12 | 13 | 14 | 15 | 16 |
| 17 | 18 | 19 | 20 | 21 | 22 | 23 |
| 24 | 25 | 26 | 27 | 28 | 29 | 30 |
| 31 | | | | | | |
January 2024
| Su | Mo | Tu | We | Th | Fr | Sa |
| --- | --- | --- | --- | --- | --- | --- |
| | 1 | 2 | 3 | 4 | 5 | 6 |
| 7 | 8 | 9 | 10 | 11 | 12 | 13 |
| 14 | 15 | 16 | 17 | 18 | 19 | 20 |
| 21 | 22 | 23 | 24 | 25 | 26 | 27 |
| 28 | 29 | 30 | 31 | | | |
February 2024
| Su | Mo | Tu | We | Th | Fr | Sa |
| --- | --- | --- | --- | --- | --- | --- |
| | | | | 1 | 2 | 3 |
| 4 | 5 | 6 | 7 | 8 | 9 | 10 |
| 11 | 12 | 13 | 14 | 15 | 16 | 17 |
| 18 | 19 | 20 | 21 | 22 | 23 | 24 |
| 25 | 26 | 27 | 28 | 29 | | |
March 2024
| Su | Mo | Tu | We | Th | Fr | Sa |
| --- | --- | --- | --- | --- | --- | --- |
| | | | | | 1 | 2 |
| 3 | 4 | 5 | 6 | 7 | 8 | 9 |
| 10 | 11 | 12 | 13 | 14 | 15 | 16 |
| 17 | 18 | 19 | 20 | 21 | 22 | 23 |
| 24 | 25 | 26 | 27 | 28 | 29 | 30 |
| 31 | | | | | | |
April 2024
| Su | Mo | Tu | We | Th | Fr | Sa |
| --- | --- | --- | --- | --- | --- | --- |
| | 1 | 2 | 3 | 4 | 5 | 6 |
| 7 | 8 | 9 | 10 | 11 | 12 | 13 |
| 14 | 15 | 16 | 17 | 18 | 19 | 20 |
| 21 | 22 | 23 | 24 | 25 | 26 | 27 |
| 28 | 29 | 30 | | | | |
May 2024
| Su | Mo | Tu | We | Th | Fr | Sa |
| --- | --- | --- | --- | --- | --- | --- |
| | | | 1 | 2 | 3 | 4 |
| 5 | 6 | 7 | 8 | 9 | 10 | 11 |
| 12 | 13 | 14 | 15 | 16 | 17 | 18 |
| 19 | 20 | 21 | 22 | 23 | 24 | 25 |
| 26 | 27 | 28 | 29 | 30 | 31 | |
June 2024
| Su | Mo | Tu | We | Th | Fr | Sa |
| --- | --- | --- | --- | --- | --- | --- |
| | | | | | | 1 |
| 2 | 3 | 4 | 5 | 6 | 7 | 8 |
| 9 | 10 | 11 | 12 | 13 | 14 | 15 |
| 16 | 17 | 18 | 19 | 20 | 21 | 22 |
| 23 | 24 | 25 | 26 | 27 | 28 | 29 |
| 30 | | | | | | |
July 2024
| Su | Mo | Tu | We | Th | Fr | Sa |
| --- | --- | --- | --- | --- | --- | --- |
| | 1 | 2 | 3 | 4 | 5 | 6 |
| 7 | 8 | 9 | 10 | 11 | 12 | 13 |
| 14 | 15 | 16 | 17 | 18 | 19 | 20 |
| 21 | 22 | 23 | 24 | 25 | 26 | 27 |
| 28 | 29 | 30 | 31 | | | |
August 2024
| Su | Mo | Tu | We | Th | Fr | Sa |
| --- | --- | --- | --- | --- | --- | --- |
| | | | | 1 | 2 | 3 |
| 4 | 5 | 6 | 7 | 8 | 9 | 10 |
| 11 | 12 | 13 | 14 | 15 | 16 | 17 |
| 18 | 19 | 20 | 21 | 22 | 23 | 24 |
| 25 | 26 | 27 | 28 | 29 | 30 | 31 |
---
Extra Bedding
1 Queen Sofa Bed
Bedroom 1, main level
1 King
Bedroom 2, upper level
1 King
Bedroom 3, upper level
1 King
Bedroom 4, lower level
1 Queen over Queen Bunk
1 Twin over Full Bunk
---
SKI ACCESS
Ski Shuttle (seasonal)

Boot Dryers
DISTANCE TO SLOPES
Ski Shuttle: .2-1 Mi to Ski Area
POOL, SPA & FITNESS
Private Hot Tub
PARKING AND TRANSPORTATION
4WD Vehicle Recommended in Winter

Parking - Garage/Driveway
VIEW
Base Area View

Valley View

Partial Mtn and Valley View
ENTERTAINMENT
Smart TV

Board Games

Wii

Family Room
GENERAL
Balcony

Fireplace - Gas

Patio
WORK FROM HOME
Office area - no door

Standard Wifi Internet

Workspace
KITCHEN
Stove

Toaster

Blender

Refrigerator

Coffee - Drip

Nespresso

Coffee - Grinder

Cooktop - Gas

Crockpot

Microwave

Mixer

Dining Table - 8 seats

2 Dishwashers

Dishes and Utensils

Dishwasher

Grill - BBQ

Oven

Outside Dining Area
ESSENTIALS
Elevator

Shampoo

Washer

Essentials

Hair Dryers

Dryer

Iron & Board

Linens
SAFETY
Private Entrance

Carbon Monoxide Detector

Fire Extinguisher

Smoke Detector

Medical Emergency Contact provided

First Aid Kit

House Guide / Safety Manual
ACCESSIBILITY
Guest entrance wider than 32 inches

Ramp Into Home

Hard Surface Smooth Driveway

Lever Handles on Doors

Hard Flooring on Main Level

Step-free bedroom access

Bed Height is 20-23

Minimum of 5.5 in under bed

Handheld Shower Head

Toilet is 17-19 in. off ground

Kitchen - Wheelchair Access Oven

Kitchen - Wheel-Under Counter or Table

Elevated, Front-Loading Washer/Dryer
---
Incredible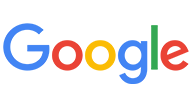 We have visited Steamboat every year for the last 6 years. Moving Mountains has been incredible on every visit. They went over the top this time. A package arrived late and couldn?t be rerouted to my house. They hunted down the package and even mailed it for me! Our family is thankful to Jill, Kelly, and the other staff that helped.
We will visit again

Jill was awesome, would check in on us. Went over all the details with the house. Easy to check in. The house was clean and organized, well stocked for hosting a nice dinner. We will visit again. Thank you!
Loved the house

We loved the house and Moving Mountains excellent attention to details.
Wonderful stay!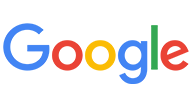 This was our second stay at the Ledges South and we just can't thank everyone at Moving Mountains enough for a wonderful stay, once again. Our questions were always answered immediately, the house is impeccably clean, the staff is so friendly and attentive, and the location and the views from the home are second to none! The shuttle service allowed our family of 10 to get around to the mountain and town comfortably and safely which we feel is always a plus! We have stayed in a number of homes in our travels and feel the staff at Moving Mountains is without a doubt, one of the most caring, attentive and friendly group we have ever encountered. We are looking forward to returning next year!
Amazing

Moving Mountains made this vacation unforgettable for my family and me! Super easy all the way around! Everything from lift tickets, ski school and groceries were all waiting for us at check in. Beautiful house with amazing view
Look forward to our stay next year!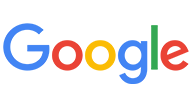 We just returned home from a week long stay in Ledges South and can't even begin to express what a wonderful time we had as a family and how accommodating, professional and friendly the staff at Moving Mountains was to our family. From the check-in process, to the numerous "question texts" that were quickly answered, as well as the wonderful shuttle drivers and beautiful home - we couldn't have had a better vacation!! May have helped that we had 5-8 inches of new snow every day! Would highly recommend Moving Mountains and look forward to our stay next year! Thanks to all!!!
Love this place!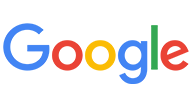 Gorgeous house overlooking the valley of SteamBoat. The amenities and architechture of the house are incredible. We will recommend and return on occassion.
A very special trip

We loved the house, the location, and we had great weather too!! Highly recommended
Beautiful Home, Great Shuttle Service

Mistakenly thought this was ski-out home (totally my mistake). But the awesome shuttle service made up for my mistake. Shuttled our group of twelve to base, Safeway, Ski-Haus, and movies. Very reliable and friendly service. House was beautiful with a gorgeous master bed and bath. Slept our 12 - six adults and six high schoolers - comfortably (with two on a pull out couch). Tons of cooking stuff for our group that preferred to eat at the house. Ski-in under the gondola with record breaking snow was not an easy end to each day but our group loved the challenge. Golden Tee was used constantly and I'm pretty sure we all now think we can play real golf. Lots of tvs, good wifi, warm hottub, and a mudroom with boot warmers round out a very cool place to stay on the mountain.
---
Have a question? Customer Questions & Answers
Want to know specifics? Ask anything about this specific property that you would like to know...
Example: "Is the balcony screened in?" or "Is there a toaster oven?"
---