---
Ski Shuttle (seasonal)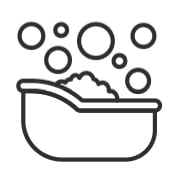 Private Hot Tub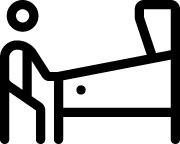 Foosball
Pet Friendly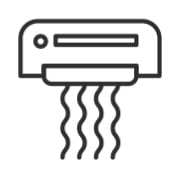 Air Conditioning
---
Cazador Lodge is a mountain modern luxury home, with many windows offering views of the entire Yampa Valley. Clean lines, stylish furnishings, and unique touches create an inviting space for even the most discerning visitor.

Upon entering the home, you will be greeted by an expansive great room with more views, comfortable seating, and a jaw-dropping floor-to-ceiling metal fireplace. The great room offers numerous openings to the outdoors and strikes a balance between beauty and comfort ultra-modern home.

The adjacent dining room seats eight at a grand table with views to remember. A gourmet showstopper kitchen takes the prize in this room with a vast white granite island with bar seating for another 8 guests. Wrap-around windows without a view missed and GE Café™ Series designer appliances throughout make this large space a chef's dream kitchen.

Up a few steps from the great room, on its own private floor, is a spectacular primary bedroom filled with natural light with cascading windows and lovely views. The king bed centers the room with its vaulted ceiling, large walk-in closet, and stunning tiled ensuite with a free-standing bath and shower with triple showerheads.

Custom-designed stairs with modern, glass-paneled railings lead down to the lower level of the home. A beautiful and cozy family room awaits with a wet bar, a game table, a dartboard, and foosball. Cozy up with blankets on the comfortable couch and enjoy a movie on the large flat-screen TV. Or head out to the walk-out patio and fenced-in yard, and take a soak in the beautiful, sunken hot tub under a sky full of stars.

On this lower level are four more tasteful bedrooms including a king suite with a large closet, desk, beautiful views, and ensuite bathroom. Two more king bedrooms with gorgeous ensuite bathrooms are down the hall as well as a bunkroom with 2 twin-over-twin bunk beds perfect for the kids. A full bathroom is accessible from the hallway on this level.

This home has a spacious garage with space for parking two cars. This is the only parking at the home. There is no parking in the driveway. Four-wheel drive is recommended in the winter months.

This home is pet-friendly with an additional fee and written approval. Please contact us for details.

SHUTTLE
This home enjoys complimentary use of the Moving Mountains shuttle, mid-November through mid-April, using the convenient shuttle app to schedule pickups. Skip the hassle of a rental car and let us take you where you need to go.

GUEST SERVICES
Moving Mountains has a Guest Services Team, offering full-service vacation planning assistance prior to your trip. You will be assigned a dedicated specialist who will guide you through all the activities and services available. You will also have access to our online Guest Portal where you can find extensive details about your reservation, your residence and guest services.

IN HOME AMENITIES
All Moving Mountains properties have WIFI and come fully stocked with paper products (paper towels, toilet paper, tissues), bathroom toiletries (shampoo, conditioner, body wash, hand soap), and detergents (dish, dishwasher, and laundry) as well as clean bed linens and towels. In addition, the kitchens are stocked with aluminum foil, plastic wrap, trash bags, sponges, soap, salt and pepper, coffee, tea, Nespresso, cookware, bakeware, dishes, glasses, utensils, and standard small appliances.

This home enjoys air conditioning in summer.
Your Safe Home Guarantee: All Moving Mountains homes and residences are cleaned to the highest standards following the VRMA Safe Home guidelines and using cleaning products recommended by the CDC.

4,136 sq. ft.

VHR 21-19
STR20230402
---
---
November 2023
| Su | Mo | Tu | We | Th | Fr | Sa |
| --- | --- | --- | --- | --- | --- | --- |
| | | | 1 | 2 | 3 | 4 |
| 5 | 6 | 7 | 8 | 9 | 10 | 11 |
| 12 | 13 | 14 | 15 | 16 | 17 | 18 |
| 19 | 20 | 21 | 22 | 23 | 24 | 25 |
| 26 | 27 | 28 | 29 | 30 | | |
December 2023
| Su | Mo | Tu | We | Th | Fr | Sa |
| --- | --- | --- | --- | --- | --- | --- |
| | | | | | 1 | 2 |
| 3 | 4 | 5 | 6 | 7 | 8 | 9 |
| 10 | 11 | 12 | 13 | 14 | 15 | 16 |
| 17 | 18 | 19 | 20 | 21 | 22 | 23 |
| 24 | 25 | 26 | 27 | 28 | 29 | 30 |
| 31 | | | | | | |
January 2024
| Su | Mo | Tu | We | Th | Fr | Sa |
| --- | --- | --- | --- | --- | --- | --- |
| | 1 | 2 | 3 | 4 | 5 | 6 |
| 7 | 8 | 9 | 10 | 11 | 12 | 13 |
| 14 | 15 | 16 | 17 | 18 | 19 | 20 |
| 21 | 22 | 23 | 24 | 25 | 26 | 27 |
| 28 | 29 | 30 | 31 | | | |
February 2024
| Su | Mo | Tu | We | Th | Fr | Sa |
| --- | --- | --- | --- | --- | --- | --- |
| | | | | 1 | 2 | 3 |
| 4 | 5 | 6 | 7 | 8 | 9 | 10 |
| 11 | 12 | 13 | 14 | 15 | 16 | 17 |
| 18 | 19 | 20 | 21 | 22 | 23 | 24 |
| 25 | 26 | 27 | 28 | 29 | | |
March 2024
| Su | Mo | Tu | We | Th | Fr | Sa |
| --- | --- | --- | --- | --- | --- | --- |
| | | | | | 1 | 2 |
| 3 | 4 | 5 | 6 | 7 | 8 | 9 |
| 10 | 11 | 12 | 13 | 14 | 15 | 16 |
| 17 | 18 | 19 | 20 | 21 | 22 | 23 |
| 24 | 25 | 26 | 27 | 28 | 29 | 30 |
| 31 | | | | | | |
April 2024
| Su | Mo | Tu | We | Th | Fr | Sa |
| --- | --- | --- | --- | --- | --- | --- |
| | 1 | 2 | 3 | 4 | 5 | 6 |
| 7 | 8 | 9 | 10 | 11 | 12 | 13 |
| 14 | 15 | 16 | 17 | 18 | 19 | 20 |
| 21 | 22 | 23 | 24 | 25 | 26 | 27 |
| 28 | 29 | 30 | | | | |
May 2024
| Su | Mo | Tu | We | Th | Fr | Sa |
| --- | --- | --- | --- | --- | --- | --- |
| | | | 1 | 2 | 3 | 4 |
| 5 | 6 | 7 | 8 | 9 | 10 | 11 |
| 12 | 13 | 14 | 15 | 16 | 17 | 18 |
| 19 | 20 | 21 | 22 | 23 | 24 | 25 |
| 26 | 27 | 28 | 29 | 30 | 31 | |
June 2024
| Su | Mo | Tu | We | Th | Fr | Sa |
| --- | --- | --- | --- | --- | --- | --- |
| | | | | | | 1 |
| 2 | 3 | 4 | 5 | 6 | 7 | 8 |
| 9 | 10 | 11 | 12 | 13 | 14 | 15 |
| 16 | 17 | 18 | 19 | 20 | 21 | 22 |
| 23 | 24 | 25 | 26 | 27 | 28 | 29 |
| 30 | | | | | | |
July 2024
| Su | Mo | Tu | We | Th | Fr | Sa |
| --- | --- | --- | --- | --- | --- | --- |
| | 1 | 2 | 3 | 4 | 5 | 6 |
| 7 | 8 | 9 | 10 | 11 | 12 | 13 |
| 14 | 15 | 16 | 17 | 18 | 19 | 20 |
| 21 | 22 | 23 | 24 | 25 | 26 | 27 |
| 28 | 29 | 30 | 31 | | | |
August 2024
| Su | Mo | Tu | We | Th | Fr | Sa |
| --- | --- | --- | --- | --- | --- | --- |
| | | | | 1 | 2 | 3 |
| 4 | 5 | 6 | 7 | 8 | 9 | 10 |
| 11 | 12 | 13 | 14 | 15 | 16 | 17 |
| 18 | 19 | 20 | 21 | 22 | 23 | 24 |
| 25 | 26 | 27 | 28 | 29 | 30 | 31 |
September 2024
| Su | Mo | Tu | We | Th | Fr | Sa |
| --- | --- | --- | --- | --- | --- | --- |
| 1 | 2 | 3 | 4 | 5 | 6 | 7 |
| 8 | 9 | 10 | 11 | 12 | 13 | 14 |
| 15 | 16 | 17 | 18 | 19 | 20 | 21 |
| 22 | 23 | 24 | 25 | 26 | 27 | 28 |
| 29 | 30 | | | | | |
October 2024
| Su | Mo | Tu | We | Th | Fr | Sa |
| --- | --- | --- | --- | --- | --- | --- |
| | | 1 | 2 | 3 | 4 | 5 |
| 6 | 7 | 8 | 9 | 10 | 11 | 12 |
| 13 | 14 | 15 | 16 | 17 | 18 | 19 |
| 20 | 21 | 22 | 23 | 24 | 25 | 26 |
| 27 | 28 | 29 | 30 | 31 | | |
---
Bedroom 1, main level
1 King
Bedroom 2, lower level
1 King
Bedroom 3, lower level
1 King
Bedroom 4, lower level
1 King
Bedroom 5, lower level
2 Twin over Twin Bunk
---
SKI ACCESS
Ski Shuttle (seasonal)
POOL, SPA & FITNESS
Private Hot Tub
PARKING AND TRANSPORTATION
4WD Vehicle Recommended in Winter

Local Area Shuttle - winter-only

Parking - Garage/Driveway
ENTERTAINMENT
Smart TV

TV - in every bedroom

Family Room

Foosball
GENERAL
Balcony

Pet Friendly

Yard

Air Conditioning

Owner has Pet

Fireplace - Gas

Patio
WORK FROM HOME
Desk with Chair

High-Speed Wifi - 100+ Mbps

Office area - no door

Workspace
KITCHEN
Stove

Refrigerator

Coffee - Drip

Keurig and Nespresso Combination 2-in-1 Single Brew

Cooktop - Gas

Microwave

Dining Table - 8 seats

Dishes and Utensils

Dishwasher

Grill - BBQ

Oven
ESSENTIALS
Shampoo

Washer

Essentials

Hair Dryers

Dryer

Iron & Board

Linens
SAFETY
Private Entrance

Carbon Monoxide Detector

Fire Extinguisher

Smoke Detector

Medical Emergency Contact provided

First Aid Kit

House Guide / Safety Manual
ACCESSIBILITY
Guest entrance wider than 32 inches

Step-free guest entrance

Ramp Into Home

Space for Wheelchair Van

Hard Surface Smooth Driveway

Lever Handles on Doors

Hard Flooring on Main Level

Bed Height is 20-23

Minimum of 5.5 in under bed

Step-free bathroom access

Shower Bench or Chair

Toilet is 17-19 in. off ground

Kitchen - Wheelchair Access Oven

Kitchen - Wheel-Under Counter or Table

Kitchen - Wheelchair Access Dishwasher

Elevated, Front-Loading Washer/Dryer
---
A wonderful stay at a beautiful property.
A wonderful stay at a beautiful property. The house is quite large and it is furnished the way one would imagine a mountain home should be. Kitchen was huge and had everything we needed to do all the cooking we wanted to do. While the home is beautiful, the little "street" it sits on is a bit strange with a group of low-rise apartments across the way. This is definitely the most expensive home in this little area. Didn't bother us. Moving Mountains is incredible! Would respond within minutes and make things happen! The only issue is the A/C in the primary bedroom.. Just couldn't keep up with the warm weather. There is a hot tub that everyone enjoyed and a trickle charger for an EV. Would not hesitate to rent this property again, or any other property represented by MM.
---
Have a question? Customer Questions & Answers
Want to know specifics? Ask anything about this specific property that you would like to know...
Example: "Is the balcony screened in?" or "Is there a toaster oven?"
---