25 Nov 2019

Timbers Bachelor Gulch – No better place to stay!
With record early season snowfall already on the ground and almost every major Colorado ski resort opening early it's especially exciting for us to be able to offer slopeside luxury lodging at Timbers Bachelor Gulch, a sister property to One Steamboat Place that we also offer in Steamboat Springs, CO.
The exclusive gated community of Bachelor Gulch provides direct access to the Beaver Creek ski mountain, ranked as one of the best places to take your kids skiing and not just because they feed you warm chocolate chip cookies at the end of the day (although it helps!).
From Timbers Bachelor Gulch resort the ski-in/ski-out location allows you to just step into your ski boots, click into your skis and head straight out onto the mountain for a day of adventure you're your family. And while we are talking about skiing and snowboarding let's not forget that this residence includes free daily lift tickets valued at over $1200/day (yep that's $7200 per week).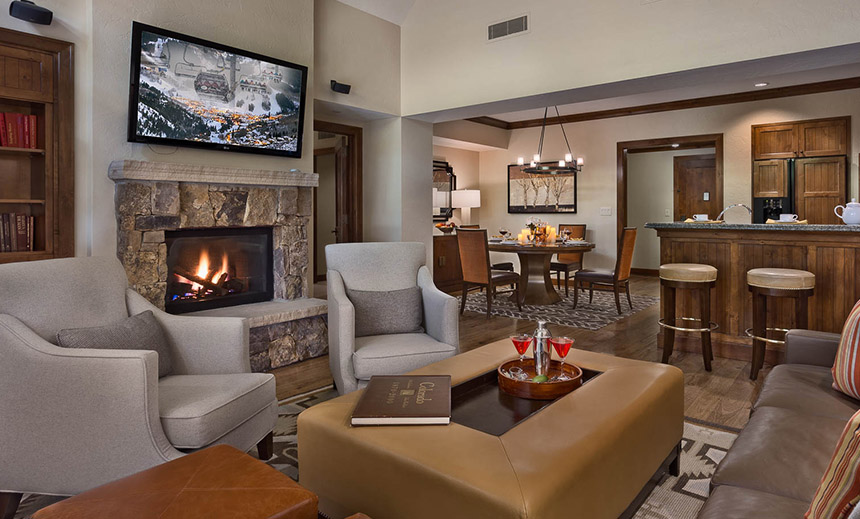 Our 2-bedroom residences sleep 6 and have a panoramic valley view with easy access to the lobby and ski valet. The open floor plan makes for a spacious combined living, kitchen and dining area. The fully equipped gourmet kitchen has top-of-the-line appliances and utensils.
Guests enjoy stunning private residences and inviting gathering areas, slopeside pools, and hot tubs, roaring fireplaces, and a world-class spa and dining options. It's a special place to come for New Year celebrations in the Rocky Mountains skiing with friends and family. 

Timbers Bachelor Gulch offers an array of world-class amenities, including a new fitness center, year-round heated outdoor pool, indoor and outdoor hot tubs, and a family game room and Timbers Tykes playroom for the younger kids. Guests also have access to the adjacent luxurious The Ritz Carlton, Bachelor Gulch with its award-winning spa, bars, and restaurants.