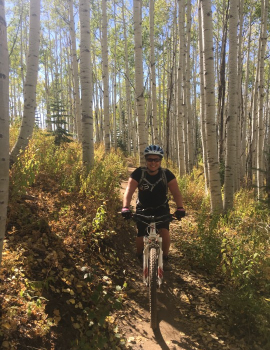 I love to play, enjoy life, go on adventures and try new things.
I am friendly and try to never say no to awesome activities and meeting new people, especially everything to do with the outdoors and smiling faces.
I grew up in Oregon and learned to ski on Mt Hood and Mt. Bachelor when I was 3.
I started working in the ski industry at Sugarbush Resort as a ski instructor when I was in College at the University of Vermont, studying Fine Art, The Environment and Outdoor Emergency Medicine.
I moved to Winter Park in 2003 and worked everywhere I could for the Resort: ski instructing, ski tuning and rentals, food and bevvy, snow removal and finally signage and graphics until 2011.
From there I tried my hand at living in the south in Austin, TX, and found that it was hot and the call of the mountains just wouldn't let me live there for very long. After 3 years of working for the Department of Defense booking travel and front desk reception I moved back to Oregon.
After 2 years of working in Health Food Stores and Delis, Colorado had it's grip on me once again and I moved back and get the lovely opportunity to settle in Steamboat and call it home.
After Managing a Deli in downtown Steamboat, I made the comfortable move to join the Moving Mountains team, where all of my customer service, ski industry and sales work, life and play have seemed to align.