Arrival
Max. Guests
1 night
2 nights
3 nights
4 nights
5 nights
6 nights
7 nights
8 nights
9 nights
10 nights
11 nights
12 nights
13 nights
14 nights
Mon, 2022-08-29 00:00
10
$2,116

[2]

$2,486

[3]

$3,175

[4]

$3,865

[5]

$4,555

[6]

$5,244

[7]

$5,934

[8]

$6,552

[9]

$7,170

[10]

$7,789

[11]

$8,407

[12]

$9,025

[13]

Tue, 2022-08-30 00:00
10
$2,207

[14]

$2,577

[15]

$3,266

[16]

$3,956

[17]

$4,646

[18]

$5,335

[19]

$5,953

[20]

$6,572

[21]

$7,190

[22]

$7,808

[23]

$8,427

[24]

$9,045

[25]

Wed, 2022-08-31 00:00
10
$2,298

[26]

$2,668

[27]

$3,357

[28]

$4,047

[29]

$4,736

[30]

$5,355

[31]

$5,973

[32]

$6,591

[33]

$7,210

[34]

$7,828

[35]

$8,446

[36]

$9,064

[37]

Thu, 2022-09-01 00:00
10
$2,389

[38]

$2,758

[39]

$3,448

[40]

$4,138

[41]

$4,756

[42]

$5,374

[43]

$5,993

[44]

$6,611

[45]

$7,229

[46]

$7,847

[47]

$8,466

[48]

$9,084

[49]

Fri, 2022-09-02 00:00
10
$2,389

[50]

$2,758

[51]

$3,448

[52]

$4,066

[53]

$4,685

[54]

$5,303

[55]

$5,921

[56]

$6,540

[57]

$7,158

[58]

$7,776

[59]

$8,394

[60]

Sat, 2022-09-03 00:00
10
$2,389

[61]

$2,758

[62]

$3,377

[63]

$3,995

[64]

$4,613

[65]

$5,232

[66]

$5,850

[67]

$6,468

[68]

$7,087

[69]

$7,705

[70]

Sun, 2022-09-04 00:00
10
$2,389

[71]

$2,687

[72]

$3,305

[73]

$3,924

[74]

$4,542

[75]

$5,160

[76]

$5,779

[77]

$6,397

[78]

$7,015

[79]

Mon, 2022-09-05 00:00
10
$2,318

[80]

$2,616

[81]

$3,234

[82]

$3,852

[83]

$4,471

[84]

$5,089

[85]

$5,707

[86]

$6,326

[87]

Tue, 2022-09-06 00:00
10
$2,246

[88]

$2,545

[89]

$3,163

[90]

$3,781

[91]

$4,399

[92]

$5,018

[93]

$5,636

[94]

Wed, 2022-09-07 00:00
10
$2,175

[95]

$2,473

[96]

$3,092

[97]

$3,710

[98]

$4,328

[99]

$4,946

[100]

Thu, 2022-09-08 00:00
10
$2,175

[101]

$2,473

[102]

$3,092

[103]

$3,710

[104]

$4,328

[105]

Fri, 2022-09-09 00:00
10
$2,175

[106]

$2,473

[107]

$3,092

[108]

$3,710

[109]

Sat, 2022-09-10 00:00
10
$2,175

[110]

$2,473

[111]

$3,092

[112]

Sun, 2022-09-11 00:00
10
$2,175

[113]

$2,473

[114]

Mon, 2022-09-12 00:00
10
$2,175

[115]

Sun, 2022-09-18 00:00
10
$2,175

[116]

$2,473

[117]

$3,092

[118]

$3,710

[119]

$4,328

[120]

$4,946

[121]

$5,565

[122]

$6,183

[123]

$6,801

[124]

$7,420

[125]

$8,038

[126]

$8,631

[127]

Mon, 2022-09-19 00:00
10
$2,175

[128]

$2,473

[129]

$3,092

[130]

$3,710

[131]

$4,328

[132]

$4,946

[133]

$5,565

[134]

$6,183

[135]

$6,801

[136]

$7,420

[137]

$8,013

[138]

$8,606

[139]

Tue, 2022-09-20 00:00
10
$2,175

[140]

$2,473

[141]

$3,092

[142]

$3,710

[143]

$4,328

[144]

$4,946

[145]

$5,565

[146]

$6,183

[147]

$6,801

[148]

$7,394

[149]

$7,987

[150]

$8,580

[151]

Wed, 2022-09-21 00:00
10
$2,175

[152]

$2,473

[153]

$3,092

[154]

$3,710

[155]

$4,328

[156]

$4,946

[157]

$5,565

[158]

$6,183

[159]

$6,776

[160]

$7,369

[161]

$7,962

[162]

$8,555

[163]

Thu, 2022-09-22 00:00
10
$2,175

[164]

$2,473

[165]

$3,092

[166]

$3,710

[167]

$4,328

[168]

$4,946

[169]

$5,565

[170]

$6,158

[171]

$6,751

[172]

$7,344

[173]

$7,937

[174]

$8,530

[175]

Fri, 2022-09-23 00:00
10
$2,175

[176]

$2,473

[177]

$3,092

[178]

$3,710

[179]

$4,328

[180]

$4,946

[181]

$5,539

[182]

$6,132

[183]

$6,725

[184]

$7,318

[185]

$7,911

[186]

$8,504

[187]

Sat, 2022-09-24 00:00
10
$2,175

[188]

$2,473

[189]

$3,092

[190]

$3,710

[191]

$4,328

[192]

$4,921

[193]

$5,514

[194]

$6,107

[195]

$6,700

[196]

$7,293

[197]

$7,886

[198]

$8,479

[199]

Sun, 2022-09-25 00:00
10
$2,175

[200]

$2,473

[201]

$3,092

[202]

$3,710

[203]

$4,303

[204]

$4,896

[205]

$5,489

[206]

$6,082

[207]

$6,675

[208]

$7,268

[209]

$7,861

[210]

$8,454

[211]

Mon, 2022-09-26 00:00
10
$2,175

[212]

$2,473

[213]

$3,092

[214]

$3,685

[215]

$4,278

[216]

$4,871

[217]

$5,464

[218]

$6,057

[219]

$6,650

[220]

$7,243

[221]

$7,836

[222]

$8,429

[223]

Tue, 2022-09-27 00:00
10
$2,175

[224]

$2,473

[225]

$3,066

[226]

$3,659

[227]

$4,252

[228]

$4,845

[229]

$5,438

[230]

$6,031

[231]

$6,624

[232]

$7,217

[233]

$7,810

[234]

$8,403

[235]

Wed, 2022-09-28 00:00
10
$2,175

[236]

$2,448

[237]

$3,041

[238]

$3,634

[239]

$4,227

[240]

$4,820

[241]

$5,413

[242]

$6,006

[243]

$6,599

[244]

$7,192

[245]

$7,785

[246]

$8,378

[247]

Thu, 2022-09-29 00:00
10
$2,150

[248]

$2,423

[249]

$3,016

[250]

$3,609

[251]

$4,202

[252]

$4,795

[253]

$5,388

[254]

$5,981

[255]

$6,574

[256]

$7,167

[257]

$7,760

[258]

$8,353

[259]

Fri, 2022-09-30 00:00
10
$2,124

[260]

$2,397

[261]

$2,990

[262]

$3,583

[263]

$4,176

[264]

$4,769

[265]

$5,362

[266]

$5,955

[267]

$6,548

[268]

$7,141

[269]

$7,734

[270]

$8,327

[271]

Sat, 2022-10-01 00:00
10
$2,099

[272]

$2,372

[273]

$2,965

[274]

$3,558

[275]

$4,151

[276]

$4,744

[277]

$5,337

[278]

$5,930

[279]

$6,523

[280]

$7,116

[281]

$7,709

[282]

$8,302

[283]

Sun, 2022-10-02 00:00
10
$2,099

[284]

$2,372

[285]

$2,965

[286]

$3,558

[287]

$4,151

[288]

$4,744

[289]

$5,337

[290]

$5,930

[291]

$6,523

[292]

$7,116

[293]

$7,709

[294]

$8,302

[295]

Mon, 2022-10-03 00:00
10
$2,099

[296]

$2,372

[297]

$2,965

[298]

$3,558

[299]

$4,151

[300]

$4,744

[301]

$5,337

[302]

$5,930

[303]

$6,523

[304]

$7,116

[305]

$7,709

[306]

$8,302

[307]

Tue, 2022-10-04 00:00
10
$2,099

[308]

$2,372

[309]

$2,965

[310]

$3,558

[311]

$4,151

[312]

$4,744

[313]

$5,337

[314]

$5,930

[315]

$6,523

[316]

$7,116

[317]

$7,709

[318]

$8,302

[319]

Wed, 2022-10-05 00:00
10
$2,099

[320]

$2,372

[321]

$2,965

[322]

$3,558

[323]

$4,151

[324]

$4,744

[325]

$5,337

[326]

$5,930

[327]

$6,523

[328]

$7,116

[329]

$7,709

[330]

$8,302

[331]

Thu, 2022-10-06 00:00
10
$2,099

[332]

$2,372

[333]

$2,965

[334]

$3,558

[335]

$4,151

[336]

$4,744

[337]

$5,337

[338]

$5,930

[339]

$6,523

[340]

$7,116

[341]

$7,709

[342]

$8,302

[343]

Fri, 2022-10-07 00:00
10
$2,099

[344]

$2,372

[345]

$2,965

[346]

$3,558

[347]

$4,151

[348]

$4,744

[349]

$5,337

[350]

$5,930

[351]

$6,523

[352]

$7,116

[353]

$7,709

[354]

$8,302

[355]

Sat, 2022-10-08 00:00
10
$2,099

[356]

$2,372

[357]

$2,965

[358]

$3,558

[359]

$4,151

[360]

$4,744

[361]

$5,337

[362]

$5,930

[363]

$6,523

[364]

$7,116

[365]

$7,709

[366]

$8,302

[367]

Sun, 2022-10-09 00:00
10
$2,099

[368]

$2,372

[369]

$2,965

[370]

$3,558

[371]

$4,151

[372]

$4,744

[373]

$5,337

[374]

$5,930

[375]

$6,523

[376]

$7,116

[377]

$7,709

[378]

$8,302

[379]

Mon, 2022-10-10 00:00
10
$2,099

[380]

$2,372

[381]

$2,965

[382]

$3,558

[383]

$4,151

[384]

$4,744

[385]

$5,337

[386]

$5,930

[387]

$6,523

[388]

$7,116

[389]

$7,709

[390]

$8,302

[391]

Tue, 2022-10-11 00:00
10
$2,099

[392]

$2,372

[393]

$2,965

[394]

$3,558

[395]

$4,151

[396]

$4,744

[397]

$5,337

[398]

$5,930

[399]

$6,523

[400]

$7,116

[401]

$7,709

[402]

$8,302

[403]

Wed, 2022-10-12 00:00
10
$2,099

[404]

$2,372

[405]

$2,965

[406]

$3,558

[407]

$4,151

[408]

$4,744

[409]

$5,337

[410]

$5,930

[411]

$6,523

[412]

$7,116

[413]

$7,709

[414]

$8,302

[415]

Thu, 2022-10-13 00:00
10
$2,099

[416]

$2,372

[417]

$2,965

[418]

$3,558

[419]

$4,151

[420]

$4,744

[421]

$5,337

[422]

$5,930

[423]

$6,523

[424]

$7,116

[425]

$7,709

[426]

$8,302

[427]

Fri, 2022-10-14 00:00
10
$2,099

[428]

$2,372

[429]

$2,965

[430]

$3,558

[431]

$4,151

[432]

$4,744

[433]

$5,337

[434]

$5,930

[435]

$6,523

[436]

$7,116

[437]

$7,709

[438]

$8,302

[439]

Sat, 2022-10-15 00:00
10
$2,099

[440]

$2,372

[441]

$2,965

[442]

$3,558

[443]

$4,151

[444]

$4,744

[445]

$5,337

[446]

$5,930

[447]

$6,523

[448]

$7,116

[449]

$7,709

[450]

$8,302

[451]

Sun, 2022-10-16 00:00
10
$2,099

[452]

$2,372

[453]

$2,965

[454]

$3,558

[455]

$4,151

[456]

$4,744

[457]

$5,337

[458]

$5,930

[459]

$6,523

[460]

$7,116

[461]

$7,709

[462]

$8,302

[463]

Mon, 2022-10-17 00:00
10
$2,099

[464]

$2,372

[465]

$2,965

[466]

$3,558

[467]

$4,151

[468]

$4,744

[469]

$5,337

[470]

$5,930

[471]

$6,523

[472]

$7,116

[473]

$7,709

[474]

$8,302

[475]

Tue, 2022-10-18 00:00
10
$2,099

[476]

$2,372

[477]

$2,965

[478]

$3,558

[479]

$4,151

[480]

$4,744

[481]

$5,337

[482]

$5,930

[483]

$6,523

[484]

$7,116

[485]

$7,709

[486]

$8,302

[487]

Wed, 2022-10-19 00:00
10
$2,099

[488]

$2,372

[489]

$2,965

[490]

$3,558

[491]

$4,151

[492]

$4,744

[493]

$5,337

[494]

$5,930

[495]

$6,523

[496]

$7,116

[497]

$7,709

[498]

$8,326

[499]

Thu, 2022-10-20 00:00
10
$2,099

[500]

$2,372

[501]

$2,965

[502]

$3,558

[503]

$4,151

[504]

$4,744

[505]

$5,337

[506]

$5,930

[507]

$6,523

[508]

$7,116

[509]

$7,733

[510]

$8,350

[511]

Fri, 2022-10-21 00:00
10
$2,099

[512]

$2,372

[513]

$2,965

[514]

$3,558

[515]

$4,151

[516]

$4,744

[517]

$5,337

[518]

$5,930

[519]

$6,523

[520]

$7,140

[521]

$7,757

[522]

$8,374

[523]

Sat, 2022-10-22 00:00
10
$2,099

[524]

$2,372

[525]

$2,965

[526]

$3,558

[527]

$4,151

[528]

$4,744

[529]

$5,337

[530]

$5,930

[531]

$6,547

[532]

$7,164

[533]

$7,781

[534]

$8,399

[535]

Sun, 2022-10-23 00:00
10
$2,099

[536]

$2,372

[537]

$2,965

[538]

$3,558

[539]

$4,151

[540]

$4,744

[541]

$5,337

[542]

$5,954

[543]

$6,571

[544]

$7,188

[545]

$7,806

[546]

$8,524

[547]

Mon, 2022-10-24 00:00
10
$2,099

[548]

$2,372

[549]

$2,965

[550]

$3,558

[551]

$4,151

[552]

$4,744

[553]

$5,361

[554]

$5,978

[555]

$6,595

[556]

$7,213

[557]

$7,931

[558]

$8,649

[559]

Tue, 2022-10-25 00:00
10
$2,099

[560]

$2,372

[561]

$2,965

[562]

$3,558

[563]

$4,151

[564]

$4,768

[565]

$5,385

[566]

$6,002

[567]

$6,620

[568]

$7,338

[569]

$8,056

[570]

$8,775

[571]

Wed, 2022-10-26 00:00
10
$2,099

[572]

$2,372

[573]

$2,965

[574]

$3,558

[575]

$4,175

[576]

$4,792

[577]

$5,409

[578]

$6,027

[579]

$6,745

[580]

$7,463

[581]

$8,182

[582]

$8,900

[583]

Thu, 2022-10-27 00:00
10
$2,099

[584]

$2,372

[585]

$2,965

[586]

$3,582

[587]

$4,199

[588]

$4,816

[589]

$5,434

[590]

$6,152

[591]

$6,870

[592]

$7,589

[593]

$8,307

[594]

$9,025

[595]

Fri, 2022-10-28 00:00
10
$2,099

[596]

$2,372

[597]

$2,989

[598]

$3,606

[599]

$4,223

[600]

$4,841

[601]

$5,559

[602]

$6,277

[603]

$6,996

[604]

$7,714

[605]

$8,432

[606]

$9,151

[607]

Sat, 2022-10-29 00:00
10
$2,099

[608]

$2,396

[609]

$3,013

[610]

$3,630

[611]

$4,248

[612]

$4,966

[613]

$5,684

[614]

$6,403

[615]

$7,121

[616]

$7,839

[617]

$8,558

[618]

$9,276

[619]

Sun, 2022-10-30 00:00
10
$2,123

[620]

$2,420

[621]

$3,037

[622]

$3,655

[623]

$4,373

[624]

$5,091

[625]

$5,810

[626]

$6,528

[627]

$7,246

[628]

$7,965

[629]

$8,683

[630]

$9,401

[631]

Mon, 2022-10-31 00:00
10
$2,147

[632]

$2,444

[633]

$3,062

[634]

$3,780

[635]

$4,498

[636]

$5,217

[637]

$5,935

[638]

$6,653

[639]

$7,372

[640]

$8,090

[641]

$8,808

[642]

$9,527

[643]

Tue, 2022-11-01 00:00
10
$2,171

[644]

$2,469

[645]

$3,187

[646]

$3,905

[647]

$4,624

[648]

$5,342

[649]

$6,060

[650]

$6,779

[651]

$7,497

[652]

$8,215

[653]

$8,934

[654]

$9,652

[655]

Wed, 2022-11-02 00:00
10
$2,171

[656]

$2,570

[657]

$3,288

[658]

$4,007

[659]

$4,725

[660]

$5,443

[661]

$6,162

[662]

$6,880

[663]

$7,598

[664]

$8,317

[665]

$9,035

[666]

$9,753

[667]

Thu, 2022-11-03 00:00
10
$2,273

[668]

$2,671

[669]

$3,389

[670]

$4,108

[671]

$4,826

[672]

$5,544

[673]

$6,263

[674]

$6,981

[675]

$7,699

[676]

$8,418

[677]

$9,136

[678]

$9,855

[679]

Fri, 2022-11-04 00:00
10
$2,374

[680]

$2,772

[681]

$3,491

[682]

$4,209

[683]

$4,927

[684]

$5,646

[685]

$6,364

[686]

$7,082

[687]

$7,801

[688]

$8,519

[689]

$9,237

[690]

$9,956

[691]

Sat, 2022-11-05 00:00
10
$2,475

[692]

$2,873

[693]

$3,592

[694]

$4,310

[695]

$5,028

[696]

$5,747

[697]

$6,465

[698]

$7,184

[699]

$7,902

[700]

$8,620

[701]

$9,339

[702]

$10,057

[703]

Sun, 2022-11-06 00:00
10
$2,475

[704]

$2,873

[705]

$3,592

[706]

$4,310

[707]

$5,028

[708]

$5,747

[709]

$6,465

[710]

$7,184

[711]

$7,902

[712]

$8,620

[713]

$9,339

[714]

$10,423

[715]

Mon, 2022-11-07 00:00
10
$2,475

[716]

$2,873

[717]

$3,592

[718]

$4,310

[719]

$5,028

[720]

$5,747

[721]

$6,465

[722]

$7,184

[723]

$7,902

[724]

$8,620

[725]

$9,704

[726]

$10,788

[727]

Tue, 2022-11-08 00:00
10
$2,475

[728]

$2,873

[729]

$3,592

[730]

$4,310

[731]

$5,028

[732]

$5,747

[733]

$6,465

[734]

$7,184

[735]

$7,902

[736]

$8,986

[737]

$10,070

[738]

$11,154

[739]

Wed, 2022-11-09 00:00
10
$2,475

[740]

$2,873

[741]

$3,592

[742]

$4,310

[743]

$5,028

[744]

$5,747

[745]

$6,465

[746]

$7,184

[747]

$8,268

[748]

$9,352

[749]

$10,436

[750]

Thu, 2022-11-10 00:00
10
$2,873

[751]

$3,592

[752]

$4,310

[753]

$5,028

[754]

$5,747

[755]

$6,465

[756]

$7,549

[757]

$8,633

[758]

$9,717

[759]

Fri, 2022-11-11 00:00
10
$2,873

[760]

$3,592

[761]

$4,310

[762]

$5,028

[763]

$5,747

[764]

$6,831

[765]

$7,915

[766]

$8,999

[767]

Sat, 2022-11-12 00:00
10
$2,873

[768]

$3,592

[769]

$4,310

[770]

$5,028

[771]

$6,113

[772]

$7,197

[773]

$8,281

[774]

Sun, 2022-11-13 00:00
10
$2,873

[775]

$3,592

[776]

$4,310

[777]

$5,394

[778]

$6,478

[779]

$7,562

[780]

Mon, 2022-11-14 00:00
10
$2,873

[781]

$3,592

[782]

$4,676

[783]

$5,760

[784]

$6,844

[785]

Tue, 2022-11-15 00:00
10
$2,873

[786]

$3,957

[787]

$5,042

[788]

$6,126

[789]

Wed, 2022-11-16 00:00
10
$3,239

[790]

$4,323

[791]

$5,407

[792]

Thu, 2022-11-17 00:00
10
$3,605

[793]

$4,689

[794]

Fri, 2022-11-18 00:00
10
$3,971

[795]
Leave a Review
[796]
POOL, SPA & FITNESS
Hot Tub, Private
Secure Bike Storage
GENERAL
Fireplace, gas
Heating, Radiant Heat
Patio
Firepit, Private
PARKING AND TRANSPORTATION
VIEW
Partial View of Mountain and Valley
Search Availability
Leave Review
[796]
Breckenridge | 3 Bedrooms | 4 Baths | Sleeps 10 | 2,567 SqFt
Bedroom 3
1 Twin over Full Bunk
Extra Bedding
1 Queen Sofa Bed
[798]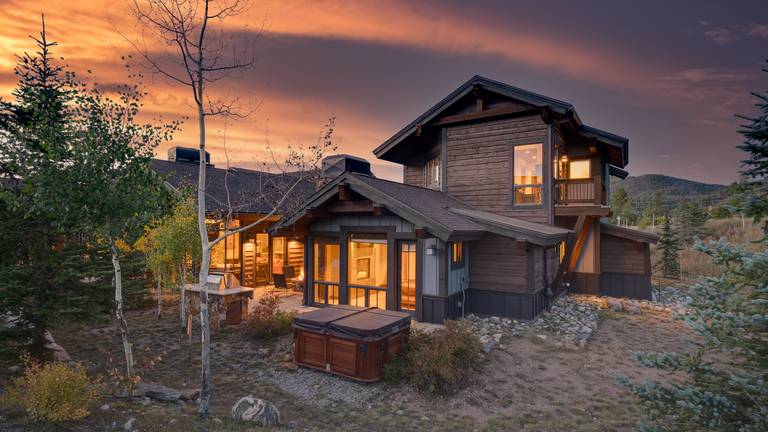 [799]
[800]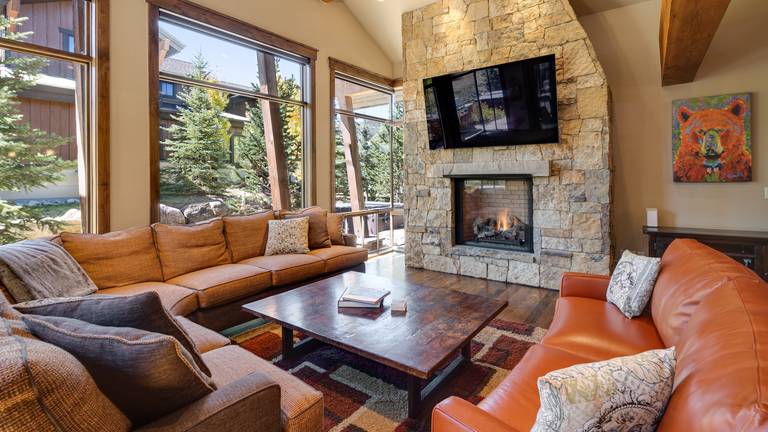 [801]
[802]
[803]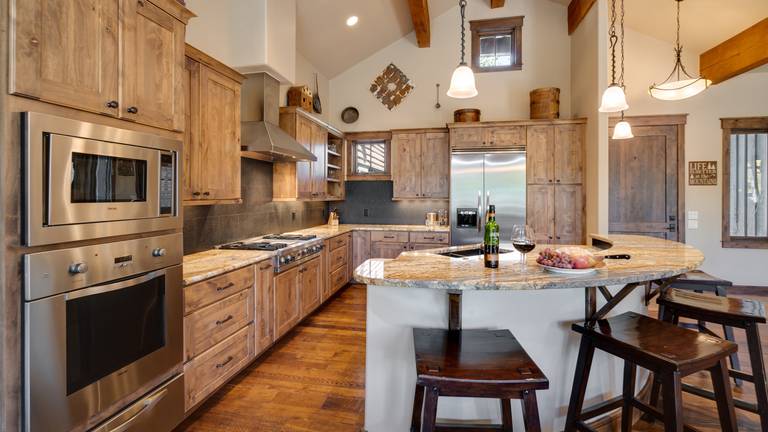 [804]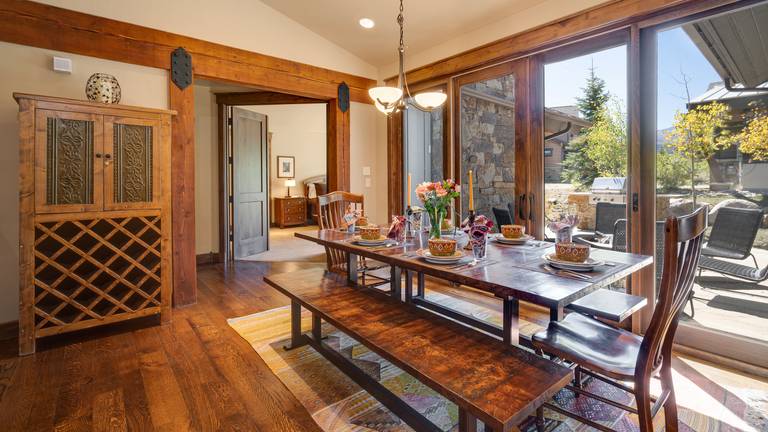 [805]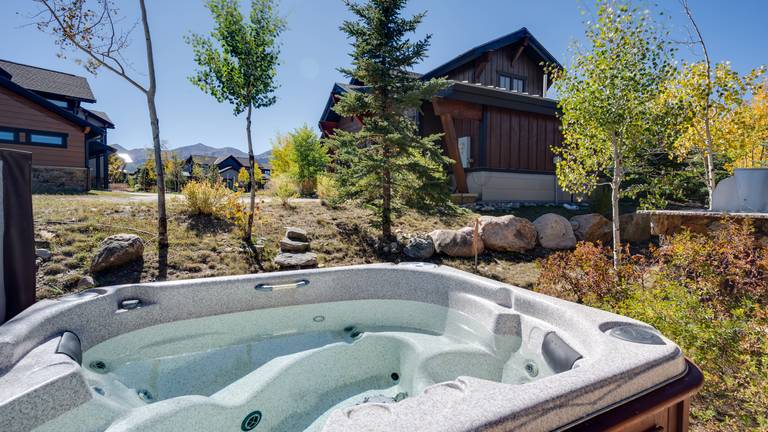 [806]
[807]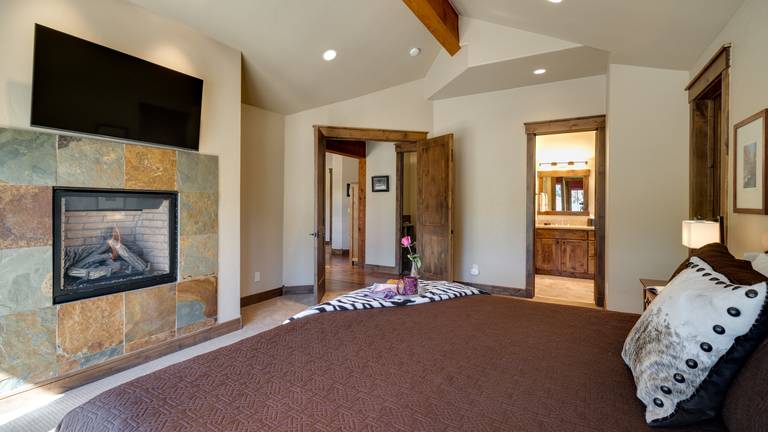 [808]
[809]
[810]
[811]
[812]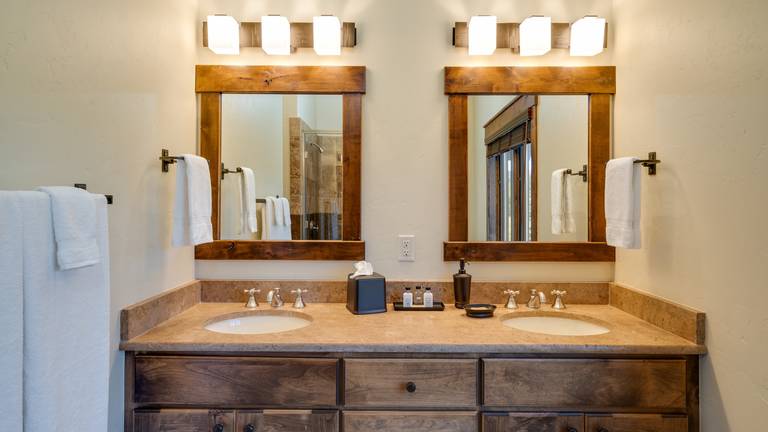 [813]
[814]
[815]
[816]
[817]
[818]
[819]
[820]
[821]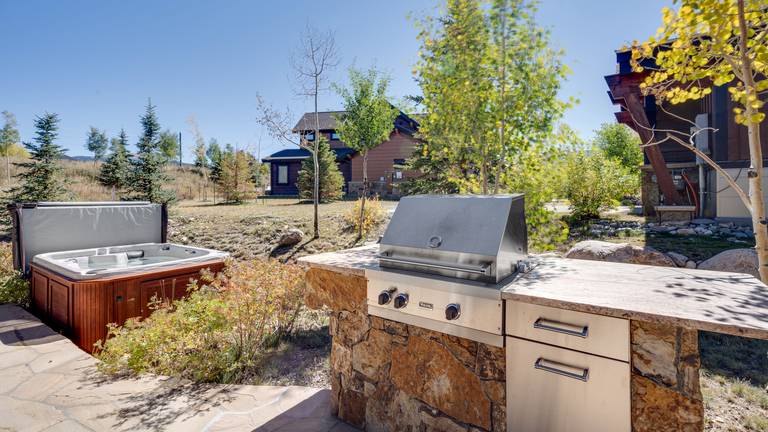 [822]
[823]
[824]
3 Bedrooms
4 Full Baths
Blue Skies at the Shores is a beautiful 3-bedroom luxury home with a modern, sophisticated feel and tasteful décor. A large great room summons lively conversation around the fireplace, and a sectional couch with walls of bright windows to enjoy the mountain landscape.

Exposed beams add to the elegance of the room, which is open to a gourmet kitchen, with all the high-end appliances you deserve on your vacation. A large granite island serves as kitchen bar seating for kids or a coffee bar in the morning. A lovely dining area is adjacent with access to the outside patio seating for summer. Make use of the custom grilling area and hot tub, for relaxing sore muscles after a long day, or gather around the fire pit just off the great room to recap the day's events.

On the lower level is the master king suite with a gas fireplace, TV, and beautiful bath with a freestanding soaking tub and separate steam shower. On the upper level are a queen ensuite room and a bunk room with a large ensuite bath. An additional queen sleeper sofa is in the upper-level loft.

Other amenities include a washer and dryer and parking for four cars total.

This home is pet-friendly with an additional fee and written approval. Please contact us for details.

4-wheel drive is required in the winter months.

ABOUT THE AREA
The Shores at Breckenridge is a peaceful riverfront community situated on 11 acres located just north of Breckenridge resting along the shores of the pristine Blue River. Staying at Blue Skies at the Shores offers guests loads of activities in very close proximity such as skiing, biking, fishing, and golfing.

Enjoy easy access to Breck's Main Street, just 6 minutes by car, a peaceful bike ride, or take the Summit Stage Bus, located about 2 blocks from the home. In the summer months, don't forget to bring your bikes, or rent them when you arrive. The Recreation path that runs between Breckenridge and Frisco is a short walk from Blue Skies at The Shores and can be used for walking or bike rides.

Your Safe Home Guarantee: All Moving Mountains homes and residences are cleaned to the highest standards following the VRMA Safe Home guidelines and using cleaning products recommended by the CDC.

Blue Skies at The Shores Business License: 463120002

2,567 sq. ft.
Amenities
Pets Allowed 2
Accessible
Early Checkin
Late Checkout
Location:
80424
Breckenridge
,
CO
United States
39° 32' 5.928" N, 106° 2' 38.544" W
Colorado US