History of Ski Chalets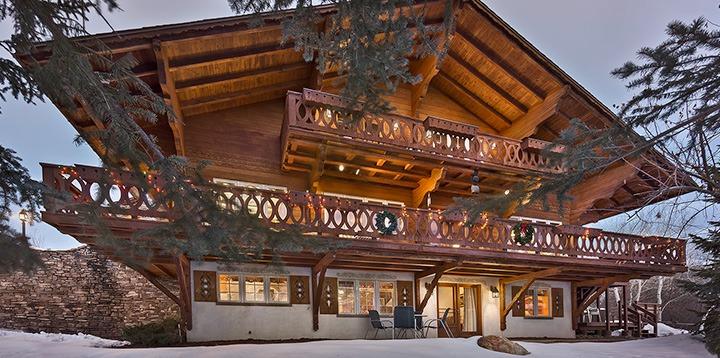 In The Beginning
Historically, a chalet was a type of alpine building or house in the mountainous regions of Europe, typically constructed from wood with a sloping roof, built for areas with larger levels of snowfall. Chalets were originally used to house herders of dairy cattle. Their purpose was to store milk and butter in Switzerland and French Savoy during summer months. In fact, the word 'Chalet' in Latin means 'Shelter' or 'Hut of a herder'. At the end of summer, the herders would take the livestock and products to the flat lands and lower valleys before the cold months arrived, leaving the chalets unattended and unoccupied.
During the winter months, the chalets would remain locked up and closed for the season. Around the turn of the last century outdoor enthusiasts discovered they could travel to these alpine regions, and herders discovered the market for these vacationers and began offering their homes for people to stay. It could be argued that this was the very beginning of the "sharing economy" even though this phenomenon, headlined by AirBnB, would not formally emerge until 2008. However the alternative use of mountain chalets did signify the beginning of a new trend in mountain travel.
Evolution of Chalets
The catered ski chalet vacation was first pioneered by British skier Erna Low in 1932 when she began organizing all-inclusive ski vacations in Austria. After the war the concept restarted, evolving into house parties that flourished in the 1940's and 1950's. By the 1960's packaged vacations were growing in popularity including air travel and the modern day catered ski chalet was born with professional chalet hosts or "seasonaires" staffing the many properties spread across the European mountains every winter.
The early Catered Ski Chalets were not glamorous. You were lucky to have warm water. Typically you had shared bathrooms, basic furnishings, and you sometimes had a grueling hike to get to your destination. There was no management of the chalet, and you usually had to take a chance on who you were going to share the chalet with, and whether or not there was going to be enough space for you and traveling partners.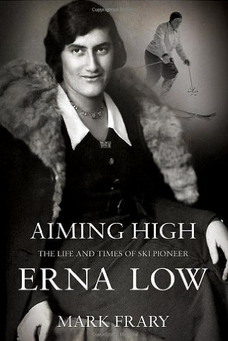 As time has passed, the style and structure of chalets may be similar, but the interior and operation has changed significantly. Today, Catered Chalets are cited as the most popular lodging option for British skiers seeking vacation rental lodging in the European Alps. Chalets are gaining popularity in other mountainous regions like the Colorado Rockies in the U.S., including Steamboat Springs, CO in particular.
With many visitors of ski resorts and mountain towns being a part of a higher income bracket, many chalets cater towards the upper echelon of society. This means instead of having basic living quarters for dairy cattle herders, many chalets today include luxury amenities such as gourmet kitchens, jacuzzis and hot tubs, and other features you might find at a luxury resort. This might seem quite glamorous compared to the traditional herder's alpine chalet rental. However, the objective has remained the same: outdoor enthusiasts enjoying the mountainous region with hiking and skiing right outside their front door.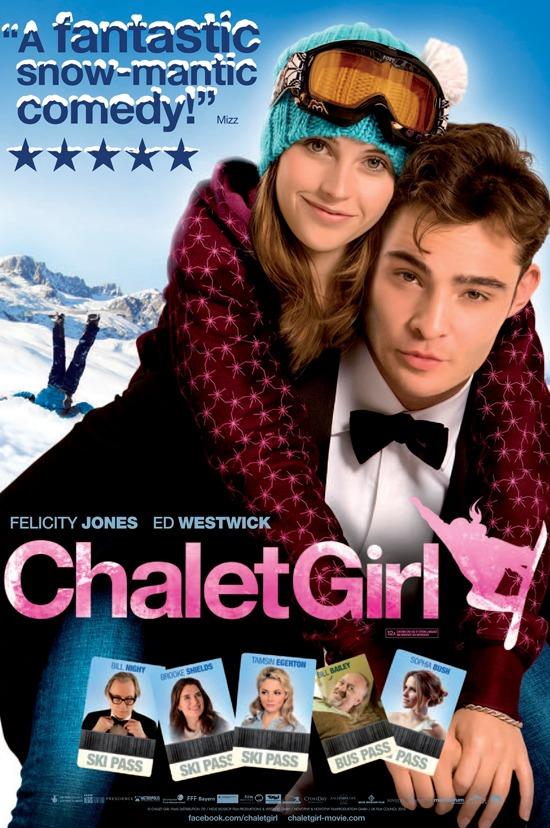 Pop Culture
Luxury Catered Ski Chalets are now firmly established in pop culture as not only representative of the ultimate in luxury ski accommodations, but also tied to the jet-set lifestyle of the rich and famous. British Royalty including the late Princess Diana, Prince Andrew, Prince William and the Duchess of Cambridge, Billionaires Richard Branson and Russian Oligarchs like Roman Abramovitch all vacation in lavishly equipped ski chalets in Europe.
The Ski Chalet culture was also a strong theme in the 2011 romantic comedy movie Chalet Girl starring Felicity Jones, Ed Westwick and Bill Nighy.
Ski Chalet Ownership in the U.S.
Most ski chalets in the U.S. are privately owned. Vacation Homes or Chalets are typically used by the owners two or three times per year and are rented out the remaining time. Many owners choose to hire a Property Management company to manage the rentals and the home.
Management of Ski Chalets in the U.S.
Ski chalets in the U.S. are often times run by a property management company that manages daily operations. Most property management companies take care of all maintenance of the chalet including renting the property, daily housekeeping, snow removal, landscaping, and general property upkeep. Some property management companies also offer a variety of services for guests including catered meals, grocery services, transportation, and daily housecleaning.
Different Levels of Ski Chalets in the U.S.
The services that Ski Chalets offer can vary greatly. There are many different levels of ski chalets relating to quality and service in the U.S.
Budget Ski Chalet
For budget conscious travelers, ski chalets can come in the form of a simple one-bedroom home with basic features such as running water, electricity, and inexpensive furniture. Typically, there are no guest services in a basic ski chalet in the U.S.
Mid-Grade Ski Chalet
In a medium grade ski chalet, you generally get a 2-3 bedroom stand alone home that includes features such as a wood burning or gas fireplace, updated kitchen, and nice decor in the home to provide that alpine ambiance. Services such as snow removal, limited transportation, and occasional house-keeping are usually included. Amenities you can expect at a mid-grade ski chalet include cable television, WIFI, and a hot tub and/or pool.
Luxury Ski Chalets
Luxury ski chalets in the U.S. offer everything a guest could ever wish for. The interior and exterior of these homes are furnished with high-end finishes and appliances such as granite countertops, wide plank wood floors, large fireplaces, and stainless steel appliances. The homes typically have more than four bedrooms, two or more car garages, heated driveways, and over 3,500 sq. ft. of finished interior. Services in a luxury ski chalet in the U.S. can include private chefs, daily housekeeping, nanny services, grocery services, transportation services, and a concierge service to help fulfill any need a guest might have.
Luxury Ski Chalet Features
High-End Kitchens
For people who love to cook, many of the updated ski chalets have elaborate kitchens including high-end gas ranges, refrigerators and pantries that can store food for a small army, and enough dishes and flatware to serve the largest of families and groups.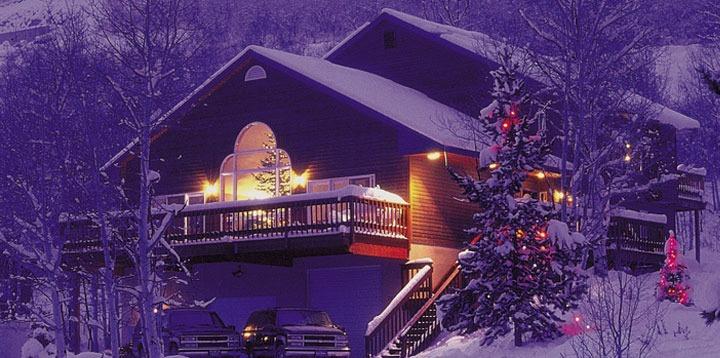 Catered Meals
For those who want to spend their vacation time outside while still getting a home-cooked meal, many ski chalets offer catered meals through private chefs that are on staff. This allows the guest more time to relax in the privacy of their chalet.
Wood or Gas Burning Fireplace
To provide the high alpine ambiance that many have come to expect, many ski chalets have either a wood burning or gas fireplace. Not only can a fireplace set the mood for relaxation, it also provides essential heat after a chilly day of skiing.
Jacuzzis and Hot Tubs
After a day of skiing, nothing beats relaxing in a hot tub or Jacuzzi. Many modern ski chalets in the U.S. have hot tubs or Jacuzzis for their guests to use 24 hours a day.
Transportation Services
Getting around mountain towns in the winter can present its challenges. To put guests at ease, some U.S. ski chalets offer private car/SUV service to get to and from the ski resorts, and around town. In addition to private car services, ski chalets often times have access to company shuttles and can also take advantage of many free public transportation options.
Sleeping Arrangements for all small families to large groups
Whether someone is looking for a romantic getaway with their significant other or looking to have a big family gathering, chalets of various sizes can accommodate both small and large groups. On a basic level, a ski chalet in the U.S. may have one sleeping room with small living quarters. In larger, more luxurious ski chalets, there can sometimes be more than 10 bedrooms and sleeping arrangements for up to 30 people at a time. Some luxury ski chalets can have as much as 15,000 sq. ft. of living space inside.
Seasonal Use for Chalets in the U.S.
Chalets in the U.S. have typically catered to more guests during the winter months. During these cold months people use the properties for alpine ski vacations. That is why people often refer to these rentals as 'Ski Chalets'. Other activities people enjoy in the winter include snow-shoeing, snowmobiling, and cross country skiing.
With the popularity of Chalets in the United States increasing, as well as the growing desire to have an outdoor-oriented vacation in the mountains, more year-round rentals are becoming available. Not only are people staying in a chalet for a ski vacation in the winter, but many people stay in chalets during the spring, summer, and fall seasons. Ski resorts make these off-seasons more appealing by providing year round activities such as hiking, fishing, mountain biking, golf, rafting, kayaking, other water sports, and horseback riding and lodging rates are typically much lower.