Breckenridge Events
breckenridge winter events
lighting of Breckenridge & race of the santas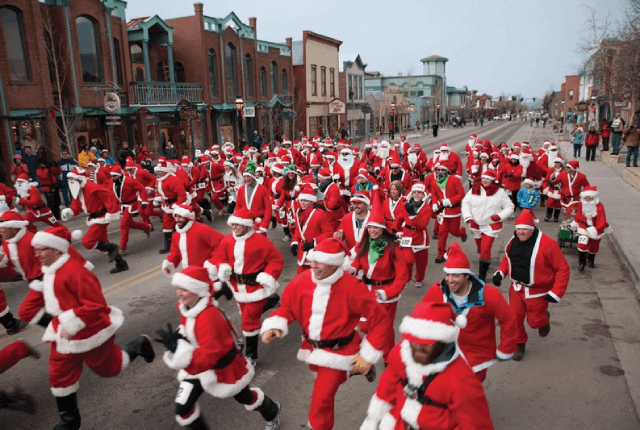 Breckenridge amplifies the allure of a small-town holiday experience with the highly anticipated return of the Lighting of Breckenridge and Race of the Santas. The first weekend of December ignites a joyous holiday ambiance throughout the streets of Breckenridge. Witness the spirited spectacle as a multitude of Santa doppelgangers race down Main Street, symbolically inaugurating the festive season. After the race, linger and marvel as the town undergoes a breathtaking transformation, resembling a picturesque holiday card brought to life, courtesy of over 13,000 feet and 250,000 LED holiday lights. These iconic lights, a beloved fixture in downtown Breckenridge, have become a favorite subject for countless photographers during the snowy months, radiating hope and illuminating the winter season.
Event Highlights
Holiday Dog Parade
Race of the Santas
Children's Moose March
Countdown to tree lighting with Santa Claus
Holiday carolers & revelry
Grab your Viking hats and celebrate all things winter at the 59th annual Ullr Fest, December 7-8, 2024. Breckenridge invites locals and visitors of all ages to praise Ullr, the Norse god of snow, in hopes of a powder-filled ski season. Show your devotion at the Main Street parade and become part of history at the longest Shotski® "unofficial" World Record breaking attempt. If you're in for a legendary party, this is one you won't want to miss!
Event Highlights
Take part in the Ullr Parade down Main Street
Break the Breckenridge Distillery Shotski® "unofficial" World Record
Prove your dedication to snow at the Ullr Bonfire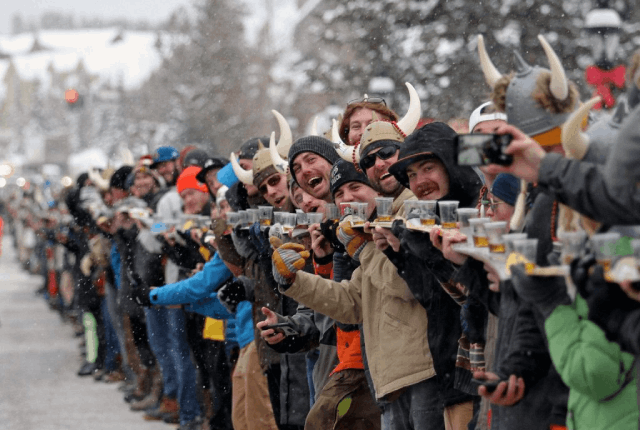 international snow sculpture championships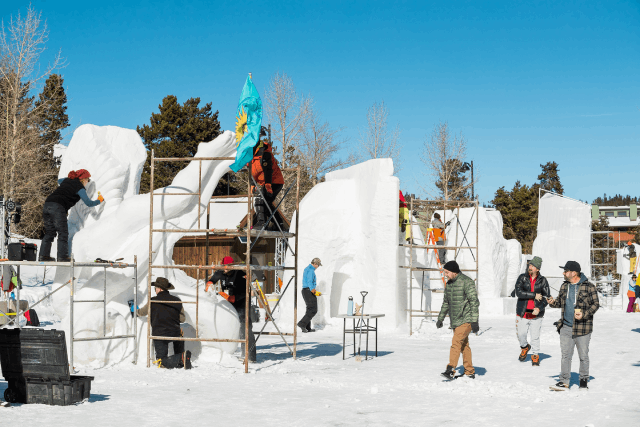 The International Snow Sculpture Championships is a globally acclaimed competition that showcases the talent of teams from various countries.

The teams work to transform massive 25-ton blocks of snow into magnificent and intricate works of art, entirely by hand. With no power tools permitted, these artists rely solely on their creativity and inspiration to breathe life into their ideas. Over the course of five days, these dedicated teams sculpt tirelessly, accumulating approximately 94 hours of meticulous work. The end result is a breathtaking open-air gallery, nestled in the heart of historic downtown Breckenridge, showcasing these remarkable temporary masterpieces.
Sculpting Week: January 22-26, 2024
Viewing Week: January 26-31, 2024
breckenridge summer events
independence day celebration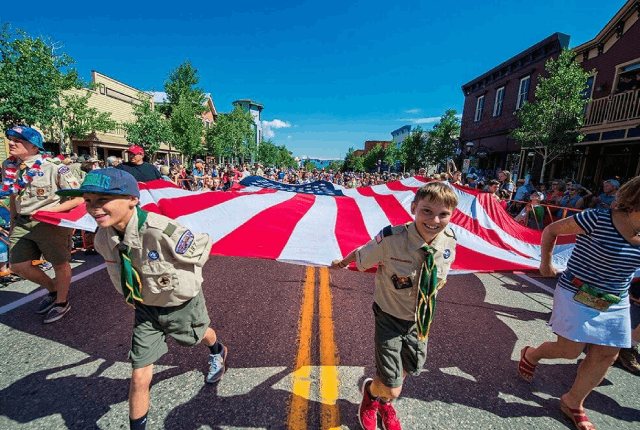 Experience the vibrant spirit of patriotism on Independence Day as Breckenridge comes alive with festivities, including the much-anticipated Main Street Parade. This day of celebration embraces athletic competitions, live music, art festivals, family-friendly activities, and cherished small-town traditions.
Event Highlights:
7:00AM - 11:00AM – Independence DAY 10K
8:30AM - 4th of July Strider Bike Race
9:30AM - 11:30AM – Independence Day Parade and Firecracker 50
10:00AM - 3:00PM - Cirque de USA
12:00PM – Reading of the Declaration of Independence
6:00PM – National Repertory Orchestra: Fourth of July Spectacular
More details on the event here.
breckenridge food & wine festival
Indulge in a one-of-a-kind wine-tasting adventure at the renowned Breckenridge Food and Wine Festival. Immerse yourself in the picturesque ambiance of Main Street Station Plaza and The Village at Breckenridge, nestled at the base of Peak Nine, as they undergo a captivating transformation into a stunning vineyard amidst the mountains. Discover an impressive selection of varietals crafted by esteemed wineries, ranging from elegantly subtle to irresistibly bold. Prepare to treat your palate to a generous pour of delightful flavors that will exceed all expectations.
Event Highlights
Friday: VIP Wine Pairing Dinner
Saturday: Grand Tasting
Sunday: Brunch and Vines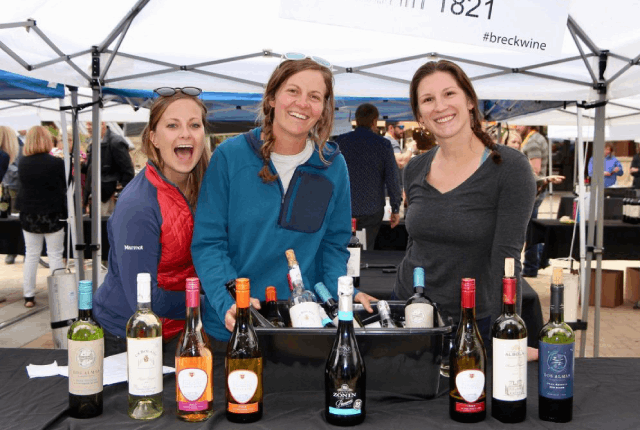 breckenridge international festival of arts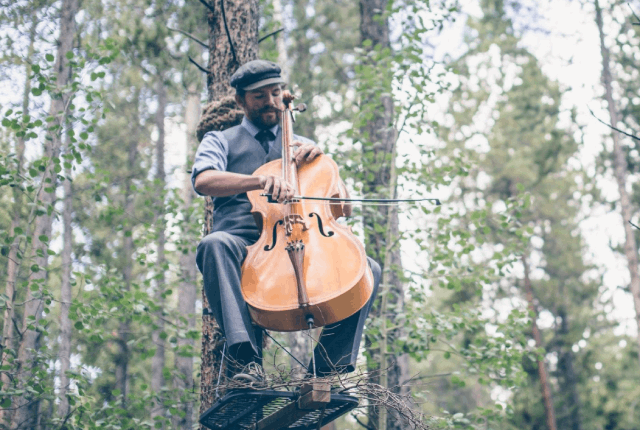 Breckenridge International Festival of Arts (BIFA) is a 10-day celebration of Adventure + Creativity + Play. Local, national and international artist talent and organizations, both traditional and unconventional, mingle together to create an eclectic mix of music, dance, film, visual arts and family entertainment. Throughout the festival, Breck Create produces dozens of events across the Town of Breckenridge's cultural venues, public parks, trails and open spaces. The festival begins on Friday, August 11, 2023, runs through Sunday, August 20, 2023, and includes ticketed performances, art installations in addition to art classes and workshops with dozens of opportunities for free, family-friendly experiences.
breck epic mountain bike race
Prepare for an adrenaline-pumping adventure at the Breck Epic, a thrilling 6-day mountain bike race that takes place in the breathtaking backcountry surrounding Breckenridge. With each stage commencing and concluding in town, participants can conveniently stay in one location throughout the entire event. Spanning an impressive 220-240 miles, this race boasts a challenging terrain with approximately 40,000 feet of exhilarating vertical ascent and descent. The Epic comprises six epic backcountry loops, each stretching between 35 and 50 miles in length (three loops for the 3-day Epic-curious events). Immerse yourself in the race's electrifying atmosphere, described as a fusion of radical vibes and reminiscent of the exhilarating mayhem of the mid-90s.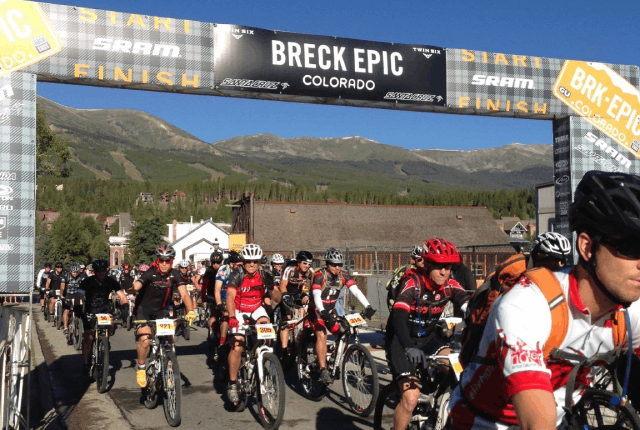 labor day weekend in breckenridge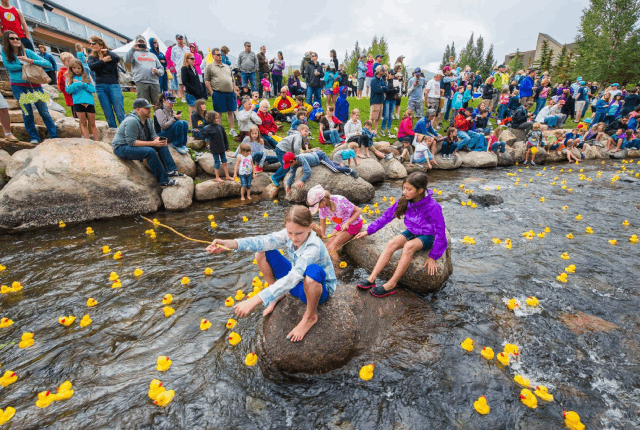 Embrace the delightful autumn weather and immerse yourself in a world of thrilling events. Join the Summit Foundation's Rubber Duck Race, a captivating spectacle that supports a worthy cause. Witness hundreds of vibrant ducks racing down the Blue River at the picturesque Riverwalk Center. Additionally, the Great Divide Arts Festival awaits, showcasing the incredible talents of over 100 artists who specialize in various mediums such as photography, woodwork, glasswork, jewelry, and pottery. This festival promises a delightful experience for the entire family, with free activities to enjoy, leisurely strolls and shopping opportunities along Main Street and the Art Festival, and a tantalizing array of delectable food options throughout the town.