Steamboat is chock full of exciting winter events, all season long! Add some local flare to your ski vacation and enjoy the fun activities and events that make this "cowboy town" so unique.
Steamboat's New Year's Eve Celebration | Dec 31, 2023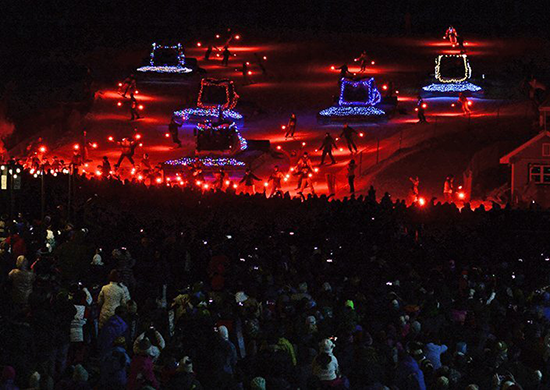 Celebrate the new year in style! Kick off the evening with a Light Up Snow Cat parade featuring Steamboat Snowsports Instructors performing synchronized skiing illuminated only by the light of torches. At the conclusion of the parade fireworks will light up the sky over the resort to ring in 2024. Learn more.
Musicfest | Jan 6-11, 2024
Are you a music fanatic and you're looking to light up your vacation with nothing else but pure, live music? MusicFest combines amazing performances from Texas Country and Red Dirt's best with the opportunity to embrace all that Steamboat has to offer in the winter - skiing, snowboarding, snowmobiling, dog sledding and more! MusicFest promises 200+ hours of spectacular live music. This year's Artists' Tribute to a Legend will honor Reckless Kelly. Learn more.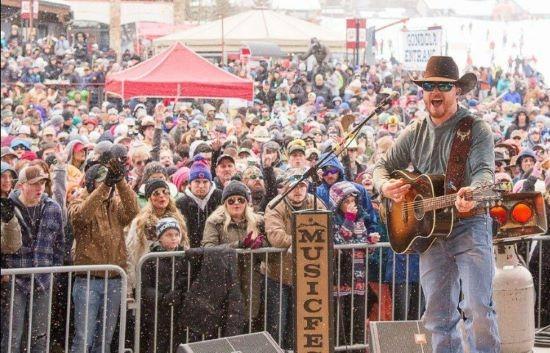 Cowboy Up Balloon Glow | JAN 14, 2024
It is time to cowboy up and get the party started for the 49th Annual Cowboy Downhill. Bask in the glow of six magnificent hot air balloons that will illuminate the Mountain Village the evening before the big event.
Learn more.
Bud Light Cowboy Downhill | Jan 15, 2024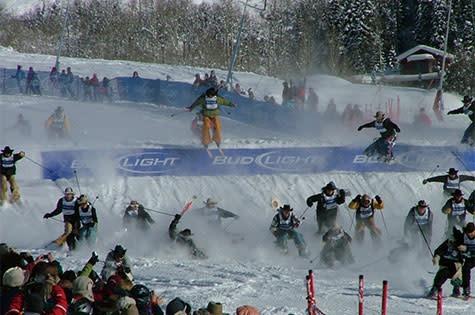 Part ski race, part rodeo, part train wreck! As the legend goes, back in the '70s, Billy Kidd (Olympic Gold medalist and Steamboat's Director of Skiing) and Larry Mahan (six-time All-Around World Champion cowboy) decided to invite a few of their Pro Rodeo pals for a day of skiing after the National Western Stock Show in Denver. Word travels fast through the rodeo scene and soon the best cowboys were clamoring to compete in what has become the most unique ski competitions in the country.
This isn't an all "big hat, no cattle" kind of race. These are the top 100 Pro Rodeo riders in the country. And for many, they can handle a bull better than a pair of skis. However, their "no guts no glory" attitude more than makes up for what they lack in form making this one of the most hilarious ski races you will ever see. In the dual slalom race, they jump out of their ski gear, saddle a horse, lasso a person, saddle a horse and gallop through the finish line. This is followed by the Stampede Event, a chaotic mass start and the first cowboy/cowgirl to the bottom wins! Learn more.
CMH virtual reality experience | Jan 18-21, 2024
Enter the 7,000 lb. inflatable helicopter and experience a spectacular immersive video with virtual reality goggles. See what it's like to step into a helicopter, soar above the peaks of the snow-covered Canadian Rockies, and carve fresh tracks through the endless powder snow. Learn more.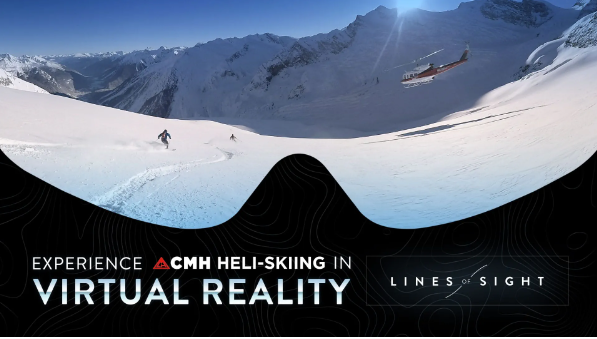 111TH STEAMBOAT WINTER CARNIVAL | FEB 8-11, 2024
Mention a parade and fireworks and people say that's typical. Talk about adults on shovels being pulled down main street behind horses or skiers jumping through fiery hoops and people stop to listen. In Steamboat Springs we do things differently, and with the oldest, continuous Winter Carnival west of the Mississippi, this event is certainly no different. Learn more.
Light Up the night celebration | Feb 17, 2024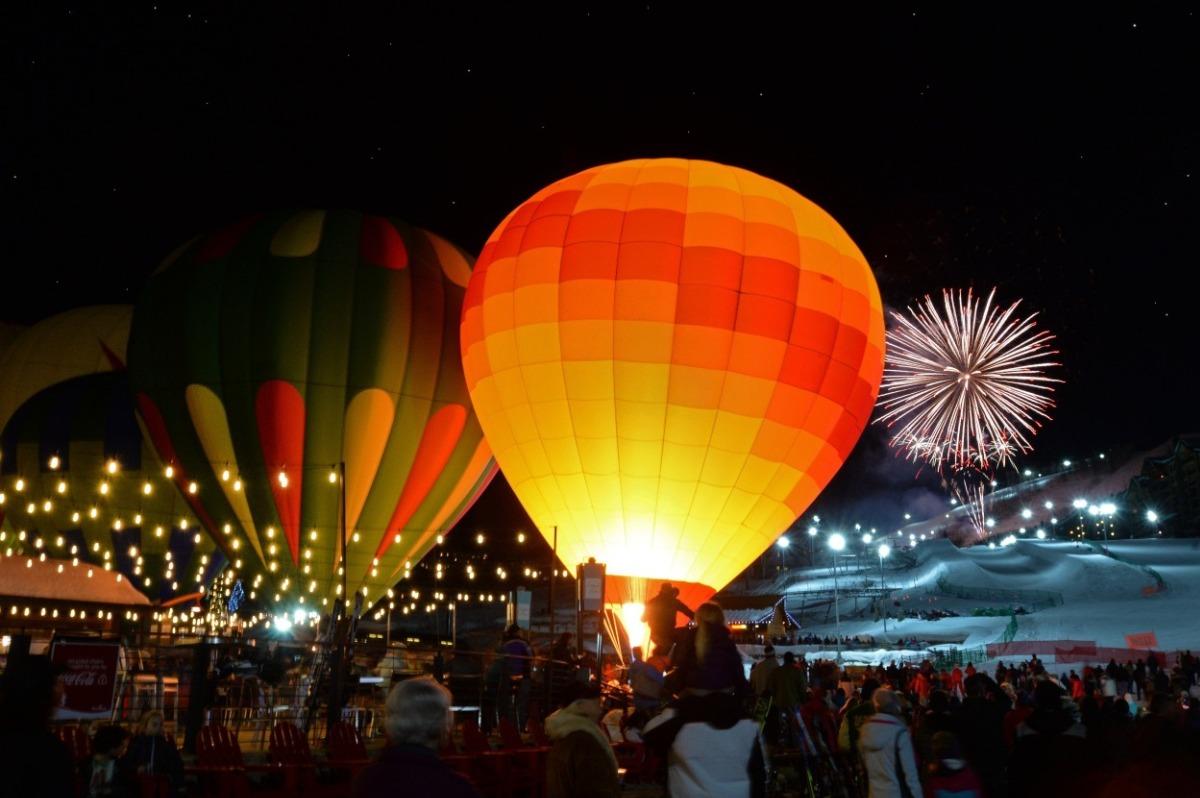 Join Steamboat locals for an evening of sensory delight. View the beauty of six magnificent hot air balloons that will illuminate the Mountain Village. Spectators can stroll among the standing balloons or watch from the warmth of a slope-side eatery. The grand finale is the Fireworks and Torchlight Parade. Learn more.
winterwondergrass | Mar 1-3, 2024
Brews and Bands collide at the Steamboat WinterWonderGrass Festival. The event brings together authentic bluegrass music and Colorado craft beer for one of the best bluegrass music festivals of the season. With 20+ bands on 4 stages, daily craft brew, and cider samplings these are some of the most coveted music festival tickets in the state. Learn more.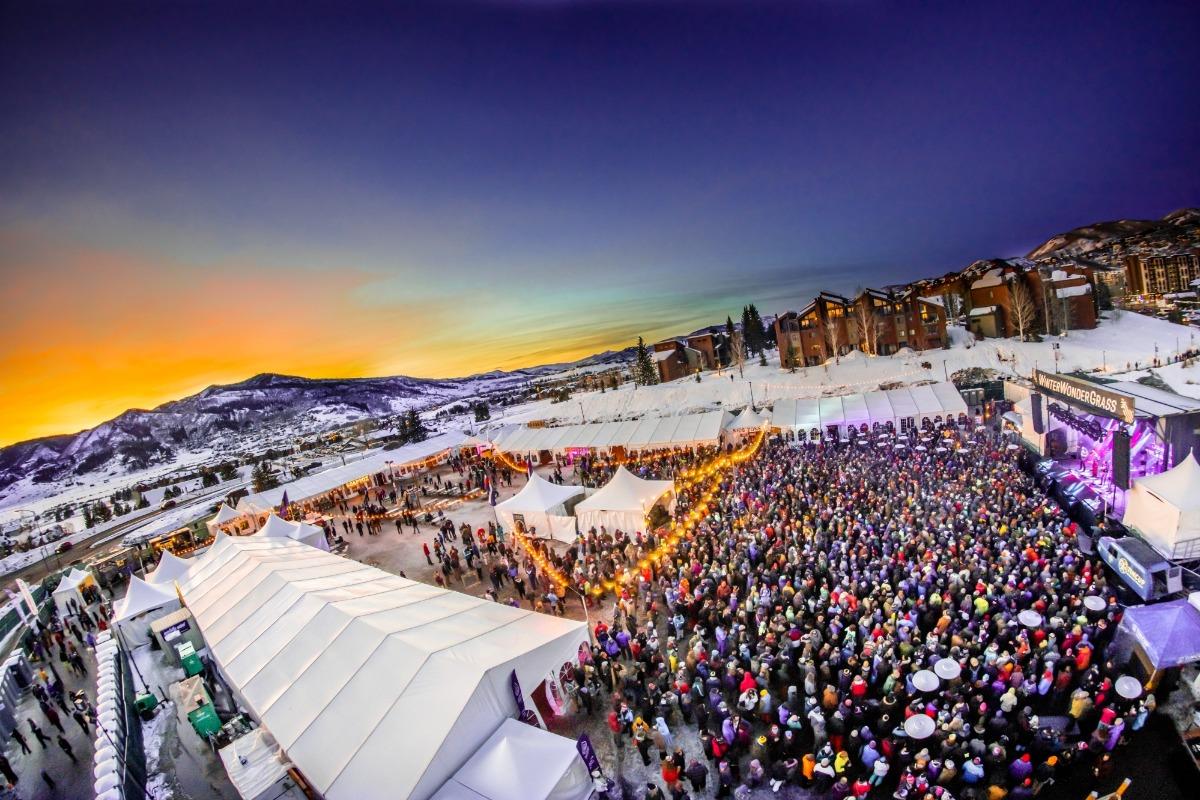 BUD LIGHT ROCKS THE BOAT CONCERT SERIES | MAR-APR 2024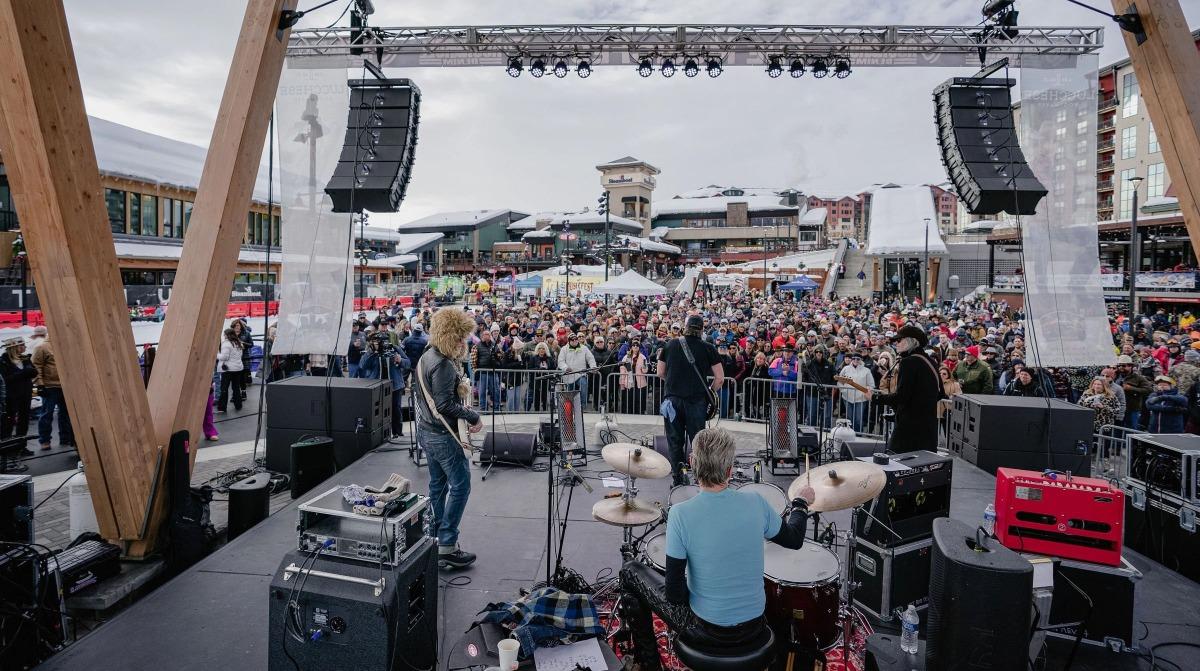 Come out for some foot-stomping (ski or cowboy boots are fine!) apres ski concerts every Saturday from 3:30-5pm from March 9 to closing day. All concerts are free and take place on the Steamboat Stage in the newly renovated base area. Learn more.
Springalicious | Apr 1-14, 2024
The Steamboat Ski Area celebrates the close of the winter season with a boatload of festivities, including the Cardboard Classic, Splashdown Pond Skim and FREE music concerts. Learn more.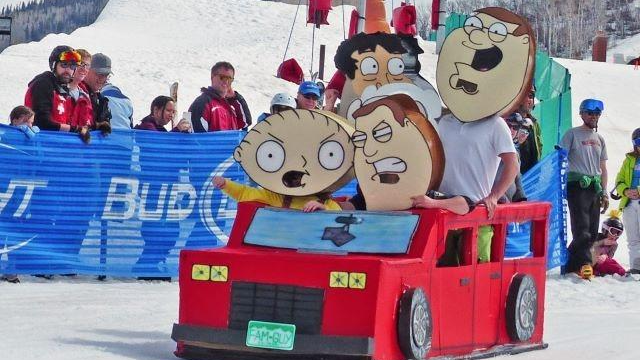 Cardboard Classic | Apr 13
The Cardboard Classic, Steamboat's traditional rite of spring, is a wild and hilarious race that features homemade cardboard crafts, constructed only from cardboard, glue, string, water based paint, duct tape, masking tape, balloons and other decorations.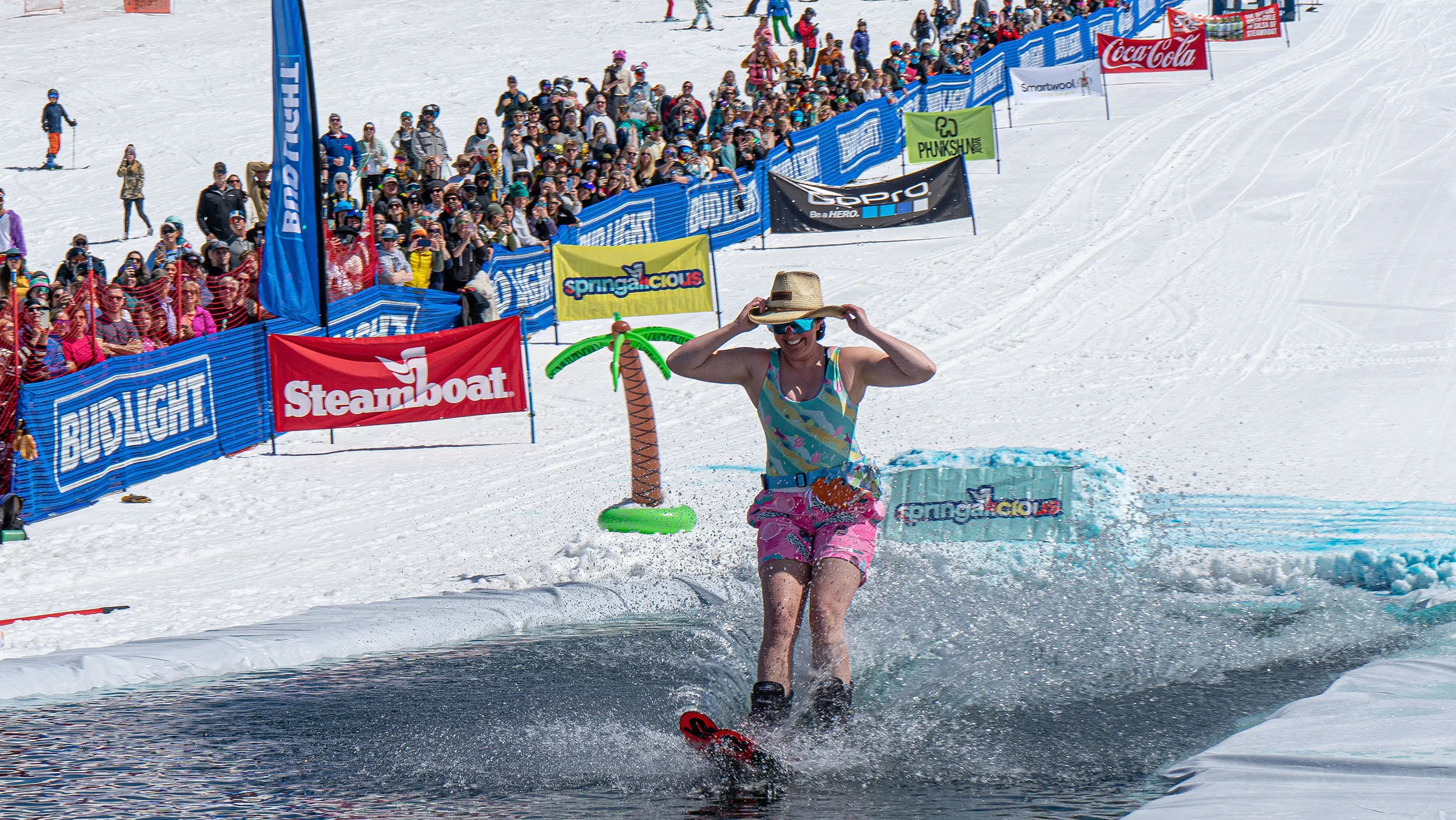 splashdown pond skim | Apr 14
The Splashdown Pond Skimming Championship hits Steamboat on Closing Day! Wrapping up every epic season at Steamboat, this event has antics like you wouldn't believe. The Splashdown Pond Skim brings brave (and slightly crazy) skiers and riders in costume with a dream – of crossing the icy pond successfully – and, if they're lucky, with style!
After all this fun, you're going to need a place to hang up your (cowboy) hat and dry those (ski) boots! Moving Mountains has amazing luxury homes in Steamboat. Call us to see which one will be perfect for you and your group.