27 Oct 2022
The Colorado ski mountains of Steamboat, Breckenridge, Vail and Beaver Creek are known for their epic snow conditions and winter sports galore. If you are lucky enough to plan your vacation around one of their epic winter events, you will be amazed at how these ski towns whoop it up for all sorts of signature events from ski races, live music, fireworks, snow sculptures and hilarious traditions such as Ullr fest, cowboys on skis and springtime pond skimming. 
Winter 2022-2023 Events in Colorado's Mountain Towns:
Steamboat: MusicFest | January 7-12, 2023

Are you a music fanatic and you're looking to light up your vacation with nothing else but pure music? The MusicFest event guarantees all that and much more. Steamboat Music Fest occurs in the first week of January, lasts six days and guarantees 200+ hours of spectacular live music. It also comes with a world-class resort. This MusicFest does not only attract music-loving folks, but also thousands of those who have a passion for skiing since it happens in the snow-swept peaks of Colorado annually. This event brings top Texas and American musicians to the world-class ski resort of steamboat in Colorado for a week which is dominated by sports and music. This festival does not only focus on the self-established legends but also the upcoming artists.
Steamboat: Annual Bud Light Cowboy Downhill | January 16, 2023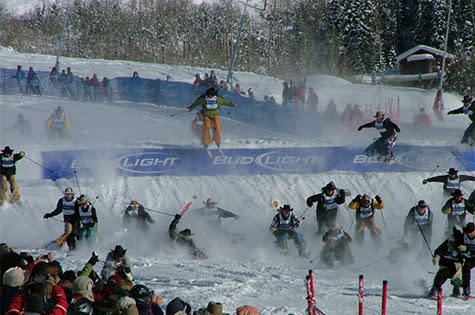 Nothing says Steamboat quite like the Cowboy Downhill. As the legend goes, back in the '70s, Billy Kidd (Olympic Gold medalist and Steamboat's Director of Skiing) and Larry Mahan, six-time All-Around World Champion cowboy decided to invite a few of their ProRodeo pals for a day of skiing after the National Western Stock Show in Denver. Word travels fast through the rodeo scene and soon the best cowboys were clamoring to compete in what has become the most unique ski rodeo in the country.
Steamboat: Splashdown Pond Skim | April 2023 (last day of ski season)
The Splashdown Pond Skimming Championships hits Steamboat on Closing Day! Wrapping up every epic season at Steamboat, this event has antics like you wouldn't believe. 
Breckenridge: Ullr Fest, | December 9-12, 2023
Grab your Viking hats and celebrate all things winter at the 58th annual Ullr Fest, December 9-12. Breckenridge invites locals and visitors of all ages to praise Ullr, the Norse god of snow, in hopes of a powder-filled ski season. Show your devotion at the Main Street parade and become part of history at the longest Shotski® "unofficial" World Record breaking attempt. If you're in for a legendary party, this is one you won't want to miss!
Breckenridge: International Snow Sculpture Championships | January 23 - February 1, 2023 
Snow artists from around the world will compete in January in Breckenridge at the International Snow Sculpture Championships. Sculptures, which traditionally remain on display for one week after sculpting, start as 12-foot-tall, 20+ ton blocks of snow.
Teams from all over the world will compete and using only hand tools, artists achieve finished pieces across five days (65 hours) of sculpting in this one-of-a-kind event. Support your favorite sculpture with the People's Choice Vote OR Discover the process of snow sculpting, information about the teams, and lots of interesting trivia.
Beaver Creek: Birds of Prey World Cup Races | December 2-4, 2023
Beaver Creek Mountain is home to the formidable Birds of Prey racecourse, challenging an international roster of top athletes for one week of racing featuring Men's Alpine Super G, Downhill and Giant Slalom competitions. The competition happens in December at Beaver Creek Resort. Beaver Creek's Birds of Prey racecourse was built during the summer of 1997 in preparation for the 1999 World Alpine Ski Championships.  Designed by Olympic Downhill gold medalist Bernhard Russi of Switzerland, Birds of Prey starts west of the top of Chair #8 and finishes at the bottom of Red Tail at the confluence of Chairs #10 and #11. The course features a vertical drop of 2,470 feet!
Vail: Taste of Vail | April 5-8, 2023

The Taste of Vail showcases more than 30 of Vail's finest chefs and restaurateurs alongside the owners and winemakers from nearly 50 of the countries' top wineries. Taste of Vail showcases more than 30 of Vail's finest chefs and restaurateurs alongside the owners and winemakers from nearly 50 of the countries' top wineries.
With all this amazing fun, you'll need an amazing place to stay. Call us to see which of our properties is right for you and your group.