15 Sep 2022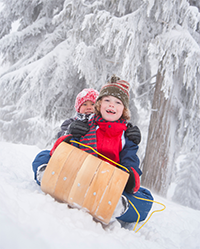 What's better than grabbing some sleds and the family and hitting a sledding hill? Sledding is pure enjoyment in the beautiful snowy mountains of Colorado. The exhilaration on the kid's faces and the hilarity when the adults pummel down the hill are sure to bring you memories and stories for years to come. 
Here are some of our favorite (and free!) sledding hills in the Vail area:
Sledding hills are widely available in the Vail area, but here are some ones to look for if you can't find the right spot.  
Eagle-Vail Putting Green
A short walk past the Eagle-Vail putting green is a hill up to the clubhouse. Walk up as far as you'd like and take the ride down. Lots of parking at this spot.
Singletree Sledding Hill
This hill is located just up from the golf course in Edwards. It has a nice slope and flat area at the bottom.
West Park in 

Eagle-Vail
This park is located 
at the west end of the neighborhood has a great hill with three lips.
Ready for an amazing winter getaway in Colorado? We have the perfect home for you and your group.