14 May 2022
The snow has melted, the skis are stored for the summer, it's time to get into the swing of things! Golf is always a favorite activity to kick off summer. From big-name designed courses from the likes of Robert Trent Jones and Arnold Palmer to the stunning backdrop of the Gore Range, there's no better place to hit the links than Vail and Beaver Creek.  
And did you know that the high altitude of the Rocky Mountains makes golf balls fly 10% farther? While it sounds like inflated folklore, the aerodynamic researchers at Titleist concur. With a driver, you get an extra 2.5 yards per 1,000 feet of altitude. At a base elevation of 8150' your game can certainly go the distance! Fortunately, the extra boost only kicks in for long drives, meaning your short game doesn't require any adjustments.

While there's no shortage of fantastic courses in the Vail Valley. Here are a few of our favorites.  
The Club at Cordillera
Moving Mountains has four spectacular luxury vacation homes in the Cordillera neighborhood that is also host to The Club at Cordillera with four distinct golf courses. 
The Club at Cordillera is membership only, click here to learn about membership options. 
Golf is decidedly the focal point of The Club at Cordillera, and the Valley, Mountain, Summit and Short courses provide some of the most balanced, challenging, and enjoyable mountain golf in the world. 
Mountain Course
Colorado native and three-time US Open winner Hale Irwin masterfully crafted the Mountain Course with golf holes carved beautifully into the rolling hillsides. Spanning enormous meadows and forests, this former working ranch has been transformed into a golfer's paradise. Captivated by the feel of the landscape, Irwin designed a marvelous layout, embracing the true nature of the land. With the stunning mountain and alpine forest as its backdrop, the Mountain Course is also home to the warm and inviting TimberHearth where your ultimate dining pleasure and a separate wine room awaits you.
Summit Course
Reflective of the location name on which it was constructed, Jack Nicklaus' Summit Course was placed upon the highest point within Cordillera. At an elevation of 9,200 feet, the Summit Course affords golfers views that are simply mesmerizing and truly worthy of adulation. With stunning sights that extend for hundreds of miles, the Golden Bear and his design team took full advantage of the natural, lush, rolling terrain of the sage and spruce-covered hills. Always a designer to accommodate golfers of all abilities, Nicklaus installed five separate sets of tee boxes on most holes, affording players the opportunity to tee-off from a location most appropriate for their particular level of skill.
Valley Course
Nestled along the Eagle River as it meanders through the Vail Valley, the Tom Fazio-designed Valley Course experiences a longer golf season with warmer temperatures and offers golfers of all ages and skill levels a challenging, yet rewarding layout. With full advantage of its southern exposure, the Valley Course features wide open fairways and large undulation in its fairways and greens. 
Short Course
Designed by renowned short game guru Dave Pelz, who focused on making each hole unique and challenging, saying, "The course philosophy is to help anyone who plays it to play better on every other course in the world, because it embraces about 90 percent of the shots in golf in about 25 percent of the time of a full 18-hole course." Not only is it well designed but it is impeccably maintained for the benefit of both the community and their guests that decide to make the trip. One option for players is our uneven Pelz designed tee boxes. Mr Dave Pelz said it best, "I don't know about you, but I have never played golf on a level fairway or level green in a round of golf."
Beaver Creek Golf
This Robert Trent Jones designed course is a semi-private favorite. With challenging fairways and the beautiful Beaver Creek ski mountain as its backdrop, this course welcomes our guests (staying within the Beaver Creek gates) between June 15 and September 15. Just as you would expect from anything Beaver Creek resort-related, freshly baked chocolate chip cookies are passed on platters at 1 pm and eucalyptus cold towels are available at the end of the game While eagles may not be prevalent on your scorecard, you very well might score a sighting or two above your head. 
Why not stay at Chalet Fairway with beautiful views of the Beaver Creek Golf Course? More details here... 
Vail Golf Course
Located in East Vail, this course, designed by Vail pioneer, Ben Krueger, is a classic. Built-in 1962, its greens have had over 50 years to mature, while its recently built clubhouse is one of the newest in the valley. Golf Digest has given the Vail Golf Course the distinction of being one of the top 100 resort courses in the country and it's a Colorado Avid Golfer CAGGY award-winner. Its tree-lined fairways are flat making it one of the easiest courses in the valley to walk or golf bike around (carts are also available) and the Beaver ponds and greens that hug that Gore Creek challenge even the best golfers' game.  
EagleVail Golf Course 
This beautiful  Championship 18-hole course, built by the Devlin-Van Hagge design team, is located in EagleVail just about 5 minutes from both Vail and Beaver Creek resorts. They take their birdies seriously at EagleVail Golf Course. In 2017, after an extensive 2-year review process, EagleVail became certified as an Audubon Cooperative Sanctuary. For those newer to golf, there's also the nearby Willow Creek par 3 course at EagleVail Golf.  Besides being an approachable par 3, Willow Creek has taken introducing golf to the younger set to new levels. There's even the latest craze, fling golf available. It's touted as a game we can all play, this easy-to-master mix between golf and lacrosse is a popular one. Don't worry, fling golf at Willow Creek doesn't interfere with the Championship EagleVail course. It's just a fun family alternative.
Eagle Ranch Golf Club 
About 30 minutes west of Vail, this Arnold Palmer-designed signature course is well worth the ride. This former ranch-turned golf course gives you plenty of room to work on your game. And it's also certified as an Audubon Cooperative Sanctuary.  
"The landscape, the natural water coming off the mountains really makes for a great venue. Eagle Ranch is about as pretty as you'd ever want to see. When designing a course at this high altitude, you have to give consideration to a lot of things. One, the ball flies a little further. This golf course, at sea level, would be very, very tough because we've added some length in certain areas to accommodate the altitude." - Arnold Palmer 
Gypsum Creek Golf Course 
Located in Gypsum, about 45 minutes west of Vail, this Pete Dye-designed course, initially opened in 1997 as a semi-private club called Cotton Ranch, but the Town of Gypsum bought it in 2010. It is now open to the public. Its West of Vail (close to the Eagle airport) location means milder weather and the longest golf season in the valley. It also boasts beautiful views of the Red Table Mountains. 
While you might strive to shoot under par on your Vail or Beaver Creek vacation, you definitely don't want to stay somewhere that's subpar!
HERE ARE SOME OF OUR FAVORITE MOVING MOUNTAINS HOMES NEAR CORDILLERA & BEAVER CREEK GOLF COURSES: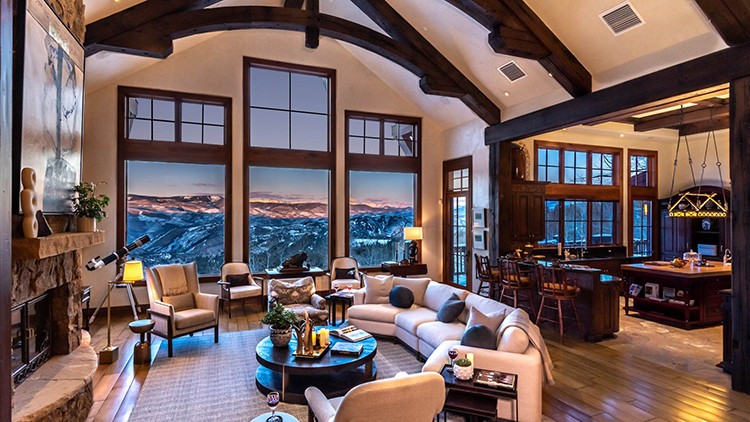 Your perfect Vail or Beaver Creek summer vacation is just a Moving Mountains chalet away. Plan your Colorado summer vacation here …