29 Jun 2022
Beaver Creek and Vail treat us with a wildflower explosion come summertime. Mother Nature takes the wheel and puts on a show, painting our fields and meadows in vibrant reds, yellows, oranges, and purples. Wildflower season is truly enchanting - we don't want you to miss it!
Here are our Top 5 Beaver Creek & Vail Hikes to enjoy the wildflowers: 
1. Upper Piney Lake Trail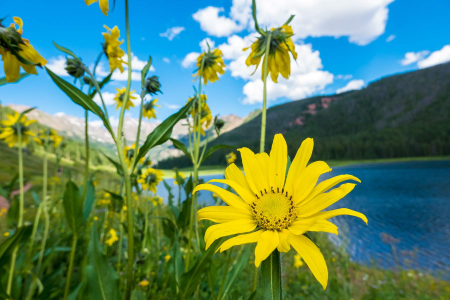 This popular hike shows off its colors with its abundant wildflower meadows on the way up above Piney Lake and Piney River. It's 2.8 miles up to the cascading waterfalls and then back out. Go and be spoiled by the views and the wildflower-painted backdrop this summer. 
2. Nolan Lake
With 6 miles total out and back, this may seem like an easy hike, but it's all uphill to the lake! But, it's well worth your efforts. At the 2.5-mile mark, you will be greeted with an open wetland meadow, a playground for late-season wildflowers. Keep on heading up to reach this stunning alpine lake and enjoy the views. 
3. Notch Mountain Trail
Head to this trailhead for an adventure. This trek is 11 miles and provides rugged views of the famous Holy Cross and brings an abundance of wildflowers along the way including Old Man of the Mountain. 
4. Shrine Ridge Trail
4.3-mile out and back, Shrine Ridge Trail packs a lot of punch. You enjoy peak views throughout the hike that really shine at the summit and the wildflowers simply carpet the ground throughout the hike. Expect to wildflowers such as Fireweed, Elephant's Head, Bistort, Lupine, and Indian Paintbrush. With sweeping views and meadows painted in vibrant yellows, pinks, blues, and purples, this is a great trail to satisfy your wildflower lust. 
Trailhead can be found off Shrine Pass Road in the White River National Forest. 
5. Gore Lake Trail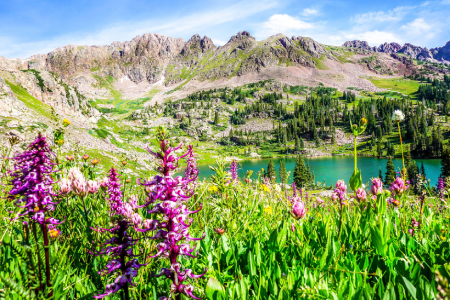 This trail will lead you through rolling meadows, aspen groves, dense pine forests, fields of alpine wildflowers, and right up to a sparkling alpine lake. This 12-mile hike is an adventure you don't want to miss.
Looking for a home base for your Vail and Beaver Creek summer adventures? We offer luxury vacation rentals for families of all sizes.  Search here.