Steamboat is known for its infamous champagne powder, and, although Korbel gladly partnered up with Steamboat a few years ago, this moniker isn't marketing fluff. The term was actually coined back in the 1950s, by a local rancher who was skiing in the light and airy snow at least a decade before the Steamboat Ski Area even opened.
Powder for the True Snow Connoisseur
Not only is our season accumulation usually the envy of other Colorado ski areas, but the dry consistency of our snow is what is truly coveted. This isn't wet, heavy snowy cement. It's in a category of its own, worthy of the most elite snow connoisseur.
Light as champagne; fluffy as a feather bed.
Word of our blizzard blessings has been out for quite a while, making the obvious places to enjoy the powder, well … obvious. Because of these well-trodden trails, locals are pretty tight-lipped about where secret stashes of powder are procured.
If it gets out that we spilled the flakes on our favorites, we'll likely have to enter into some kind of powder protection program, so shhhhhh don't tell!
But First a Few Steamboat Powder Tips
One of the easiest ways to enjoy Steamboat's untracked powder is to upgrade your lift ticket to a first tracks pass (as a Moving Mountains guest, we can help you do that).
With a first tracks pass, you get to board the gondola at 8 am (a half hour early) while all the other powder hounds are still "pressing glass." If you're a level 5 or above skier/snowboarder, you then get access to the Sundown area before anyone else does. This is a powder dream after any substantial storm.
If you can't get the first tracks pass, skip the gondola all together and have your Moving Mountains driver take you to Thunderhead lift, instead. You'll bypass the gondola goers with a faster ride up to the same exact location.
Since there's no parking at Thunderhead lift, this requires having a willing driver to do the drop-off, which, of course, we have in spades at Moving Mountains!
Our recommendation if you're making good time, head immediately down to Storm Peak lift and then beeline over to Flying Z. If you're ahead of the crowds, fresh tracks down Flying Z is a treat you won't soon forget! This isn't a stash, so does require being there ahead of everyone else.
Word of Warning
Be extremely cautious of skiing near deep tree wells, especially evergreen tree wells (as opposed to aspen tree wells). And ignore the "no friends on a powder day" urban myth. ALWAYS POWDER SKI WITH A BUDDY. We never recommend skiing in the backcountry or out of bounds. An avalanche or ski patrol will make sure it's your last powder run ever (which nobody wants!). Stay safe and smart.
Grab your Snorkel - here are the stashes!
1. The trees between Sideburn and Closet
This nice patch of Evergreens allows for many fresh tracks long after the last flake falls. Since groomers can't maneuver around trees, these always hold the powder longer.
2. Closet/Shadows (you can easily access Closet via Storm Peak and Shadows via Sundown, the runs are next to each other)
This area is a powder playground. It's large, it's long, and it's very easy for everyone to find their own line within the Closet (mostly Evergreens) and Shadows (mostly Aspens) which are all beautifully spaced as if specially created for the ultimate powder day experience...
If it's still dumping or blowing off of Storm Peak, it's also much easier to see where you're going when you're in the trees. Again, use extreme caution skiing near tree wells.
3. The Trees next to Storm Peak Face (exit Storm Peak, take a hard left, and head into the trees).
These are always fun and the snow-dipped Storm Peak trees all look like they belong in The Lorax!
4. Sunnyside and trees (Directly under Elkhead Chair - dabble on the edges in the trees)
This area faces south so gets plenty of that mountain sun. That means to get to right after a big storm or in the afternoon when the snow is nice and soft.
5. Morningside Park (Exit the Storm Peak chair and head straight. Dive in and play!)
This is a great spot to practice in the powder. The snow is deep, but the vertical is forgiving. All roads lead to Morningside chairlift. From the top of the Morningside chairlift, if you're an expert, you can either try Chute 1, 2 or 3 or head to some hike-to terrain like No Names and Gate D. If you're not wanting to do the expert runs that Morningside lift services, just scoot to the left of Chute 1 and take an easier path down The Ridge.
6. Pony Express / Pioneer Ridge
This whole area offers more advanced terrain and is more off-the-beaten-path than the rest of Steamboat. It's popular with locals, less so with our visitors, giving its snow more "staying powder" than other parts of the mountain.
7. Rock the O'clocks

One O'clock, Two O'Clock, Three O'clock all have powder stashes amidst the trees that edge each run.
8. Rolex trees
Off either side of Rolex. The tight trees mean deep snow, but also that only truly advanced skiers and riders should be in here.
9. Powder for the People
Deep powder is no joke, and it's not for newbies. If you've got skilled skiers or younger skiers who are new to powder, but eager to jump in and play, try the mellower slopes with trees off Tomahawk, Flintlock and Quick Draw for some fun starter powder.
10. Steamboat Powder Cats
If you want all-day, fresh tracks guaranteed kind of experience (with no lift lines), we highly recommend booking a day with Steamboat Powdercats.
Our Moving Mountains guests love the warmth and expertise of the guides as much as they adore the depth of the snow.
Steamboat's 300 plus inches of powder a year look paltry compared to Buffalo Pass and Soda Mountain's 500 plus inches of annual snowfall.
It's just 10-miles North of Steamboat and the Steamboat Powdercats operation rivals that of the best helicopter skiing anywhere (but it's a lot more convenient and affordable, and less weather dependent).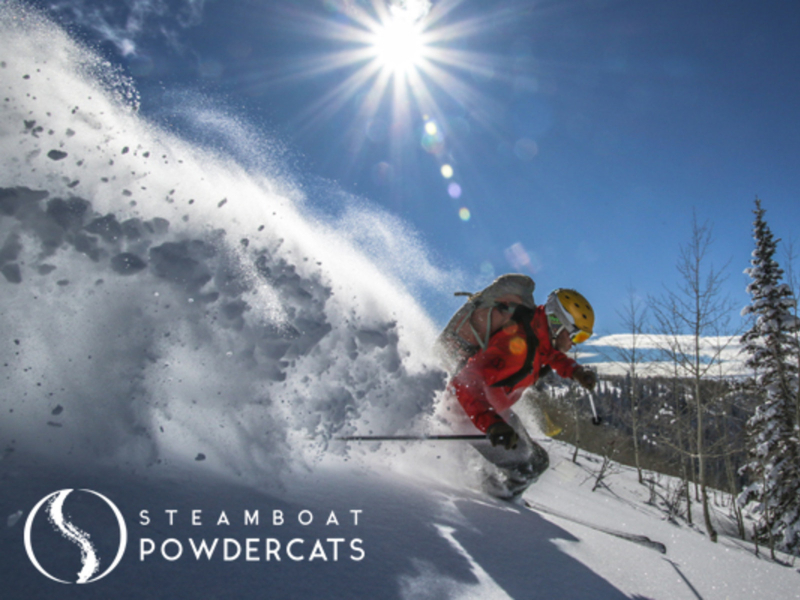 If you still need a stunning home away from home to relax in after skiing all that powder, that's where we come in: