7 May 2019
You've exhausted the usual suspects: flowers, candles, bathrobes, cookbooks, gardening tools, and the requisite Mother's Day brunch. And while mom jokes that all she wants for Mother's Day is 5 minutes of no complaining or privacy in the bathroom, we've got some ideas to make this Mother's Day a bit more next level.
If you haven't bought your Mother's Day gift yet, we've got you covered. No wrapping required for these last minute Mother's Day ideas. Because when it comes down to it, mom probably doesn't want more stuff, what she really wants, for any gift-giving occasion, are memories - priceless moments with the people she loves best.
And what better way to ensure that the memories will make her smile (and not cringe) than to wrap up a Moving Mountains vacation.
We've curated a few of our favorite mom-inspired mountain getaways - perfect for this summer, fall or next ski season.
Elevate her wellness weekend
Reserve mom and her favorite gal pals a Steamboat wellness weekend retreat. A stay at One Steamboat Place will leave her refreshed and ready to take on the world. The spa at One Steamboat Place is a favorite for skin care, massages, hair and scalp treatments, mani/pedis, and much more. The Spa at One Steamboat Place is everything you need to restore and renew your mind, body, and spirit. There are also wine tastings and scenic views from the One Steamboat living room. If the family is coming along, mom will love getting a little downtime while everyone else enjoys the play areas for little tykes and the teen game rooms.
Pair the macaroni necklace with pearls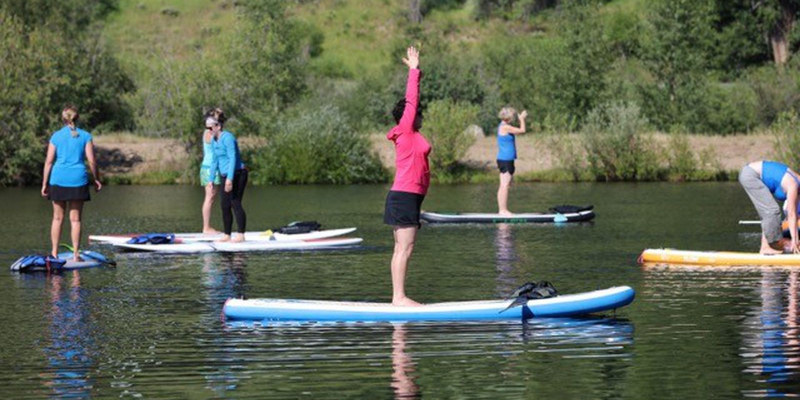 Pair the homemade jewelry with a different kind of gem for mom. Paddleboarding at Pearl Lake (or Steamboat Lake) are summertime favorites. There's nothing more serene than paddling around glassy alpine lakes in the summer. She can even try her hand (or her handstand) at paddleboard yoga on Fetcher Pond. With a stay at any of our chalets, we can arrange for paddleboard rentals, lessons, and paddleboard yoga classes.
Get her a different kind of floral bouquet
Skip the flowers and stroll around the botanical gardens, instead. If gardening is a passion, she'll be inspired by this lush sanctuary in the middle of Steamboat. Summertime events at the Steamboat Botanical Gardens include music on the green with Strings Music Festival, yoga amidst the flowers and the Shakespearean PikNik Theatre Festival.
Upgrade the refrigerator art 
The Steamboat Art Museum offers plein-air and watercolor one-day painting classes throughout the summer. Our guest services staff can suss out all of the details for you of current class offerings. There are also glass blowing, ceramics, sip and paint, printmaking and photography classes offered at various times throughout the year. If mom has always wanted to pick up a paintbrush a camera or some clay, let us suggest a perfect pairing!
Put mom in the picture
Speaking of cameras, if mom is always behind the camera rather than in front of it, give her the gift of a gorgeous family portrait in Steamboat. You can't beat the Steamboat mountain as your backdrop and (double Mother's Day bonus) the holiday card will be handled. Our guest services staff can recommend several mom-approved Steamboat family portrait photographers.
Shop till she drops and then wine and dine her
A stay at the swanky Olympian downtown ensures mom's credit card will be in close proximity to Steamboat's sophisticated shops and enviable restaurants. Perfect for a mother/daughter getaway! A gift certificate to Kali's, Ohana, Steamboat Art Company, Fringe, Remember Me and Off the Beaten Path are a few of our favorites. Cocktails at The Laundry or Aurum pair perfectly with anything she buys downtown.
Skip the airpods and buy Strings in the Mountains tickets, instead
The acoustics of Steamboat's Strings  Music Festival will give any Apple product a run for its money. Listening to everyone from Beethoven to Branford Marsalis plus Suzanne Vega and many others in a beautiful mountain venue is music to everyone's ears.
Increase her adventure capital
If mom lives for mountain biking, Bike Town USA has her covered with a wide variety of challenging terrain. If mom is newer to the biking scene, there are plenty of comfortable rides to get her excited about the sport. Steamboat Ski & Bike Kare runs women's only biking classes throughout the summer. Summer and fall hikes are also a family favorite with plenty of options for all skill levels. Powder-hungry moms would love a winter day with Steamboat Powdercats. Even though it won't be until next winter, this 5-star experience with champagne powder will be well worth the wait. She can also skate ski, cross-country ski or snowshoe in various scenic spots in Steamboat.
Exchange breakfast in bed for a hot air balloon breakfast, instead
We know you've been working on your French toast game for years, and the kids have perfected pancakes, but how about changing up breakfast in bed by a few hundred feet? Reserve a hot air balloon tour for mom where she'll enjoy a breakfast of homemade muffins, champagne and a side of drop-dead views of the valley all from a hot air balloon basket.  
The Luxury Catered Chalet

Top off any of these experiences with a luxury catered chalet. We're pretty confident it's an upgrade mom will remember for years to come. A luxury catered chalet is a vacation away from the hassles of home. We take care of ALL the details from the grocery shopping, to the meal planning, cooking and the dishes. Mom truly won't have to lift a finger, only a ski boot or a hiking boot, on this vacation.