2 Dec 2021
Ready to make this ski season the best ever? We have some hacks for you to help make your ski vacation easy-peasy. 
1. Choose Your Dates Wisely (and early!)
There are definitely weeks that are 'hotter' than others when it comes to ski vacations in Colorado. If you can avoid New Year's, President's Day, and Spring Break, you will have more homes to choose from and flexibility. If you're not sure, give us a call, our Reservations team has all the answers. 
2. Make Your Restaurant Reservations Now!
With labor shortages abound, getting into your favorite restaurants is a little trickier this year. Especially if you are traveling with a large group, be sure to plan ahead and call that restaurant for your reservations now! 
3. Let Us Grocery Shop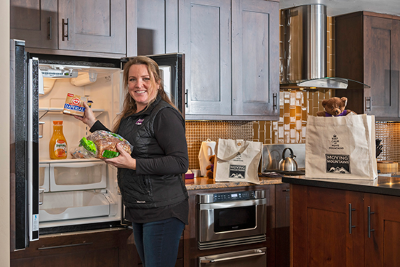 What's better than walking into your vacation home and knowing that your (and the kid's) favorites are already stocked in the refrigerator and pantry? Provide us with a list ahead of time and we can do the grocery and liquor shopping for you before you arrive. Seamless transitions make vacations that much better!
4. Let Us Cook
You book this beautiful mountain home, then what do you do at night? Leave and head to a restaurant? Why? Why not enjoy the home you hand-picked with a private chef dinner right at home? We can arrange a chef and staff to come in, cook, serve, and clean up. You just get to relax! If you're looking for even more of a full-service experience, we also offer Luxury Catered Chalets where we cook for you every day, drive you everywhere, and take care of all of the details. We're here to make it easy. 
5. Get Your Ski Equipment Delivered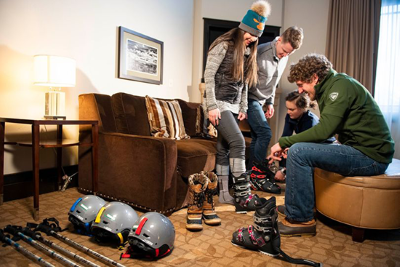 There is no reason to head to the rental place, try on your equipment, get it fitted, then lug it all back to your vacation home rental. We can connect you with concierge services that bring the gear right to your home and get you and the family ready for the slopes! If you're bringing your own gear, we can help you arrange to ship them to us, too. Don't lug equipment, we got it!
6. Let Us Plan Your Vacation
The moral of the story is, if you'd like a relaxing vacation, let the Moving Mountains Guest Services team help you plan it! When you book a home with us, you have a dedicated specialist ready to help you plan the perfect vacation for you and your family. Let us help you!