23 Oct 2019
Ok, it's no secret that travel has become a bit more congested around the world. The term "overtourism" is thrown around a lot more than it used to be. Beaches are bottlenecked, Unesco sites are having to limit visitors. And Instagram influencers send throngs of people to the same over-marketed photo-worthy place. 
If you're planning a ski vacation, you probably are wondering if this burgeoning international travel boom has swept up Colorado in its wake. 
The good news is that overcrowding and overtourism have not been much of an issue for Colorado's ski areas.

While the skiing industry is very healthy these days, in comparison to other types of travel, it's not a rapidly growing sport. Baby boomers are aging out and millennials don't go as often or for as long as boomers once did. Generation X are avid skiers, but smaller in size than their millennial and boomer counterparts. And Instagrammers probably aren't as motivated to make the big effort to get to the mountains just to take selfies in goggles and ski helmets!
If you've ever stood in a lift line for longer than 15 minutes, you might be nodding your head in disagreement.

We won't argue that skiing isn't still a very popular sport or that certain times of the year aren't noticeably busier than others, but skier crowds are pretty manageable and, even better, they're pretty predictable. 
This means that if you know a few insider secrets on how to avoid the crowds, you can move about your favorite mountains with a lot more freedom. 
Here are 6 ways to avoid the crowds this ski season…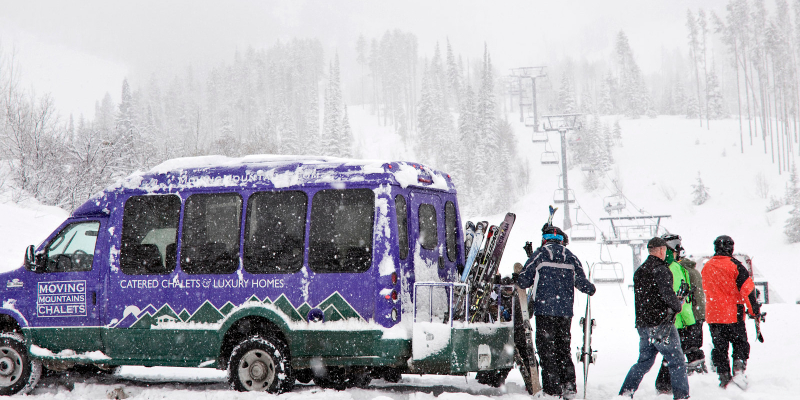 1. Avoid traffic
While it might seem logical to fly into Denver International Airport, rent a 4wd car and head west, we don't recommend it. 
Both Eagle Regional Airport servicing the Vail Valley (EGE) and Yampa Valley Regional Airport (HDN) servicing Steamboat Springs have PHENOMENAL nonstop flight programs.

Both airports can boast at least 14 nonstop flights from major metropolitan cities. Being able to fly directly into Eagle or Hayden has distinct advantages, namely, you won't be sitting in traffic with daytrippers headed to the mountains. For details on all the airlines and cities that fly into Vail, Beaver Creek and Steamboat, click here. 
Pro driving tip-->If you are planning on driving from DIA to the ski resorts, don't drive west on Friday afternoons and east on Sunday afternoons. Weekend warriors are plentiful along the I-70 corridor. They depart for the mountains en masse from Denver on Friday afternoons after work and return home after a ski day on Sunday. Avoid these travel days if you're traveling by car as much as you can.

2. Avoid the ski rental crowds on arrival day
Have your skis rented and ready before you even board the plane. You won't need to stand in line with last-minute, undecided skiers looking to try every board under the sun.

You can arrange for the latest and greatest gear from the comfort of your own couch and have it delivered to your ski vacation chalet upon arrival, all while our staff pours you a glass of wine and shows you around your luxury home for the week. For the best ski rental delivery companies, click here.
Have us do your grocery shopping! Seriously, nothing seems crazier than spending hours of your first day of vacation in line at the grocery store. 
Our grocery shopping service removes this hassle. If you insist on doing your own shopping, during busy weeks try Safeway instead of CityMarket or head to Natural Grocers.

3. Avoid the lift lines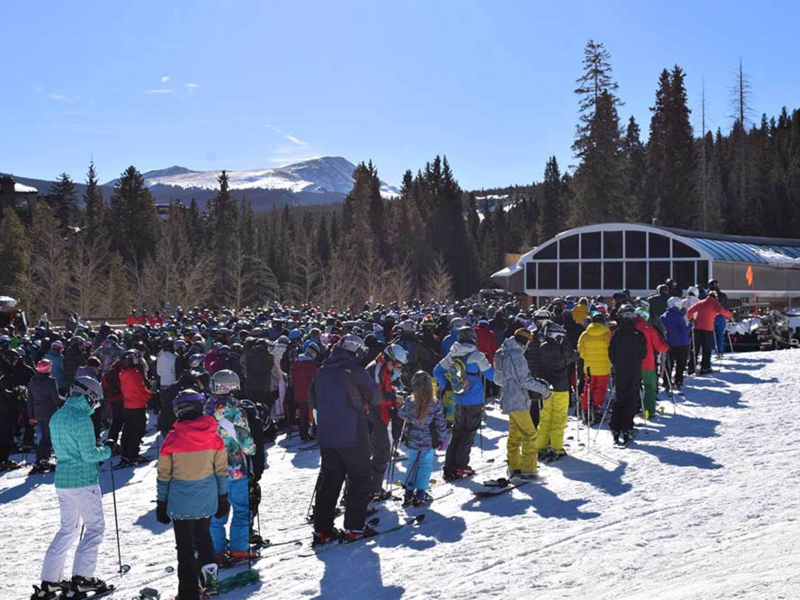 Vail
Vail is certainly no stranger to big skier numbers, but the resort has done a phenomenal job of crowd control. High-speed lifts are everywhere, minimizing wait times. They also introduced a brand new AI service, called Emma, that can answer your resort questions in real-time. Asking "Emma" is like finding that helpful local who gives you all the local intel on demand. 
On a Vail ski vacation, Emma's better than Siri and Alexa combined! You can ask Emma what the wait times are at certain lifts, where the least crowded runs are, where to park your car, what the snow conditions are like in the back bowls or where the nearest cup of hot chocolate is located. Get the full scoop from Emma by texting her at 77477.
Beaver Creek
Beaver Creek is widely known for being a lot less busy than its sister resort over in Vail. The busiest part of the day is probably just the end-of-day chocolate chip cookie swarm. 
As for the ski day, wide-open glades, untouched powder stashes and empty lift lines define Beaver Creek. If it is a little busier than usual, locals best-kept secret is to head to Larkspur Express lift for a little more peace and quiet. 
Steamboat
Steamboat is similar to Beaver Creek. Long lift lines are rare, peace and quiet is more the norm. However, if you are visiting during a particularly busy time of year (such as the week after Christmas), you can make a lot of headway just by trying a skier's schedule.
What's a skier's schedule?
It's committing to a few easy hacks that locals use to make the most of your ski day. Basically, it's pretty logical. Don't stand in line for the gondola at 10 am and expect it to be fast. This is rush hour at the base area and it's not an original idea. Neither is lunch at noon. Eat early or late, or, better yet, throw a power bar in your pocket and just head to the base area around 2 pm for a late lunch/early apres. 
Hire a ski instructor
So you've been stem christe'ing since the '70s. We know you don't need a lesson, but seasoned ski families take advantage of this insider tip regardless of their expert abilities. 
A private ski instructor enables you to head to the front of the line of every lift on the mountain. They can also guide you to less crowded areas, show you hidden runs AND give you a few pointers. 
Even though many families stick with the same instructor year after year, there are still plenty of private ski instructors available at Vail, Beaver Creek, and Steamboat. 
In Steamboat, you and 5 guests can even hire an Olympian to guide you for the day. How's that pro tip for gold medal crowd avoidance?!
Take advantage of First Tracks programs
Steamboat and Beaver Creek both have great options for first track seekers. For Steamboat skiers, you can pay as low as $39 for an upgraded first tracks lift ticket. This small price enables you to board the gondola a full 30 minutes before the rest of the world and head over to the Priest Creek area so that you can avoid the masses while absorbing those coveted first tracks on a powder day.

Beaver Creek's First Tracks program starts a full hour before the lifts open to everyone else. Ski professionals usher you onto the Centennial Express lift at 7:15 am, offer up their best ski run suggestions, then let you carve up a few turns before everyone else wakes up. After you've worked up an appetite, you are treated to a beautiful breakfast at Allie's Cabin. Adults are charged $160/person and kids (under 12) are charged $80/person for the whole experience. If you're an East coaster, the time difference for your natural body clock certainly works in your favor!
Have our ski shuttles take you to "off the beaten path" ski lifts!
One of the many perks of staying with Moving Mountains is that our shuttle drivers can help you avoid the lift lines by dropping you off at lesser-known ski lifts. 
In Steamboat, we'll take you over to the Thunderhead Express lift to avoid the gondola lines. It takes you up the mountain just as efficiently as the gondola does, but because there's no base area parking and no public transit at Thunderhead Express, not many use this lift as a starting point to their day. This isn't a tactic that we have to use often, but we're happy to do it when the need arises. 
In Vail, we recommend getting dropped off at Chair 6 and Golden Peak or start your day at Chair 20 at the Cascades, near our West Vail homes.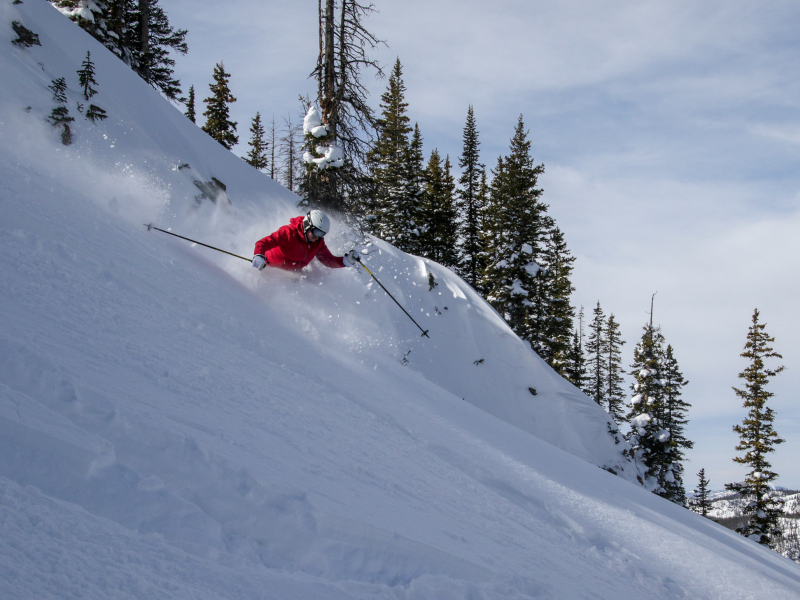 Go powder cat skiing!
If you REALLY want to avoid the lift lines, go where there are no chairlifts. Both Vail and Steamboat offer backcountry powder cat tours. These are for strong intermediate and advanced skiers. 
You'll have fresh tracks on nearly every run and a luxury private snowcat waiting to bring your small group back up the mountain. The day includes a gourmet lunch in a secluded location. It's truly an unforgettable experience. Because these are small, boutique operations, there are no crowds (or waiting) on a backcountry powder cat ski day.
4. Avoid the lunch lines
We've already mentioned that eating at off times (either early or late) gives you a distinct advantage over your fellow travelers in avoiding lift lines. You can also make reservations at several on-mountain restaurants so that you can avoid lunch lines.

In Steamboat, Ragnar's and Hazie's both take reservations on the mountain, and Truffle Pig takes reservations down in the base area. In Vail, The 10th and Bistro 14 are favorites for on-mountain reservation dining and SaddleRidge in Beaver Creek is a top choice.

Reservations at any of these on-mountain favorites mean you won't be circling a crowded cafeteria in ski boots with a lunch tray in hand.
5. Avoid the dinner crowds
Our best recommendation for avoiding the dinner crowds is to reserve one of our private chefs for an evening or splurge with the luxury catered chalet option for the entire week. 
You'll love the food, you can't beat the ambiance and the dress code can include your bathrobe and slippers. It doesn't get any more hassle-free than having a private chef at home. 
For anyone with a little cabin fever, just have us assist you with dinner reservations ahead of time. Our drivers will drop you off door-to-door so you aren't searching for scarce parking spaces on busy nights or navigating snowy streets. 
6. Ask us when off-peak times are
If your travel dates are flexible and you aren't locked into children's school vacation times, then ask us when some of the best off-peak visiting times are. For example, many guests are surprised to hear that the first two weeks in December and January are much less crowded than the last week of December or President's Week in February. 
We can give you the annual reservation trends and make recommendations on when you should visit based on your ski vacation needs. 
If you are going to be visiting during a popular time of year, one of the best recommendations we have is to just make a few minor attitude adjustments when you get here. 
Yes, we said attitude, not altitude (but you'll have to make altitude adjustments, too).

Remember that the times when the slopes are the most crowded is when the skiing is pretty incredible. Everyone is on the hill to have fun, including you. You aren't rushing to work, there is no deadline or emergency, and your legs will be plenty tired and ready for the hot tub at the end of the day. It's your vacation, so be sure to enjoy it.
Plus, there are worse things you might have to suffer through than listening to great music in the lift line, chatting with your loved ones or fellow skiers on a beautiful sunny or snowy day, staring at the jaw-dropping Colorado scenery. 
So on the days when the lines might be big, remember that if you adjust your attitude, your smile can be even bigger.
For more luxury ski vacation tips and hacks, be sure to subscribe to our newsletter and follow us on social media.