27 Oct 2022
Steamboat is chock full of fun winter events, all winter long! Add some local flare to your ski vacation and come out and join some of the fun activities that make this mountain town so special.
Steamboat's New Year's Eve Celebration | 

Dec 31, 2022
Celebrate the new year in style! Kick off the evening with a Light Up Snow Cat parade featuring Steamboat Snowsports Instructors performing synchronized skiing illuminated only by the light of torches. 
Steamboat Musicfest | 

January 7-12, 2023

Are you a music fanatic and you're looking to light up your vacation with nothing else but pure music? The Music Fest event guarantees all that and much more. Steamboat Music Fest occurs in the first week of January, goes on for six days and guarantees 200+ hours of spectacular live music. It also comes with a world-class resort. This Music Fest does not only attract music-loving folks, but also thousands of those who have a passion for skiing since it happens in the snow-swept peaks of Colorado annually. This event brings top Texas and American musicians to the world-class ski resort of steamboat in Colorado for a week which is dominated by sports and music. This festival does not only focus on the self-established legends, but also the upcoming artists.
Annual Bud Light Cowboy Downhill| January 16, 2023
Nothing says Steamboat quite like the Cowboy Downhill. As the legend goes, back in the '70s, Billy Kidd (Olympic Gold medalist and Steamboat's Director of Skiing) and Larry Mahan, six-time All-Around World Champion cowboy decided to invite a few of their ProRodeo pals for a day of skiing after the National Western Stock Show in Denver. Word travels fast through the rodeo scene and soon the best cowboys were clamoring to compete in what has become the most unique ski rodeo in the country.
This isn't an all hat and no cattle kind of race. These are the top 100 ProRodeo riders in the country. But while they are used to bringing home first prize and the biggest belt buckle in the Western world, their ski skills are a lot less glamorous than most. However, their "no guts no glory" attitude more than makes up for what they lack in form making this one of the most hilarious ski races you will ever see. The race ends in their cowboy comfort zone as they jump out of their ski gear, saddle a horse, lasso a person and gallop through the finish line. 
The Cowboy Downhill starts at 1 pm, but get to Gondola Square early to see the 4H petting zoo, meet the Denver Broncos cheerleaders and try your hand at a learn-to-rope clinic. The race takes place on the appropriately named Stampede run (at the base of the mountain) and finishes with a kick-up your ski boots free concert in Gondola Square. 
Winter Carnival | February 8-12, 2023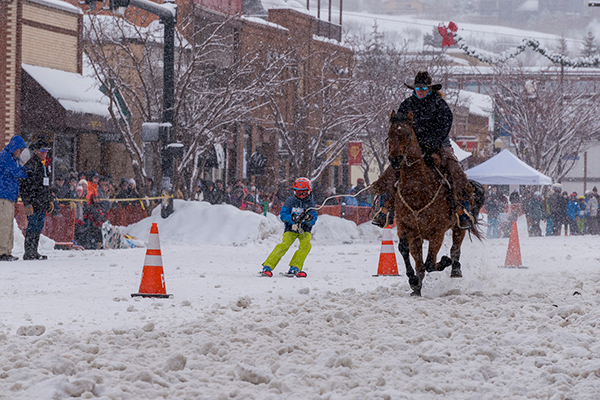 Mention a parade and fireworks and people say that's typical. Talk about adults on shovels being pulled down main street behind horses or skiers jumping through fiery hoops and people stop to listen. In Steamboat Springs we do things differently, and with the oldest, continuous Winter Carnival west of the Mississippi, this event is certainly no different.
Steamboat Light Up the Night Celebration | February 18, 2023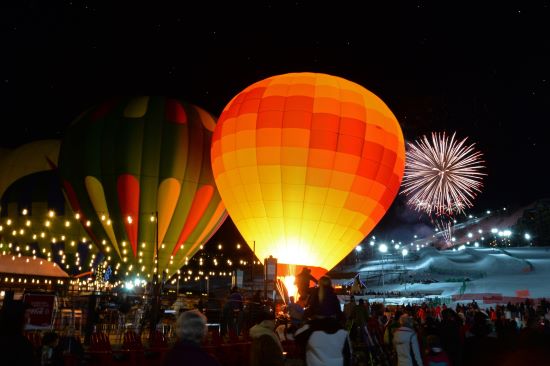 Join Steamboat locals for an evening of sensory delight. View the beauty of six magnificent hot air balloons that will illuminate the Mountain Village from 5:30-6:30pm. Spectators can stroll among the standing balloons or watch from the warmth of a slope-side eatery. Enjoy night skiing and swing by Timber & Torch to warm up and enjoy dinner and drinks. The grand finale is the Fireworks and Torchlight Parade. Get ready for the Steamboat Light the Night Celebration, it is going to be a blast.
Winter Wondergrass | March 3-5, 2023
Brews and Bands collide at the Steamboat Winter Wondergrass Festival. 
The WinterWonderGrass Festival brings together authentic bluegrass music and Colorado craft beer for one of the best bluegrass music festivals of the season. With over 20+ bands on 4 stages, daily craft brew, and cider samplings (plus a heated kids zone), these are some of the most coveted music tickets in the state. The festival features over 20 Colorado craft breweries and more than 25 bands over three days.
This year's festival headliners include Trampled by Turtles, Yonder Mountain String Band, Sierra Hull, and more. Past festival headliners included Railroad Earth, Leftover Salmon, The Infamous Stringdusters, the Sam Bush Band, and Colorado favorites, Elephant Revival.
Bud Light Rocks the Boat Concert Series | March-April 2023
Come out for some rockin' fun- in your ski boots or cowboy boots for some apres ski dancin' the newly renovated Steamboat base area. Saturdays during March and April enjoy a great mixture of various musical genres. All concerts are located on the Steamboat Stage in Gondola Square starting at 3:30-5:00pm. 


Springalicious® | April 2023 
The Steamboat Ski Area celebrates the close of the winter season with a multi-week festival including a boatload of Springalicious® festivities, fun events such as the Cardboard Classic, and several FREE music concerts.
The Cardboard Classic | APRIL 2023
The Cardboard Classic, Steamboat's traditional rite of spring returns to the Steamboat Ski Area for the 40th year. This wild and hilarious race features homemade cardboard crafts, constructed only from cardboard, glue, string, water based paint, duct tape, masking tape, balloons and other decorations, racing down Stampede to a hysterical finish. The uniqueness and creativity of the race make it an event looked forward to each year.
Splashdown Pond Skim | APRIL2023
 The Splashdown Pond Skimming Championships hits Steamboat on Closing Day! Wrapping up every epic season at Steamboat, this event has antics like you wouldn't believe. 
With all this amazing fun, you'll need an amazing place to stay. Call us to see which of our properties is right for you and your group.