27 Jan 2021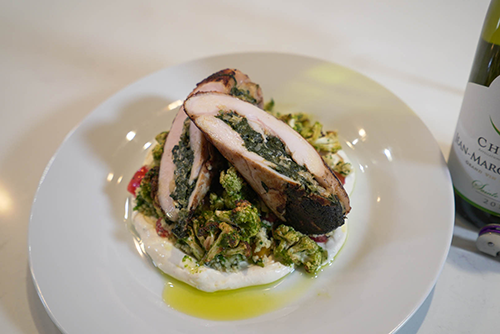 Let Us Feed You! Moving Mountains Catering has innovated new meal options for our guests this year.
Our Executive Chef has designed two types of drop-off meals – one that is ready to heat & eat (Be Our Guest Meals) and the other that is a meal kit (Be Your Own Chef): a professional chef-quality meal that you can cook in your home – we shop, prep & deliver everything you need including step-by-step video & written instructions. 
Be Our Guest Meals - You reheat & serve, nice & hot
Before you arrive or while you are out skiing, we will stock your refrigerator with fully prepared, ready to Heat & Eat meals. With easy-to-follow instructions, you can reheat your meal and it will be hot and ready for you to eat in the comfort of your home, instead of picking up takeout that will cool as you drive it home.
Be Your Own Chef Meal Kits - We prep, you cook & serve it fresh!
Learn new techniques as Chef Michael takes you through step-by-step in his instructional videos. All the prep is done for you. Let us teach you how to be a Master Chef!
Our guests have been loving the meal kits as a family activity and have said how EASY it is for everyone - we do most of the work!
Contact our Guest Services Team if you'd like to learn more or order meals during your visit! 877-624-2538, chat or email.
Ready to feast your eyes on some of our mouthwatering meals?  
Entrees
Check out the entrees you have available to choose from, Be Our Guest or Be Your Own Chef:  
Beef Tomahawk
Grilled beef Tomahawk (bone-in) with Spanish romesco sauce and double-baked potatoes stuffed with broccoli, cheddar cheese and chives and a local greens salad with lemon-mustard vinaigrette.
Chicken Roulade
Pan-seared chicken breast stuffed with spinach, parmesan & pine nuts, roasted cauliflower with salsa verde, & a cherry tomato couscous tabouli with lemon yogurt sauce.
Spicy Shrimp (or Tofu)
Spicy shrimp and broccolini stir fry with braised kale, scallions, chili, and sesame noodles with shiitake mushrooms.
Miso Salmon
Poached salmon in miso broth with shiitake mushrooms, bok choi, green onions, wild black rice and soy-ginger dressing.
Beef & Elk Bourguignon *Be Our Guest only*

Beef & elk bourguignon with mushrooms and carrots over sautéed swiss chard and airy roasted garlic whipped potatoes.
Libations
And, don't forget the libations! We have great wine pairing suggestions that we can pick up for you, or a list of suggested cocktails along with instructional videos on how to make them yourself! 
White Coloradan
Steamboat Distillery Vodka, Coffee Liqueur, heavy cream, DRAM black bitters
Snow Pal
Steamboat Warrior Whiskey, Campari, Vermouth, lemon juice, lemon, DRAM citrus bitters
Winter Warmer
Steamboat Warrior Whiskey, Fernet, ginger/maple syrup, apple cider, cinnamon
Après
 Spritz
Prosecco, San Pellegrino, Steamboat Gin, Aperol, grapefruit syrup, grapefruit
We also have delicious sides available:  
Ready for your mountain getaway? We have luxury ski mountain homes and condos in Vail, Beaver Creek and Steamboat. Let our team match you with the perfect residence for you!