20 May 2019
The snow has melted, BBQs are fired up and, this weekend, summer gets its unofficial start. If you follow our Instagram all ski season, you might be wondering, what's on the Moving Mountains' BBQ cam in the summer? Well, instead of turning our lens on 8 or more inches of snow like we usually do, we're focusing on the 'Boat's best burgers!
There's no shortage of delicious burgers, here in Steamboat. In fact, we have so many to choose from, we've had to narrow this list down to our top 5 favorites. Unless you plan on eating more than 5 burgers on your next visit to Steamboat, this roundup should easily satisfy your burger fix.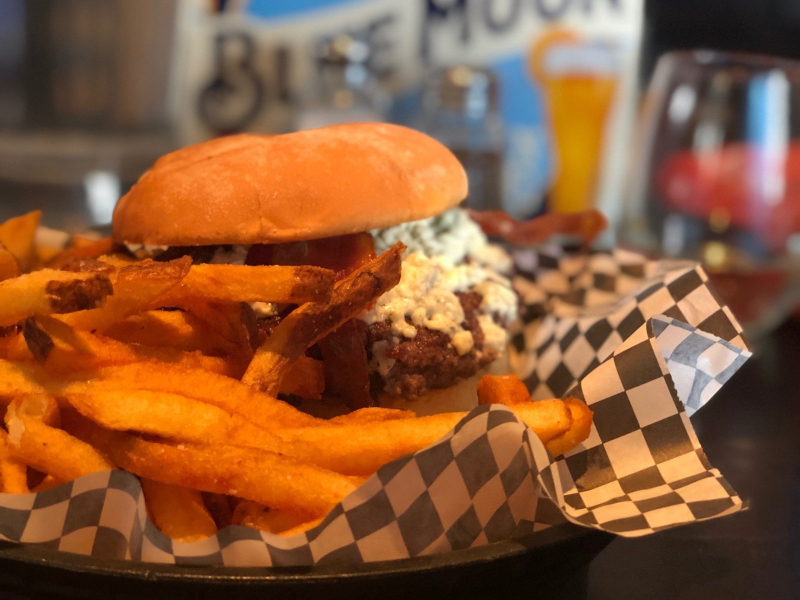 This little gem is our go-to for casual and creative burgers. They were named one of the top 10 burgers joints in the U.S. by TripAdvisor in 2018. It's a cozy, funky atmosphere with dollar bills lining the walls and the ceiling. The burgers are fresh, fast and, most importantly, they're our favorite.
While the Dirty Harry burger is undoubtedly worth a mention given its eclectic ingredients (peanut butter, a fried egg, hash browns, bacon and cheese on a glazed donut), we prefer the more than 21 old and new school burgers on the menu.
You can't go wrong with either The Big Blue with bleu cheese, sauteed onions and bacon or the G-13 with sriracha, onion rings, and American cheese. Pair them with hand cut, curly, sweet potato fries or tater tots. Get there early, Backdoor Grill fills up fast, and they don't take reservations.
(photo from Old Town Pub)
This has been the spot for a burger and a beer for more than 3 decades. Housed in a historic 115-year old building, with an old fashioned stand-up bar, Old Town Pub is Steamboat's quintessential old West watering hole. Try the Goin' Out West burger with cheddar, bacon, fried onion crisps, garlic mayo, and housemade BBQ sauce. This place is excellent for big groups as their spacious dining room can accommodate quite a few burger loving patrons.
For an upgraded burger, nothing matches the Truffle Pig burger. It's a ½ lb Kobe beef burger with aged white cheddar, wild mushrooms, topped with bacon jam and, you guessed it, black truffles. All on a toasted brioche bun. It's located inside of One Steamboat Place, so if you're staying at one of our One Steamboat Place private residences, or just coming off of the mountain, it's a delicious and convenient solution for satisfying burger cravings.
 (photo from Besame)
This inspired "burger" is a fabulous alternative to the traditional choices seen everywhere else. Besame serves a lamb burger with apricot jam, harissa chili pepper paste, goat cheese and garlic aioli all on a cacao (black) brioche bun. While a black bun is a bit startling, at first, one bite and you'll be hooked. This "burger" is accompanied with a side of papas fritas, potato wedges dusted with seasonings, trust us, you won't want to share them with anyone at your table!
Inspired for Burgers at Home?
Of course, if you are your own favorite burger chef and grillmaster, all of our chalets, homes, and residences come equipped with gas grills, drop-dead panoramic views, no crowds, and a come-as-you-are dress code. Enjoy your own burger creations or better yet reserve a luxury catered chalet and let one of our talented chefs wow you with ours.
Pin this post to your vacation planning Pinterest Board