15 Jul 2020
Here at Moving Mountains, we don't just salivate over Steamboat snowstorms or summer sunsets, we also celebrate the culinary renaissance that has transformed the Steamboat dining scene in recent years including a clutch of dazzling fine dining establishments.  
If you are a fine-dining foodie here are our top picks: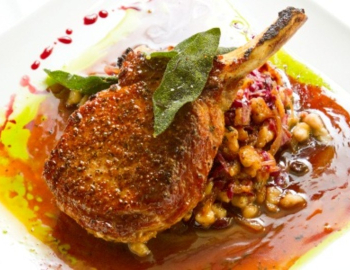 "Diva" is  a culinary landmark almost as legendary as Steamboat's Olympic ski racing heritage. Just like Moving Mountains, Cafe Diva celebrates over 20 years in business (no small feat in the restaurant business!). Its beginnings were humble, they started with just a wine bar and a few appetizers and have since evolved into an award-winning 5-star restaurant adored by both critics and connoisseurs. Since the beginning, Diva has been on top of their game and ahead of their time.
We're raving fans of the honey jerked ahi with an avocado smash and the wild mushroom parmigiana-chestnut risotto. And who wouldn't love Diva's play on the peanut butter and bacon sandwich? It's an Asian braised pork belly with Thai peanut sauce and Sriracha chili on raisin nut toast. This spicy upscale throwback is always a favorite.
Owner and sommelier, Paul Underwood, can guide you through the list from the wine vault. It's a bit overwhelming, but rest assured, there are no wrong choices with this carefully curated wine selection.
Cafe Diva's menu changes seasonally, but gluten-free and vegan dietary needs can always be accommodated.
Our regular visitors know that at least one night at Diva is a must, but take note that reservations are coveted. The intimate dining room only has space for a lucky few, so be sure to let us know well in advance if this one is on your tastebud bucket list so that we can make the appropriate arrangements.
Don't worry, while the food is fancy, the dress code is casual (just like everywhere else in Steamboat). It's not suitable for young kids, so enjoy your evening sans little people and let us arrange a babysitter to ensure your children have a top-notch evening of their own. 
Setting the gold standard for downtown Steamboat dining (all puns intended!), Aurum's name is Latin for gold and its sister restaurant is named for gold's number on the periodic table of elements (Table 79).
What else is solid gold at Aurum? It has an enviable location along the Yampa River with Howelsen Hill as its backdrop. Summer diners love the expansive deck with gorgeous views and an outdoor fire pit. From inside the plush dining room, winter diners are treated to a live backdrop of ski racers and ski jumpers training under the lights with the Steamboat Springs Winter Sports Club. In the summer, diners are treated to the most gorgeous outdoor dining setting along the Yampa River. The lounge area is always happening with frequent live music, swanky seating, and creative nibbles like salmon sliders with lemon basil, crispy duck wings, and parmesan fries.
This sophisticated American fare favorite has been hailed by numerous publications including Zagat's as must-try Steamboat fine-dining eatery. For carnivores, the Lamb Osso Bucco and a short rib ragout filet mignon are just a few of our favorites. For vegetarians, don't miss the crispy curried cauliflower with shishito peppers, golden raisins, and pine nuts.
Don't worry, families are made to feel right at home and kids can sup on brioche burgers, chicken fingers, or filet mignon.
Whether you hang out in the lounge, relax on the deck or settle into the cozy dining room, you try one of the hip cocktails like the blackberry martini or the cardamom bourbon punch or kick it up a notch with the smoke & fire margarita or the charred orange old fashioned. 

This chic spot for American Alpine Cuisine wasn't hard for us to sniff out! It's located adjacent to One Steamboat Place so it's an easy favorite for One Steamboat Place guests. The ski-in/ski-out location, beautiful views, and a heated outdoor deck make it the perfect spot for scrumptious food while you're still in your ski boots or in the summer, while the kids are playing mini golf or splashing in Burgess Creek Beach! It's our favorite for upscale apres-ski or apres-summer fun!
The charcuterie board is a great start to any meal, if it's on the menu, don't miss the Kobe beef bolognese with artisan pappardelle and fried basil or the steak frites with truffle tomato demi-glace. Have a picky eater in the bunch? The Kobe beef burger with aged white cheddar, bacon jam and truffle fries is a favorite with everyone.
Truffle Pig is welcoming to kids and the piglet menu has healthy choices along with a few fried favorites. Your kids won't even notice they're in a more grown-up spot!
The adults will want to pig-out on their root beer float minus the root beer. This nitro stout vanilla gelato comes with as many straws as you need for sharing. Housemade cookies with a milk chaser are also an easy share.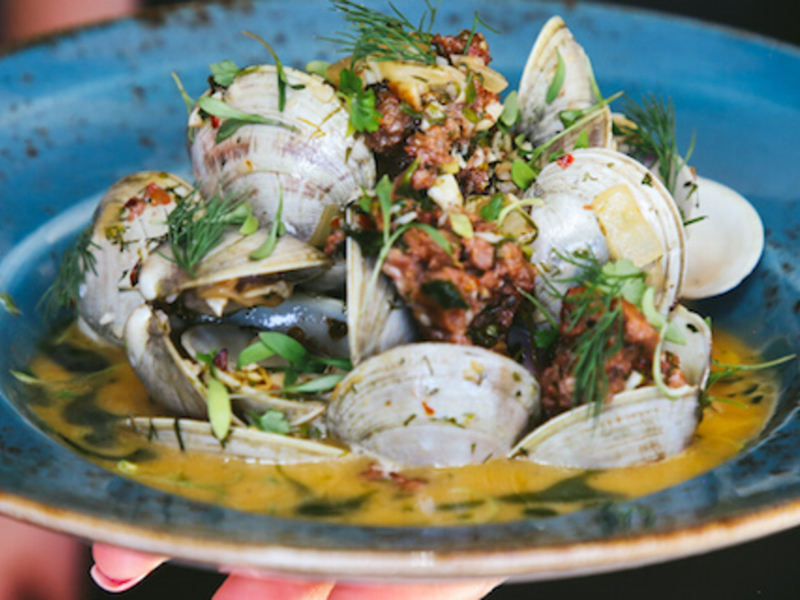 Since international travel isn't quite as convenient, these days, as it has been in the past, we are thankful for Besame! Not only do they make it a lot easier to dine on the tastes of Cuba, Argentina, Portugal, and Spain, but this Latin-infused, global tapas menu does so in the most hip and approachable way. 

In 2019, their 5-star kitchen chops even earned them an invite to cook at the famed James Beard House in New York City.  This is one of the highest honors of chefs around the country and certainly, put Steamboat on the gastronomic map.

Their menu changes seasonally, but staples include the leche de tigre mango and passionfruit ceviche with plantain chips, grilled octopus with burnt orange Calabrian chili, and the Muu Waan candied pork with crispy shallot, peanuts  and coconut rice. Even their burger is a show stopper with its ground lamb patty, apricot jam, and goat cheese on a cacao (black) brioche bun with a side of the best papas fritas you've ever tasted.
Authentic sushi is finally here in Steamboat. Tahk Omakase Sushi is a brand new high-end traditional Edomae-style sushi restaurant and bar. The owner, Tahk Sungtae, trained with the famed sushi chef, Nobu Matsuhisa among others. Tahk Omakase opened in the lower level spot that used to be occupied by O'Neil's Tavern in December of 2019. 
It's a swanky speakeasy kind of atmosphere with exposed brick walls and tucked away tables. Some ingredients are shipped in all the way from the Toyosu fish market in Tokyo. We highly recommend trying the coveted chef's "Omakase" experience (a tasting menu designed and prepared by the chef). It's only available to a few dinners every evening, so you must reserve the tasting menu well in advance. But don't worry, if you aren't in the prime position at the sushi bar with the chef's tasting menu in front of you, the izakaya menu of small plates and sushi is truly outstanding and available at any table in the restaurant.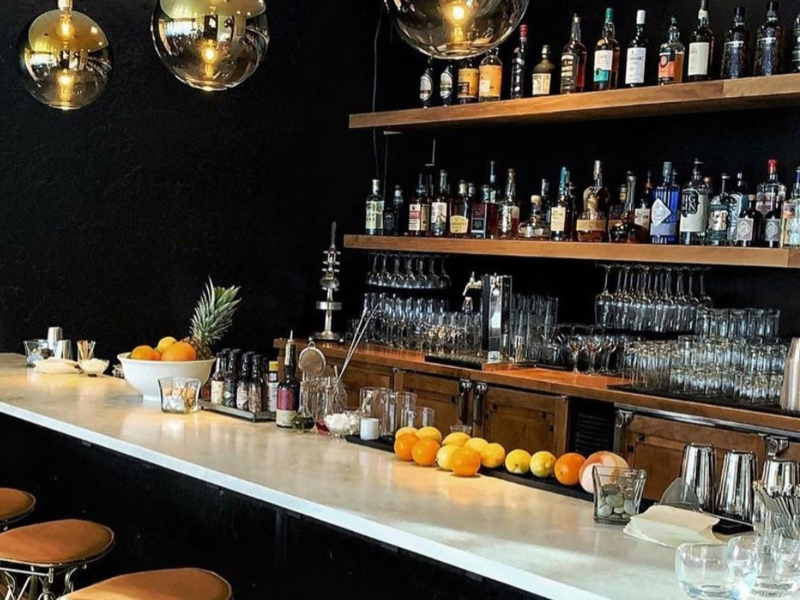 The newest addition to the Destination Hospitality Group (Aurum & Table 79 Foodbar) is The Periodic Table. It debuted last December with a bygone era themed menu. It's a unique concept based on the wildly popular Chicago restaurant, Next, that will reinvent itself completely each season. It's the delicious brainchild of Phillips Armstrong, Destination Hospitality Group's owner, and famed former Cloverdale chef and owner-chef Patrick Ayres.
Hopefully, you didn't fall too in love with its debut New York supper club menu of the 1920s with favorites such as delicious lobster thermidor, foie gras, steak bearnaise or baked Alaska, because The Periodic Table has opened this summer with a completely different Havana, Cuba 1940s inspired menu and atmosphere. Think exotic rums, sweet mint, and an array of spices for your palate. The whole fried fish is a must-have or for those with a big appetite, the 28 day dry-aged, 30-ounce "delmonico" ribeye, carved table-side for two with chorizo butter, chiles toreados, potato chicharrones will be a meal to remember.
The Periodic Table is a bit off the beaten path, but it's well worth the drive. In the winter, it's a veritable winter wonderland setting at Catamount Ranch and Club, in the summer, you'll be able to take in the unforgettable, gorgeous summer sunsets over the lake.
These are just a few of our favorites, there are many more. Great Steamboat restaurants are about as plentiful as our annual snowfall and summer sunshine, and we are more than happy to book the best for our guests.
 Bon Appetit!
Now that you know where to eat, figure out where to stay.